Grant Jacobson, Director of Technology Alliances, Cloudian
Cloudian is strengthening its partnership with VMware Cloud Providers with a free offer of a 50TB Cloud Storage starter kit that makes it easy to expand their businesses and start generating revenue with new Cloudian storage-based cloud services.
Unlike most limited "free trial" offers, this is a full-featured, supported product, valid for an entire year. This exciting offer is exclusively for VMware Cloud Providers.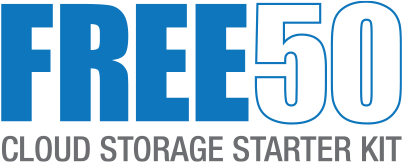 Cloudian's Free 50 Kit includes:
50TB Cloudian HyperStore Software-Defined Storage
Up to 1 Year Duration
4 Hours Technical Onboarding Support
1 Year of Product Support (email support and access to Cloudian's knowledgebase)
Marketing Starter Kit (training, brandable collateral templates, email scripts, and more)
Growth Opportunities in Storage Services
IDC forecasts the Storage-based Cloud Services market to triple in size, growing from $20 billion in 2019, to a staggering $60 billion in 2023. And the center of that growth is the S3 API. Ever since AWS introduced the S3 service back in 2006, the S3 API has grown to become the de facto language of cloud storage. This S3 API standard has enabled the foundation of a large ecosystem of S3-compatible software applications, which has helped create an ever-expanding set of high-value cloud services.
Cloudian's award-winning HyperStore was designed from the start with native S3 API and with continued investment over the years, is now the industry's leading S3-compatible storage. Indeed, VMware selected Cloudian in 2019 as its first object storage offering. Cloudian software is now sold through the VMware Cloud Provider Program
With its S3-compatibility and rich set of service provider features including multi-tenancy with QoS and Billing, Cloudian HyperStore is ideal for Cloud Service Providers who are seeking to take advantage of the surging market demand for storage-based cloud services and secure new streams of profitable revenue.
Free 50TB Cloud Storage Starter Kit
To help VMware Cloud Service Providers* take advantage of this valuable market opportunity, Cloudian is offering a 50TB Cloud Storage Starter Kit at no cost.  The free kit includes everything needed to deploy cloud storage and then package, market and sell one or more storage-based cloud services as new sources of revenue.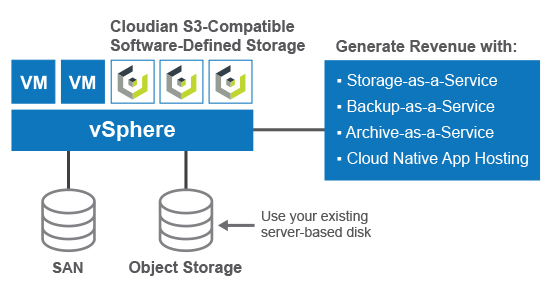 This free offer is available today and enables VMware Cloud Providers to utilize 50TB of Cloudian HyperStore with their own cluster in their data center, for a year.
Offer Revenue-Ready Services
Cloudian's free starter kit makes it simple to start offering high-value, revenue-ready services. Cloud Providers can put the power of S3-compatible storage technology to work to offer S3-compatible Storage-as-a-Service or combine with S3-compatible storage software to offer services such as Backup, Archive, Disaster Recovery, or Secure Synch-and-Share.
Whether using with popular solutions including Veeam, Commvault, Rubrik, Veritas, Splunk, SME and others, or hosting customers' S3-compatible, cloud native applications, VMware Cloud Providers can create and offer a broad set of new storage-based services serving a range of customer needs.
When requirements evolve beyond 50TB, the free license may be converted without disruption to a convenient subscription model from the VMware Cloud Provider Program.
Get Started Today
It's even easy to get started. Simply register at https://cloudian.com/free50
*To qualify for this offer, Service Providers must currently be a member of the VMware Cloud Provider Program in North America, Europe, Middle East, ANZ, or Japan. Other restrictions may apply.
Read more about Cloudian here, or contact us for more information
Learn about:
New Cloud Services Opportunities with Cloudian Object Storage for VMware Cloud Director
Building a Profitable MSP Business Model for Backup and Storage-as-a-Service
Try Cloudian Free