Steve Connors, Senior Alliances Manager, Cloudian
Meeting Hybrid Cloud Demands: Microsoft AzureStack HCI and Cloudian HyperStore
Over the last two years, hybrid cloud has become the dominant IT deployment model, with 82% of IT leaders saying they've adopted it in a Cisco report earlier this year.[1] It enables organizations to leverage the benefits of public cloud while keeping some infrastructure, applications and data on-premises, behind the firewall and fully under the organization's control. Reflecting the increasing adoption of hybrid cloud, global hyperscalers have introduced new services to meet the demand and ensure a seamless experience across public and private clouds. Here we take a look at the Microsoft AzureStack HCI service and how Cloudian's HyperStore object storage works with the service.
According to Microsoft, "AzureStack HCI is a hyperconverged infrastructure host platform integrated with Azure. Run Windows and Linux virtual machines on-premises with existing IT skills and familiar tools. Delivered as an Azure subscription service, Azure Stack HCI is always up-to-date and can be installed on your choice of server hardware."
Cloudian HyperStore, a leading scale-out storage system, has been validated to work with Azure Stack HCI, enabling customers to store and protect large amounts of unstructured data on prem and use the Azure public cloud for real-time, on-demand computing power, which is more cost effective than buying additional hardware.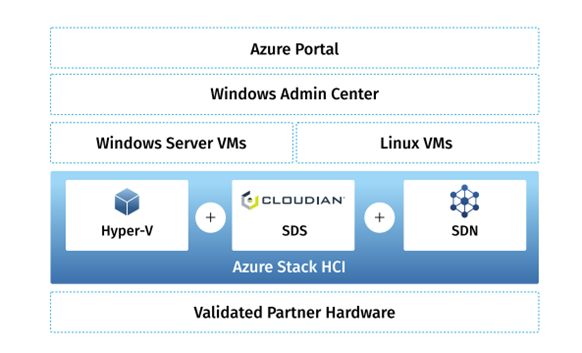 HyperStore employs policy-based tools to replicate or tier data to Azure for offsite disaster recovery, capacity expansion or data analysis in the cloud. HyperStore offers limitless scalability, multi-tenancy and military-grade security. This includes the ability to isolate storage pools using local and remote authentication methods such as Password, AD, LDAP, IAM and certificate-based authentication.
Deploying Cloudian HyperStore on Azure Stack HCI provides the following key benefits:
Turnkey HCI solution – network, compute, storage and virtualization
Hybrid cloud readiness – seamless movement of data across on-prem and public cloud environments
Unified view of data – a single namespace across multiple locations
Reduced operational costs – savings on data egress and bandwidth charges
To learn more about the Cloudian HyperStore-Azure Stack HCI hybrid cloud solution, go to cloudian.com/microsoft/#azure.
[1] Report: 82% of IT leaders are adopting the hybrid cloud, Tech Republic, May 25, 2022