Object Lock Provides Hardened Solution for Ransomware
Ransomware strikes a business every 14 seconds, claims Cybersecurity Ventures. Business impacts can include interrupted operations, loss of revenue, impact to reputation, and of course ransom payment.
Ransomware works by encrypting the user's data, rendering the source data and backup data useless. Traditional malware defenses may prove ineffective. In fact, 75% of organizations attacked last year had up-to-date endpoint protection in place.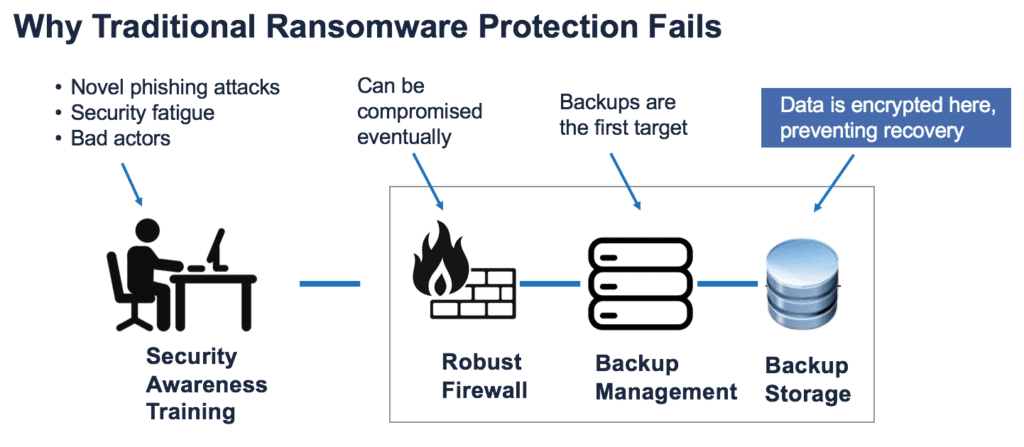 Ransomware protection fails when novel malware approaches circumvent even the best security training and firewall technologies 
Solution
Cloudian HyperStore and Veeam Availability Suite v10 now offer built-in ransomware protection. Backup data is protected at the storage level, so even if the bad guys get in, they cannot encrypt the backup data.
The solution works with a feature called S3 Object Lock. With Object Lock, data cannot be deleted or changed for a set period of time. Because it cannot be changed, ransomware cannot encrypt it. This is analogous to the time lock on a bank vault which prevents theft even when the bad guy has the combination to the vault.
   "Object Lock" protects data from ransomware by making it unchangeable for a specified period, thus preventing encryption by malware
Automated for Simple Management
Veeam manages ransomware protection as part of the standard backup workflow, so there is no additional workload. The solution delivers security comparable to offline storage, but without the labor-intensive, manual steps associated with tape handling.
Hardened Solution, with Certified Data Immutability
Cloudian's Object Lock feature is verified in government certification testing, and is certified compliant with the non-rewritable and non-erasable storage requirements of SEC 17a-4(f) and CFTC Rule 1.31(c)-(d). Read the Compliance Assessment here.
Cloudian's data immutability is a hardened solution, verified in US government / DoD certification testing. 
High Speed Backup and Recovery
Cloudian ensures fast backup and recovery with local, disk-based storage. Cloudian is a peer-to-peer, distributed storage system, allowing workload to be shared across all devices in the cluster. As you grow, system performance grows, too. To further ensure fast recovery performance, the solution supports recovery directly from HyperStore without the need to rehydrate an intermediate storage tier
Security
For data security, Cloudian supports AES-256 server-side encryption for data at rest and SSL for data in transit (HTTPS). Fine-grained storage policies — including encryption at object and bucket-levels — permit security settings to be individually configured for different users or data types in a shared-storage environment. In addition, Cloudian offers enhanced security features such as secure shell, integrated firewall and RBAC/IAM access controls to further protect backup copies.
Service-Provider Ready
Service providers can now build new revenue streams with ransomware protection as a service. The opportunity to provide offerings that protect customer data from malicious attacks has never been greater. Cloudian and Veeam now make a ransomware protection service easy to manage and profitable to deliver.
Cloudian offers multi-tenancy and integrated billing and quality of service controls (QoS), making Veeam + Cloudian an ideal solution for service providers.
Ideal for VMware Service Providers
Cloudian and Veeam both offer VMware vCloud Director Integration for efficient, single-point management. Cloudian software is available from VMware, as part of the VCPP program, and is offered on a consumption-model, pay for use basis, billed in VCPP points.
Learn more!
To learn more, download the solution brief.  Or visit cloudian.com.
For a summary of ransomware growth in 2019, there is an article here.