Register

Date: Tuesday, September 13th
Time: 8:00 am PDT / 11:00 am EDT / 4:00 pm BST
Economic conditions over the past decade have forced businesses to consider minimizing their data footprints in order to cut their enterprise server spend by more than $90 billion. However, with advances in enterprise technology and applications, data growth has been exponential. More than 1 quintillion bytes of data have been created within the last 2 years alone and data protection experts have been asked to do more with less.
In this webinar, discover how software-defined converged data management platform and scale-out cloud storage from Rubrik and Cloudian, help data protection experts do more with less while ensuring datacenter admins meet their SLAs.
Key topics to cover:
Scale-out Storage
TCO / Economics of the datacenter
S3 API: Data protection between Rubrik, Cloudian and Amazon S3
Advantages of cost savings of intelligent data recovery from the cloud
On-premise software-defined storage (SDS)
Speakers:
Eshwar Belani, Head of Alliances, Rubrik
Eshwar Belani drives Alliances and Product Strategy at Rubrik. Prior to Rubrik, Eshwar spent several years at technology companies and has demonstrated success in driving alliances, building and launching products as well as accelerating revenue growth.
Douglas Soltesz, Director Product Solutions, Cloudian
Douglas Soltesz is responsible for guiding the development and integration of software applications that support the S3 API at Cloudian. Doug's passion for storage technologies comes from his 15+ years of total experience working both as an IT vendor and consumer. His positions range from CIO of Budd Van Line to time working in the consulting, storage, and backup industries as a Systems Integrator, Director of Engineering and Product Manager. He has spoken at numerous events most notably VMworld, OpenStack Summit, & Citrix Synergy as an advocate for solving today's legacy problems with next generation software defined solutions. Today his focus is directed at the pain points associated with massive data growth in the fields of Backup, IoT, Life Sciences, Media, and Big Data/Analytics.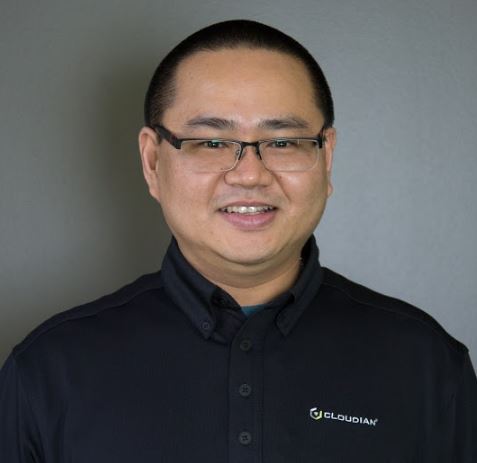 Dominic Cheah, Technical Marketing Manager, Cloudian
Dominic Cheah comes to Cloudian with many years of storage and data protection experience. He worked in QA, Application Engineering, and as a Technical Marketing Engineer at various companies such as StorageTek, Veritas, and Data Domain/EMC. He was also a speaker at EMC World and VMworld and has recently published data protection best practice guides on Veeam, Commvault, and NetBackup while at Tintri.