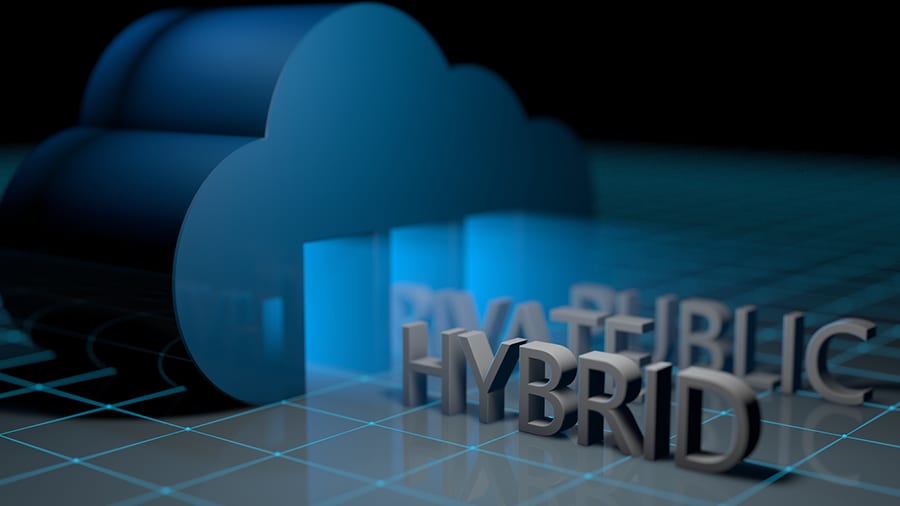 As cloud services become increasingly popular, businesses are buying in. Integration of public and private cloud storage services doesn't always happen smoothly with existing environments, however, and adjustments will likely need to be made to IT teams and structures. If you want to take advantage of the flexibility of cloud services but don't want to completely outsource IT, a hybrid cloud solution could be right for you.
In this article:
What Is Hybrid IT?
Hybrid IT is a blend of on-premise and cloud-based services that has emerged with the increasing migration of businesses to cloud environments. It can be used as either an interim solution, while a business transitions to the cloud, or as a long-term solution in a blended environment. Hybrid IT teams can be composed primarily of on-premise professionals with some individual components managed by cloud providers or vice versa depending on need.
Typically, hybrid solutions are selected due to some combination of existing technical need, a greater requirement for security or redundancy, a demand to access the data quickly and more frequently, and/or the existence of processes or services that cannot be moved off-site, such as offline services.
Hybrid IT Benefits
Hybrid IT can offer a variety of benefits that are not available through traditional or cloud-only teams.
Flexibility
Hybrid configurations allow IT teams to maximize resources and performance while reducing time spent installing, maintaining, or upgrading systems. By shifting some of these tasks to the cloud, IT professionals can focus on configuration optimization, monitoring, and end-user support.
Hybrid environments allow IT teams to continue to support legacy applications that cannot be easily migrated and to ensure the availability of services through on-premises data centers, without missing out on the benefits of wider availability that clouds can provide. The ease of transferring backup data, and the redundancy of data in multiple geographic areas, allow hybrid teams to quickly restore systems with minimal, if any, downtime.
Cost
The cost of hybridization can be tricky, but with careful monitoring can provide significant savings and ensure that maximum ROI is gained from investments.
The ability to pay as you grow for hybrid storage avoids the higher costs associated with legacy systems that require purchasing enough equipment to cover the greatest possible demand and allows IT budgets to be better optimized.
Security
Hybrid IT allows businesses to distribute data and applications according to privacy or security concerns, which is often of great importance to compliance boards and CIOs. A hybrid team can manage security controls and privacy settings as needed both on-premise and remotely, ensuring that appropriate standards are universally kept.
Hybrid IT Solutions
When it comes to hybrid solutions, there are three main options, which can be adopted individually or in combination.
SaaS Solutions
Software-as-a-Service (SaaS) solutions, in which third-party vendors use the web to deliver applications, make up the largest share of the public cloud market due to their ease of adoption and near-universal functionality. They are typically accessed by end-users directly through a web browser, eliminating the need for IT to install or manage applications on endpoints.
Adoption of these solutions allows IT teams to move select functionality to the cloud while retaining full control over on-premise infrastructure, software, and data.
SaaS services are usually subscription-based or pay-per-use, allowing them to be adopted and scaled up with relative ease. Some examples of SaaS services are MS Office Suite, Gmail, CRMs like Salesforce, or communication applications like GoToMeeting.
IaaS Solutions
Infrastructure-as-a-Service (IaaS) solutions provide self-service, remotely hosted infrastructures on which you can store data, run processes, and host applications. They provide servers, storage, networking hardware, and a virtualization or hypervisor layer, all accessible through a Wide Area Network (WAN) such as the Internet.
IaaS providers typically include monitoring, log access, security protocols, load balancing or clustering, and data backup and recovery features in their services which you can customize to your needs. For users with smaller amounts of data, IaaS services are often adopted to replace on-premise infrastructures. But users with larger amounts of data typically use it in addition to their on-site resources to increase application or data availability or to handle overflowing demand of resources.
The cost of IaaS services is based on a combination of usage and provisioning, depending on your configuration. This makes them ideal for highly variable resource demands but requires good monitoring and oversight to ensure optimization. The best-known examples of these services include Amazon Web Services (AWS), Microsoft Azure and Google Compute Engine (GCE).
PaaS Solutions
Platform-as-a-Service (PaaS) solutions provide both infrastructure and software tools and are typically used for creating and hosting applications. These solutions tend to be geared towards DevOps teams as they are designed to increase the efficiency of the Software Development Life Cycle (SDLC) and facilitate the transition to cloud-native applications.
PaaS solutions are more frequently adopted as cloud-only environments, making them more ideal for startups, but can be used in addition to other services.
PaaS services are typically pay-as-you-go, but issues of vendor lock-in can create a more subscription-like pay structure. Some examples of PaaS solutions are Google App Engine (GAE), Cloud Foundry, and Software AG Cloud.
Hybrid IT Management━Key Strategies
Here are strategies that can help simplify the process of implementing a Hybrid IT strategy.
Adoption Planning
IT leaders need to fully account for costs of adoption, including labor, security, disaster recovery procedures, and time. You must be clear on contract and Service Level Agreement (SLA) terms to ensure that you aren't paying for a service you won't receive or be stuck with a service you can't use. After the initial stages, you must decide which specific services to use and what data or functionality to transfer as well as your method of migration. Access restrictions, user training, and security policies will all need to be determined and policies created.
IT Data Security
To fully secure your hybrid environment, start with a comprehensive security audit, including endpoint accessibility. You should evaluate current users and their permissions, to verify that they are correct and that credentials are secure. Make sure that you include end-user training in your IT plan, as unfamiliarity with cloud-based processes can create liabilities. A centralized logging and monitoring solution that includes alert functionality will help you ensure that your entire configuration is secure and help you verify that the steps you've taken are effective.
Optimization
Once you have a hybrid environment set up, it's crucial that you continue to monitor and manage your configuration to ensure that there are no gaps in security or performance. You should have policies in place dictating how frequently your IT environment is evaluated, who is doing the evaluation, and what measures are being considered. Compare performance and usage metrics when evaluating the efficiency of spending and resources, and use them to inform what adjustments might be beneficial.
As existing technical debt expires or software outlives its usefulness, research what options are available to you and ensure that the ones you select integrate smoothly with your existing environments. If you can consolidate your accounts, you will have a simpler time managing your system as a whole and will likely have more successful integrations.
How Cloudian HyperStore Can Help
Management and storage of your hybrid infrastructures need not be a concern with a solution like Cloudian® HyperStore®, a scalable, on-premise object storage platform with a 100% S3 native API. HyperStore lets you easily manage your data in public and private storage and can be integrated with a variety of cloud and third-party services, including migration services.
Cloudian's solution offers automatic data verification and encryption and allows you to use custom metadata tags for search and analytics. It allows you to easily manage stored data according to bucket-level policies, including backup scheduling and lifecycle, as well as automate erasure coding and replication.
HyperStore will help you store your data securely and efficiently, leaving you free to make sure you're getting the most from your hybrid configuration.
Learn more about Cloudian HyperStore, the scalable enterprise object storage solution
Learn More About Hybrid IT
Hybrid IT is a combination of on-premise and cloud services. You can use hybrid IT as either a temporary solution, while your business transitions to the cloud, or as a long term solution in a combined environment. Hybrid IT teams include on-premise professionals with some individual components managed by cloud providers or vice versa depending on need. 
Usually, hybrid architectures are prefered when a company has some combination of existing technical debt, a greater need for redundancy or security, or processes that cannot be transferred off-site, such as offline services.
Hybrid Cloud Management: What You Need to Know
The hybrid cloud combines different cloud environments, usually public and private. A hybrid cloud environment is supported by software that manages and automates workloads. This enables you to run workloads across on-premise and public cloud environments. 
Hybrid cloud management is not easy. Beyond the technical factors, it requires an in-depth understanding of governance, security, and user requirements.
Read more:  Hybrid Cloud Management: What You Need to Know
Hybrid Cloud Architecture: Selecting the Best of Both Worlds
Many companies select hybrid clouds to balance the benefits and drawbacks of public clouds and private infrastructure. As needs and cost requirements change, companies can transfer workloads between their private and public clouds. This provides companies with the flexibility and security they need, while giving them a scalable and cost-effective solution.
The architecture of a hybrid cloud usually includes an Infrastructure-as-a-Service (IaaS) platform. The main IaaS platforms are Amazon Web Services (AWS), Microsoft Azure and Google Cloud platform. This article reviews the architecture of a hybrid cloud and how companies can increase flexibility without needing to compromise on the price tag.
Read more: Hybrid Cloud Architecture: Selecting the Best of Both Worlds 
Read also: AWS Outposts – a hybrid IT service that lets you run AWS services locally in your organization and AWS Local Zones – an infrastructure deployment concept from AWS.
Multi-Cloud Management: 5 Critical Considerations
A multi-cloud environment consists of more than one public or private cloud service. In multi-cloud, there are several cloud environments but they can be completely separate, or run different workloads. In a hybrid cloud, there are more than one cloud environments, which are tightly integrated and allow seamless transfer of data and workloads between clouds.
This article reviews several critical considerations you must be aware of, when you plan your multi cloud management strategy.
Read more: Multi-Cloud Management: 5 Critical Considerations
Cloud Migration Reversed: Migrating Off the Cloud
Cloud migration is the process of moving an application or data storage to a cloud infrastructure, usually due to performance, security, or pricing considerations. Reverse cloud migration, also referred to as cloud repatriation, involves transferring your applications back to an on- premise infrastructure or to a private cloud. Usually, organizations transfer part or all of their business components from a public cloud to a local data center for security and control reasons.
Read more: Cloud Migration Reversed: Migrating Off the Cloud
On-Premises Object Storage: Building S3 in Your Backyard
Object storage is a data manipulation and management technique that uses objects to store data in a central location, not structured as files within folders. Object storage collects all the bits of information that constitute a file, adds relevant metadata, and attaches a unique object identifier.
However, object storage is not only used in the cloud. Many organizations are realizing the benefits of on-premise object storage solutions in their local data center.
Read more: On-Premises Object Storage: Building S3 in Your Backyard
Managed Cloud Services: Pros and Cons
Managed cloud services are services that offer partial or complete management of a client's cloud resources or infrastructure. Management responsibilities can include migration, configuration, optimization, security, and maintenance. These services are designed to enable organizations to maximize benefits from cloud services while minimizing internal time and costs.
You can access managed cloud services for public, private, and hybrid clouds at any point in the cloud adoption lifecycle. Often, organizations will contract for services before migration to gain help determining which cloud resources best suit their needs and to ensure that configuration is performed correctly.
Read more: Managed Cloud Services: Pros and Cons
Managed Service Providers: Challenges and Considerations
A managed service provider (MSP) is a vendor that provides proactive, remote management of your IT infrastructure and systems. A managed service provider business model can be applied to a wide range of environments, including on-prem, cloud, multi cloud, and hybrid infrastructure. This is why managed services provider definitions may vary, and change according to the offered service.
Some MSPs may be referred to as managed cloud service providers, if they offer services for cloud resources. Other MSPs may prefer a more general term, like IT managed service providers, which can include services offered for on-prem as well as cloud environments .
Read more: Managed Service Providers: Challenges and Considerations
What Are Managed IT Services?
Managed IT services offer a wide range of remote Hybrid IT , with responsibilities ranging from specific on-demand response to 24/7/365 coverage of IT duties. Learn what are managed IT services, what are the cons and pros of working with managed IT providers, and how to efficiently communicate with MSPs.
Read: What Are Managed IT Services?
See Our Additional Guides on Key Hybrid Cloud Topics
Together with our content partners, we have authored in-depth guides on several other topics that can also be useful as you explore the world of Kubernetes.
Authored by Granulate
Authored by Komodor
Authored by Tigera