Lock Ransomware Out — Keep Data Safe
Protect Your Customers' Data from Ransomware with VMware & Cloudian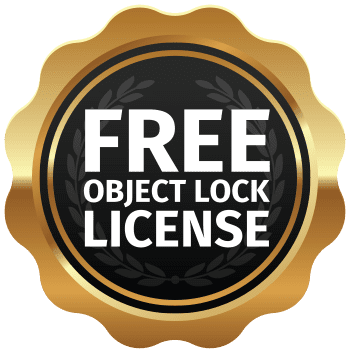 Exclusively for VMware Cloud Providers
Free Cloudian Object Lock License
Limited Time Offer
Free Cloudian Object Lock license with the purchase of Cloudian HyperStore
Normally a $15,000 license
Valid only for orders placed with VMware
200TB minimum commit required
WORM Functionality
Makes data unchangeable (immutable) for user-set period of time
Verified in US government certification testing
Contact Request Form
Fill out the form below and a Cloudian representative will contact you about the Free Cloudian Object Lock License.
New Revenue Opportunities in
Immutable Storage-as-a-Service
Cloudian CMO Jon Toor reviews new revenue opportunities in Storage-as-a-Service providing MSPs and xSPs best practices, storage market trends, and offerings from VMware that will let you:
Build S3-compatible Storage-as-a-Service and Backup-as-a-Service offerings
Ensure a cost structure that makes you price competitive
Help customers protect against ransomware and ensure regulatory compliance
Ransomware Challenge:
More Data and New Threats
Your customers and their data are at an increased risk of ransomware attacks. Attacks have increased by 97% in the last two years. 75% of companies infected were running up-to-date endpoint protection. Don't let your customers be the next victim. Learn more about ransomware attacks and how hardened, immutable storage with Object Lock protects against them.
Forrester analysts write:
"Implementing an immutable file system with underlying WORM storage will make the system watertight from a ransomware protection perspective."

No organization is immune to ransomware.
Read this Forrester report, "Four Technologies Combine to Protect You From Ransomware Attacks," and learn how you can prepare.
Ransomware Protection Buyer's Guide
A new ransomware attack occurs three times every minute.
Victimized organizations pay a steep price for these attacks, suffering business downtime, data loss, and lost revenue.
Don't let your company be next. Download our guide to understand ransomware threats and what you can do to protect your organization.
Key topics include:
The four most common types of ransomware attacks
Eight urgent steps you can take today
Three dangerous myths about ransomware
Three ways cyber insurance can hurt you
Get US Government-Certified Data Security with Cloudian Object Storage
Read the Cloudian HyperStore SEC17a-4 Cohasset Assessment Report
Cloudian HyperStore 7.2 meets the Federal Information Processing Standard (FIPS) Publication 140-2 Security Requirements for Cryptographic Modules (FIPS PUB 140-2). Get this compliance assessment from Cohasset Associates to learn how Cloudian HyperStore also meets the following US government security standards:
SEC Rule 17a-4(f)
FINRA Rule 4511
CFTC Rule 1.31(c)-(d)
Other protection techniques can be compromised, so learn how your institution can get a truly immutable ransomware protection solution.
Object Lock Protects Your Customers' Data
Cloudian HyperStore, available through the VMware Cloud Provider Program, protects data with Object Lock, so it cannot be encrypted by ransomware. HyperStore is hardened by the use of HyperStore Shell (HSH) and RootDisable, securing the solution at the system level, even disabling root access to make the solution impregnable. Similar solutions typically have porous root access leaving system-level breaches possible.
Build new services revenue opportunities with Cloudian and Veeam Availability Suite V10. This combination gives you the only on-prem ransomware solution that is tamperproof down to the system level, to offer data immutability that's SEC17a-4 and Common Criteria certified.
In this short video, Rajeev Bhardwaj, VP of Products at VMware, Dave Russell, VP of Enterprise Strategy at Veeam, and Jon Toor, CMO at Cloudian, discuss new technology from Veeam and Cloudian, managed within VMware vCloud Director, that locks down your backup data so that it keeps your data safe and malware out.
The Beginning of the End of Ransomware
Ransomware has been identified by the World Economic Forum as one of the top 5 economic risks, a risk level comparable to global warming.
View this expert panel session on-demand to learn how new technology from Cloudian, Veeam, and VMware provides a hardened solution to keep your data safe — whether that be in an on-premises data center or as a Managed Services Provider providing Ransomware Protection-as-a-Service to enterprise customers.
CHAIR
Chris M Evans, Architecting IT
PANELISTS
Cloudian: Neil Stobart, VP Global Systems Engineering
Veeam: Michael Cade, Senior Global Technologist
VMware: Guy Bartram, Global Product Marketing, VMware
Global Service Provider Delivers Elegant, Comprehensive Data Solutions via Cloudian in VMware Cloud Director
"Our customers increasingly demand S3-compatible storage to capitalize on both the growing ecosystem and unbeatable economics of this storage technology. We can now provide the benefits of Cloudian's proven S3-based solution within a vCloud Director-managed environment that unifies all their storage, further reinforcing the outstanding value and service we deliver."
William Bell
Executive Vice President of Products, phoenixNAP
Hear more from phoenixNAP on this webinar with Cloudian and Veeam, "Outsmarting Ransomware Attackers: Key Strategies to Protect Your Data."
How to Build New Revenue Streams with S3-Compatible Object Storage for VMware Cloud Director
Learn how you can profit from scalable, cost-effective S3-compatible object storage, now available from VMware through the VMware Cloud Provider Program (VCPP). Join this webcast to hear:
Why S3-compatible object storage is the de facto storage of the cloud
How you can build storage-based services revenue streams with margins in excess of 50%
New profitable service offerings, including storage-as-a-service, backup-as-a-service, and archive-as-a-service
How to achieve infrastructure cost savings of >50% vs. traditional Tier 1 storage
Cloudian Object Storage for VMware Cloud Director is a scalable, enterprise-grade storage platform that costs far less than traditional SAN/NAS. This webcast will feature the top 10 questions that service providers ask about object storage and a live demonstration of Cloudian HyperStore integrated with the VMware Cloud Director platform.
Speakers
VMware: Fernando Escobar, Cloud Solutions Engineer
Cloudian: Jon Toor, CMO