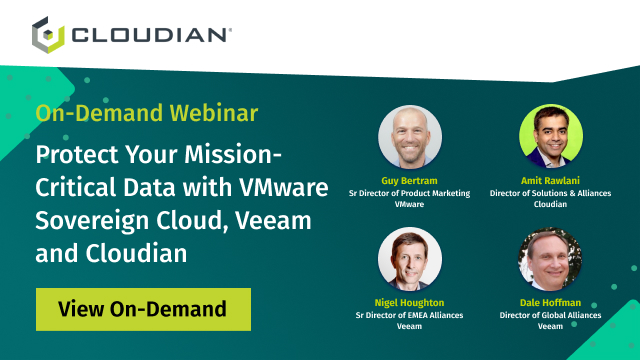 Around the world, there's an increased emphasis on protecting personal privacy information. In fact, many countries are implementing stringent regulations and compliance rules that require data to remain in a sovereign area (i.e. the sovereign cloud).
These regulations highlight the growing need to protect national, corporate, and personal data. It's possible that data residing in a cloud inside or outside of a sovereign area can be collected and queried by a government agency if it is within their legal jurisdiction. Sovereign Clouds help protect and unlock the value of critical data (e.g., national data, corporate data, and personal data) for both private and public sector organizations. To prevent unwanted exposures or compliance violations, data must reside in a sovereign area.
VMware, Veeam, and Cloudian have partnered to develop a solution leveraging VMware's intrinsic security, Veeam's backup capabilities and ransomware protection, and Cloudian's scalable and secure cloud storage to provide a Sovereign Cloud solution that improves data control, demonstrates compliance with privacy laws, and drives digital innovation. The VMware Sovereign Cloud framework provides both guiding principles and best practices for delivering cloud services that can meet security, compliance, and data sovereignty requirements of a specific cloud operating jurisdiction as mandated by the relevant government or commercial body.
Join us for Veeam's VMware Vision Series on Sovereign Cloud, hosted by Dale Hoffman, Director of Global Alliances for Veeam's VMware Partnership. Our expert panelists include Guy Bartram, Sr. Director of Product Marketing at VMware, Amit Rawlani, Director Technology Alliances & Solutions at Cloudian, and Nigel  Houghton, Senior Director, EMEA Alliances at Veeam.
Learn how to keep your data safe within the sovereign boundary, and how to rapidly recover it when needed.