VMware Data Protection was a native data backup solution provided as part of the vSphere stack. VMware Data Protection was discontinued, and most users have turned to third party VMware storage backup tools, which can provide similar or additional functionality. Read on to learn about some of the most popular tools you can use to back up your VMware data center.
In this article:
This article is part of a series on VMware Storage.
What is VMware Data Protection?
VMware Data Protection (VDP) was a backup and recovery solution offered as part of the vSphere suite, powered by EMC Avamar. VMware announced End of Availability (EOA) for VDP in 2017, and End of General Support (EOGS) was announced for March 2020, meaning existing deployments will be supported only until that date.
VMware Data Protection provided the following capabilities:
Agentless backup and recovery of virtual machine images
Application-aware backup for Microsoft applications
Variable-length deduplication across all virtual machines in the same virtual appliance
Backup verification
One-step recovery
Restore virtual machine directly to host when vCenter Server is offline
Faster restore with Change Blog Tracking
Since the EOA announcement, VMware users are migrating to third-party backup solutions. There are several mature solutions available, which offer all the capabilities of the old VDP and more. Below we list five solutions you can use for VMware backup, several of them with free tiers that let you get started at no cost.
Alternative 1: Veeam Backup & Replication
Product page: https://www.veeam.com/vm-backup-recovery-replication-software.html
License: Commercial, free up to 10 VMs
Supports: VMware vSphere, HyperV, AHV, AWS, Azure, Google Cloud, IBM Cloud
Features:
No need to install agents
Backup and replication for ESXi hosts or VMs
Supports Virtual tape libraries (VTL) and physical tape drives
Application-aware backup for Active Directory, Exchange, Microsoft SQL and SharePoint
Cloud tier lets you save to cloud services like Amazon S3
Role-based access control (RBAC)
WAN acceleration for backing up large data volumes to remote storage
Can encrypt data at the source, in motion and at rest using AES 256-bit
Alternative 2: Acronis Cyber Backup
Product page: https://www.acronis.com/en-us/business/backup/virtual-machine/
License: 30 days trial, license for 1, 2, 3 years priced per Virtual Host, Server and Workstation.
Supports: VMware vSphere, HyperV, XenServer, Red Hat Virtualization, KVM, Oracle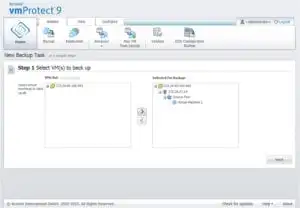 Features:
No need to install agents
Granular recovery for folders, files, databases, documents, or individual emails
Fast restore in 15 seconds or less
Data deduplication and Changed-Block Tracking to reduce backup storage
Role-Based Access Control (RBAC)
Bare-metal recovery lets you backup and restore entire ESXi hosts
Remote recovery over WAN
vSphere replication with WAN optimization
Validate recovery in a sandbox environment
Customize bootable media with scripting for automated recovery
Alternative 3: Nakivo
Product page: https://www.nakivo.com/vmware-backup/
Licensing: Free up to 10 VMs, perpetual license based on number of sockets on hosts or per-machine annual subscription
Supports: VMware, HyperV, Nutanix, Amazon, Azure
Features:
Backup to remote sites
Orchestration of data recovery in complex setups
Application-aware backup and recovery of VMs, Microsoft Exchange, Microsoft SQL, Active Directory
Enables saving backups to Amazon or Azure
Automatically verified backups
Deduplication and compression to reduce storage costs
Restore full VMs or virtual disks
LAN-free data transfer and network acceleration
Alternative 4: Synology Active Backup
Product page: https://www.synology.com/en-global/dsm/feature/active_backup_suite
Licensing: Enterprise pricing available upon request
Supports: VMware, HyperV
Features:
Does not require installing agents
Application aware backup for Exchange, Active Directory, Microsoft SQL, SharePoint
Virtual Machine Manager lets you restore services even when production VMware environment is down, and can be used for on-screen simulations of backup operations
Instant restore—start VMs directly from backup
Bare-metal backup for entire ESXi hosts
Incremental backups with Changed Block Tracking to reduce storage space
Deduplication across multiple devices, platforms and versions
Alternative 5: ThinWare vBackup
Product page: https://www.thinware.net/Products/ThinwarevBackup/tabid/202/Default.aspx
Licensing: Free with most functionality, cost per ESXi host for advanced features like compression and vSphere APIs
CLI and API for automation
Basic and advanced compression to improve backup speed and reduce storage volume
Pooled backup storage using thin provisioned disks deployed on virtual machines
Integrates with VMware Consolidated Backup
Instant restore—power up virtual machine directly from backup
Read more in our guide on VMware backup and VMware site recovery manager.
Distributed Storage for VMware Backups with Cloudian
VMware backups can take up huge amounts of storage space, and setting up on-premise storage infrastructure can be daunting.
Cloudian HyperStore is an on-prem, enterprise storage solution that is certified for use in VMware environments, and enables easy scalability from hundreds of Terabytes to Exabytes to support any scale of backup data. It is fully compatible with the S3 API. HyperStore is used in demanding operator-scale deployments using VMware vCloud Director.
Learn more about Cloudian's solutions for VMware storage.