Cisco-Certified Storage Solutions for Capacity-Intensive Application Workloads
Meet your most demanding data needs with limitlessly scalable storage that simplifies infrastructure
A Better Storage Solution
The exploding growth of enterprise data demands a reliable, efficient and scalable solution. Cisco and Cloudian have collaborated to combine Cloudian's industry-leading, S3-compatible HyperStore object storage software, with Cisco's high-capacity, high-performance UCS S-Series servers.
This solution delivers new levels of technical and cost efficiencies for today's environments – and is ideal for backup, archive, life science, healthcare, media & entertainment, IoT, financial services, and other areas where there is massive data growth and a need for exabyte-scale storage that is affordable, highly reliable and durable. Deployed on-premises, this solution is also hybrid and multi-cloud ready. A single, global namespace ensures a unified view and control of data across all locations, including private on-premise as well as multiple public clouds.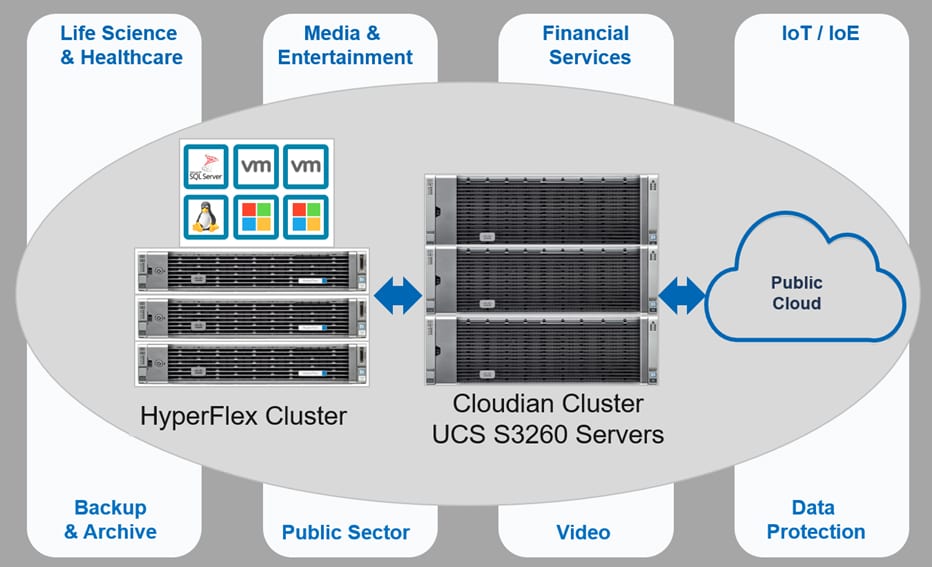 Cloudian HyperStore clusters running on Cisco UCS S3260 servers
Cloudian software enables S3-compatible storage from Cisco servers. Ideal for capacity-intensive workloads such as backup, archive, and media. Simple integration with public cloud (AWS, GCP and Azure) enables hybrid cloud configurations for DR.  
Software Defined Storage (SDS)
Cloudian HyperStore software running on Cisco servers simplifies your storage infrastructure by transforming high-density servers into S3-compatible storage appliances.
Integrate seamlessly with all applications that can leverage S3 storage. Get non-disruptive, cost-efficient storage growth to meet the needs of capacity-intensive applications. If desired, data tiering or replication to the public cloud provides cost-effective DR.
KEY SOLUTION BENEFITS
On-demand, non-disruptive scaling from terabytes to exabytes
Uncompromising data durability and protection
Reduction of storage infrastructure costs
Single, global namespace for unified data management across multiple data centers and regions
Flexible deployment and configuration options
Cisco UCS S3260 and Cloudian HyperStore software has achieved Cisco UCS certification as a Cisco Validated Design (CVD)