Cloudian target for Veeam provides immutable backups for protection against ransomware
Challenge: More Data and New Threats
IT managers must manage data growth, meet stringent RPO/RTO objectives,
and protect data from loss or malicious attacks. Your infrastructure choices for a backup and storage target are critical to meeting these data protection objectives. Traditional storage appliances as backup targets are expensive and lack scalability. Public cloud targets can limit bandwidth, resulting in lengthy restore times. Wherever your backup data resides, a ransomware attack could render that data useless, potentially shutting down operations. The need for a new approach to data protection has never been greater.
Solution
The Lenovo ThinkSystem series for Cloudian HyperStore and Veeam Backup & Replication simplifies and accelerates your data backup and recovery processes providing enterprise-grade data protection. Customers can meet their backup window and RTO/RPO objectives while enabling an offsite data recovery strategy that dovetails seamlessly into their daily backup workflow. Cloudian HyperStore enterprise storage complements Veeam Availability Suite with a fast, on-premises, disk-based storage and built-in ransomware protection. At 70% less cost than public cloud or traditional enterprise storage, Cloudian offers an innovative solution for better backup storage.

Cloudian provides a fast, on-prem, capacity-tier storage target
for Veeam Availability Suite deployed on Lenovo ThinkSystem Series. The Object Lock feature ensures protection from ransomware.

SOLUTION BENEFITS
Enterprise-Grade
Running on industry leading ThinkSystem hardware, the solution of Cloudian and Veeam provide enterprise-grade data protection solution
Ransomware Protection
Object Lock feature protects backup copies from encryption by ransomware
Assured restore in event of an attack
Superior RPO/RTO
Fast restore from on-prem, disk-based backup target
Lowest TCO
1/3 the cost of public cloud or traditional enterprise storage
30% lower TCO than tape
Trouble-Free Integration
Veeam Object Ready certified
Proven in Veeam deployments worldwide
Modular and limitlessly scalable
Start small and expand without downtime
Cloud compatible
Replication to public cloud for DR
Compatible with AWS, Azure, GCP
Use Cases
Ransomware Protection: Immutable data for compliance, governance or legal hold
Data protection: Integrated backup and archive solution
Disaster recovery: Policy-based replication to cloud or remote site for DR
Regulatory Compliance HIPAA, GDPR, SEC Rule 17a-4
S3 Data Lakehouse with Cloudian on Lenovo ThinkSystems
Data Analytics on a Cloudian S3 Data Lakehouse
The modernization of the data analytics architecture that started in the cloud combines the flexibility, cost-efficiency, and scale of data lakes with the data management and ACID transactions of data warehouses giving us the Data Lakehouse. Data Lakehouse allows enterprises to analyze large amounts of structured, semi-structured, or unstructured data, for instance, web server logs, RDBMS data, NoSQL data, social media, sensors, IoT data, and third-party data, all stored in one place, in the same format as its source systems in a modern data lake.
Solution
Cloudian HyperStore running on Lenovo SR650 as a scale-out storage cluster comprised of shared nothing storage nodes is the S3 data lake that enterprise customers need to create their own on-prem Data Lakehouse.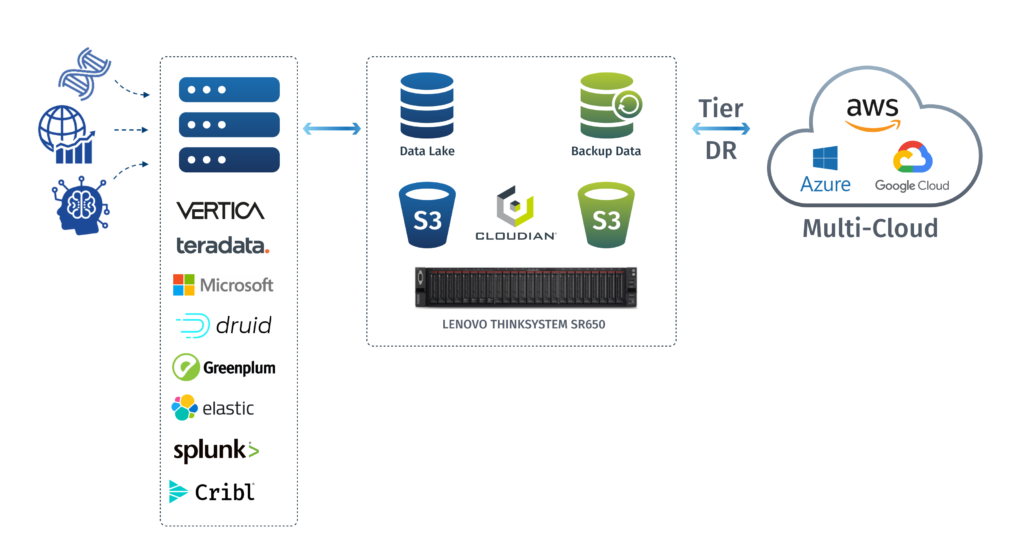 SOLUTION BENEFITS
Cloud-like – Modernize your data warehousing solution and get the flexibility of the Cloud
Industry leading storage infrastructure with Lenovo ThinkSystems
Limitlessly scalable architecture with scalable throughput (>18 TB/hr with 16 nodes). Accelerate query performance and tuning with no code changes required.
Disaster Recovery– Ensure uptime with fully-managed DR within HyperStore.
S3 API – Connect to any provider of S3-compatible object storage, example HyperStore
Data protection – Use immutable ledger to protect data from tampering
Use Cases
Modern Data Warehousing with S3
Data Lake
Backup / Restore SQL Server data to S3 for Data Protection
Klik.Solutions Delivers World-Class Backup-as-a-Service with Lenovo/Cloudian
Klik.Solutions is an innovative IT solutions and managed service provider (MSP), offering a wide range of services to its clients, including managed infrastructure, managed cloud, managed security, and technology assessments. The firm's clients include Unilever, Johns Hopkins Hospital, Kaiser Permanente, Carlyle Group, University of Maryland, and LSI. Klik.Solutions is headquartered in Baltimore, Maryland and has operations in Washington, D.C., Dallas, and Amsterdam.
Private Disaster Recovery-as-a-Service
Klik.Solutions has seen strong interest from their customers in backup and data retention services that let them move specific data off-premise. Many enterprise customers that engage with Klik.Solutions are struggling to manage the growth and cost of structured data on-premise. They've had to continually buy ahead of need and effectively over-provision expensive storage, even for backup and archive data. On top of that, they needed keep backup copies offsite.
Offsite data protection is a core competency for Klik.Solutions. They wanted to offer customers a private cloud alternative that would stand shoulder-to-shoulder both technically and economically with public cloud solutions. "Our customers value knowing where their data is, and being able to access it immediately without worrying about data retrieval costs," said Marc Winter, Chief Marketing Officer at Klik.Solutions.
"We looked at three different S3-enabled products. Cloudian was by far the most complete solution, and it was multi-tenant ready from the get-go. No other solutions offered the combination of features we needed."
Arthur Olshansky, Chief Technology Officer, Klik.Solutions