Enterprise Object Storage
Cloudian® HyperStore® S3-compatible object storage solves your biggest storage challenges. Deploy HyperStore nodes wherever you need capacity storage, then scale seamlessly. Employ HDD-based platforms for the industry's lowest TCO. Or leverage all-flash and get 3X better price/performance than competing systems. Cloudian HyperStore is the antidote to storage complexity.
Deploy Cloudian HyperStore software on the platform of your choice. Compatible with industry-standard servers, Cloudian gives you the widest possible choice of bare-metal servers or virtual machines. Use HDD-based servers for capacity-intensive applications, or leverage Cloudian flash-optimized software for the highest performance on all-flash devices. Or combine HDD and flash in an adaptive hybrid configuration with intelligent data placement. Regardless of the platform, you get all HyperStore features and functionality.
Cloudian HyperStore appliances give you plug-and-play deployment and end-to-end support. Choose from HDD or all-flash configurations to meet your performance and capacity requirements. Or combine both types in a hybrid configuration that is responsive to changing data usage patterns. Capacities range from 77TB to over 1.5PB per appliance. Each configuration is carefully configured to give you the optimal mix of performance, capacity, and cost.  Whichever you choose, you'll have enterprise support options to help meet your continuous uptime requirements.
Product Features
The most complete feature set in its class.
Cloudian HyperStore offers more capabilities that boost interoperability, data durability, and operational efficiency.
PROVEN S3 API
The industry's highest S3 API compliance ensures investment protection
FILE SUPPORT
SMB and NFS support with HyperFile NAS Controller software

EXABYTE SCALABILITY
Hyperscale data fabric for limitless growth
MODULAR GROWTH
Scale capacity and performance with additional nodes
GEO DISTRIBUTION
Locate storage any place, manage from one place
CLOUD INTEGRATION
Connect to public cloud for DR or added capacity
1.5PB
At 1.5PB in a 4U-high chassis, the HyperStore Xtreme provides 79% more storage density. Pack up to 18PB in a data center rack.
The dual controller design includes two independent cluster nodes in a single enclosure. Three appliances provide six independent nodes.
Fully redundant power and cooling, plus hot-swappable components.
Performance features include four 1.92TB SSDs for metadata, four Intel Xeon Silver processors, and eight 10Gb Ethernet ports.
Up to 980TB
With dual controllers and 560TB to 980TB in 4U height, the 4000 Series packs two independent cluster nodes in one device.
Three appliances provide six independent nodes, ideal for erasure coding configurations.
Fully redundant power and cooling, plus hot-swappable components ensure high data availability.
Also included are four 1.92TB SSDs for metadata, four processors, and four 10Gb Ethernet ports.
Up to 168TB
The compact, 1U-high 1500 Series includes 96TB to 168TB capacity per appliance.
In this peer-peer architecture, clusters can start with just three appliances, and then grow limitlessly without disruption.
Each appliance includes dual 960GB SSDs for metadata, dual processors, and two 10Gb Ethernet ports.
HyperStore Flash 1000 Series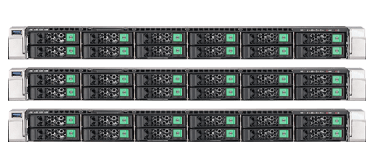 Up to 153.6TB
The all-flash based, 1U-high 1000 Series includes 76.8TB to 153.6TB capacity per appliance.
Ideal for performance-intensive workloads, flash-based nodes provide lower latency and higher throughput performance than HDD-based nodes. (Read the blog post here)
Each appliance includes 12 NVMe drives, pair of 26-core processors, and multiple 10/25GbE or 40/100GbE networking options.
The Object Storage Buyer's Guide
The technical and financial benefits of object storage and how to evaluate the technology for your environment
This comprehensive eBook details how hyperscale object storage can help you reap the maximum ROI from your storage investment.
Chapters include:
How Does Object Storage Work?
Technical Benefits
Financial Benefits
Object Storage and the Cloud
Use Cases
"Cloudian has the most mature object storage solution out of all the vendors we have tested. After spending close to a year testing all the major object storage vendors, Cloudian proved to have the most resilient, mature, and performant product."
– Director, Telecommunications Company
The Gartner Peer Insights Logo is a trademark and service mark of Gartner, Inc., and/or its affiliates, and is used herein with permission. All rights reserved.
Modular Growth
Cloudian HyperStore consists of storage nodes that join to form a limitless cluster. As requirements grow, you simply add nodes. Traditional storage grows in complexity as your capacity expands and systems proliferate. Cloudian stays simple with a single storage fabric. Deploy nodes as either pre-configured appliances – with capacities from 48TB to 1.5PB per appliance – or as software-defined storage on the server of your choice, Cloudian nodes make it easy to grow. LEARN MORE
File and Object Together
Cloudian combines file and object storage in one limitlessly scalable environment. For SMB and NFS file services, employ the HyperFile NAS Controller. Available as either a pre-configured appliance or a VM-based application, HyperFile delivers scalable file services from HyperStore object storage. The result is a single, limitlessly-scalable common storage pool. LEARN MORE
Object storage vs. file storage: What's the difference? READ BLOG
Deployment Options
Deploy as on-premises storage, distributed storage, or storage-as-a- service.
Learn How Much You Can Save with Cloudian Object Storage
Find out how much you can save with Cloudian object storage.
Cloudian HyperStore lets you start small and grow to hundreds of petabytes on-premises simply by adding nodes. Leverage the proven interoperability of the industry's only 100% native S3 API.
Cloudian HyperStore offers more capabilities that boost interoperability, data durability, and operational efficiency.
Erasure Coding
Multi-tenancy
100% Native S3
Compression
QoS
Encryption