Cloud-Like Infrastructure Where You Need It​
Enterprises choose Cloudian HyperStore 8 for​
Native S3 API Compatibility​
Industry's highest S3 API compatibility ensures smooth application execution.
Unified File and Object
HyperStore File Services and object storage together in one management environment.
Geo-Distribution​
Put Cloudian storage wherever you need it, and then manage it all from a single location.
Ransomware protection​​​
Lock out ransomware. Cloudian Object Lock delivers proven protection from hacker encryption.​
Capabilities and Benefits​
Bimodal Data Access
Access all data in both file and object formats, regardless of its original format. Share information across legacy and modern applications.
Military-Grade Security​
The most extensive set of security certifications in object storage, plus data immutability and Secure Shell for intrusion defense. ​
Scalability​​
Start small and grow to exabytes without interruption. Add capacity on-demand. ​
High Performance
Deploy on all-flash for blazing performance and thrifty power efficiency.
Hybrid Cloud​
Policy-based data management plus integration with AWS, Azure, and GCP clouds.
Complete Visibility
View storage, networking and server metrics with Cloudian HyperIQ observability and analytics softwareView storage, networking and server metrics with Cloudian HyperIQ observability and analytics software.
​
Application Aware​
Hybrid storage policy management maximizes your performance and capacity efficiency in real time.​
"With Cloudian, DR became automatic. We store data to the archive and it's automatically replicated to the cloud. That's a lot simpler and more reliable than managing tapes."​​
Shane Miner​
GBH Senior Director of Technical Services
Ransomware Protection​
Deploy Cloudian as an on-prem target for reliable, high-speed backup and restore. Object Lock enables set-and-forget ransomware protection. Cloudian is proven compatible with all major data protection software.​
Storage Services​​
Provide services to multiple users, applications or customers from a single storage pool. Cloudian's cloud-native, service-ready architecture make it secure and easy to manage.​
Data Sovereignty​​​
Regulatory compliance often requires tight control of data locality. Cloudian gives you complete control over data location, while providing the scale and simplicity of cloud-native data management.
The Object Storage Buyer's Guide
Learn how customers leverage Cloudian for unstructured data management, ransomware protection, analytics and more. ​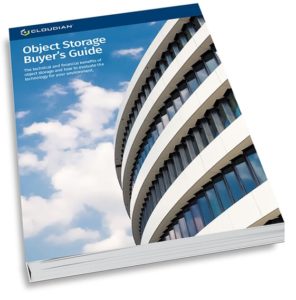 Multi-Platform
Cloudian HyperStore software runs on VMs, the public cloud, and industry standard servers from most hardware vendors. See the datasheet for hardware requirements.
Cloudian Appliances​
Cloudian appliances include pre-integrated HyperStore software. Available in 1U and 4U form factors, and in all-flash and HDD-based configurations, Cloudian appliances offer capacities ranging from under 100TB to over 1PB. ​