Healthcare data is increasingly digitized and, like in most other industries, data is growing in Velocity, Volume and Value. Health Data Management is the practice of making sense of this data and managing it to the benefit of healthcare organizations, practitioners, and ultimately patient well being and health.
Read on to learn what types of data are managed in Health Data Management, the benefits and unique challenges of the field, including data protection considerations and measures to avoid data breaches when storing healthcare data.
This is part of an extensive series of guides about compliance management.
In this article you will learn:
• What is Health Data Management?
• Five benefits and three challenges of health data management
• Secure, low-cost health data storage with Cloudian
What is Health Data Management?
Health Data Management (HDM), also known as Health Information Management (HIM) is the systematic organization of health data in digital form. This can be anything from Electronic Medical Records (EMR) generated as a result of doctor visits, to Electronic Health Records (EHR), to handwritten medical notes scanned to a digital repository.
Health Data Management is tasked not only with organizing medical data but also integrating it and enabling its analysis to make patient care more efficient, and derive insights that can improve medical outcomes, while protecting the privacy and security of the data.
According to a Deloitte survey:
Most healthcare organizations collect EMR abstracts, claims data, and data about enrollment and medical programs.
Only leading organizations additionally use electronic EMR feeds and disease management program data.
Very few organizations use non-health data sources that can be used to augment formal medical data, such as patient lifestyle information, remote monitoring and wearable devices, and survey data about patient experience.
As Health Data Management progresses, more organizations will collect a larger variety of health-related data, and integrate it to generate new insights that can enhance patient health.
Five Health Data Management Benefits
Health Data Management can have significant benefits for healthcare organizations, medical staff and patients:
Create a comprehensive view of patients, households, and patient groups—composite profiles that provide status and enable predictions.
Improve patient engagement—target patients with reminders and care suggestions that can be relevant for them, based on predictive modeling.
Improve health outcomes—track health trends in certain areas or among specific populations, predict new trends and suggest proactive measures to counter rising health issues.
Business decision making—help healthcare providers make better data-driven decisions, such as which types of medical professionals to recruit, what equipment to invest in, or which types of patients to focus on in marketing efforts.
Analyze physician activity—analyze data on medical practitioners such as success rates, time invested in different treatments and medical decisions, and aligning physicians with the goals of the healthcare organization.
Three Health Data Management Challenges
In the past forty years, medical data began a transition from purely paper-based tracking to digitized information. Even today, many types of medical data have yet to be digitized, or have not yet been integrated into Health Data Management systems.
Here are a few important challenges facing health data professionals today:
Fragmented data—medical data can be structured data in spreadsheets or databases, images or video files, digital documents, scanned paper documents, or may be stored in specialized formats such as the DICOM format used for MRI scans. Data is widely duplicated, collected multiple times and stored in different versions by healthcare providers, public health organizations, insurance bodies, pharmacies, and patients themselves. There is no one source of truth for information on patient well being.
Changes to data—medical data constantly changes as do the names, professions, locations and conditions of patients and physicians. Patients undergo numerous tests and are administered many types of treatment over the years, and the treatments and medications themselves evolve over time. New types of medical treatment, such as telehealth models, create new types of data.
Regulations and compliance—medical data is sensitive and must adhere to government regulations, such as the USA Health Insurance Portability and Accountability Act (HIPAA). Data discovery challenges and poor data quality make it much more difficult to perform the required audits and meet regulatory requirements and limits the diversity of data healthcare providers can use for the benefit of patients.
Storage Considerations for Healthcare Data
According to research from IDC, the amount of data generated by healthcare information and imaging systems is expected to grow from 153 Exabytes in 2013 to 2,300 Exabytes in 2020.
Beyond the above challenges, healthcare providers need to consider how they will store all that data:
Scalability—the fastest-growing segment of healthcare data is unstructured data such as MRIs, CT scans, X-ray and PET scans. As this data grows to Petabytes, healthcare organizations need a highly scalable, low-cost storage solution.
Compliance—storage must be compliant with regulations.

HIPAA

and other healthcare industry regulations require that data be protected with Role-Based Access Controls (RBAC), audit trail logging and data encryption at rest and SSL for data in transit, with properly-audited key management procedures.
Vendor neutral archive (VNA)—a

VNA

provides one interface for multiple healthcare information platforms. It makes it easier to consolidate many types of healthcare information into a central repository that provides a central view of patient records. Storage platforms should provide VNA integration.
Data resiliency and protection—health data is a frequent target for cyberattacks and represents a major risk for providers if it is accidentally lost or deleted. Storage systems should provide redundancy, replication,

data backup

, and erasure coding that can distribute fragments of data across multiple nodes.
Read more in our guides to VNA storage and Healthcare Data.
Secure, Low-Cost Health Data Storage with Cloudian
Cloudian provides HyperStore, an Exabyte-scale, on-premise, cost-effective storage platform for healthcare environments. It allows healthcare organizations to store, move and protect files across locations at up to 70% lower cost than disk-based storage.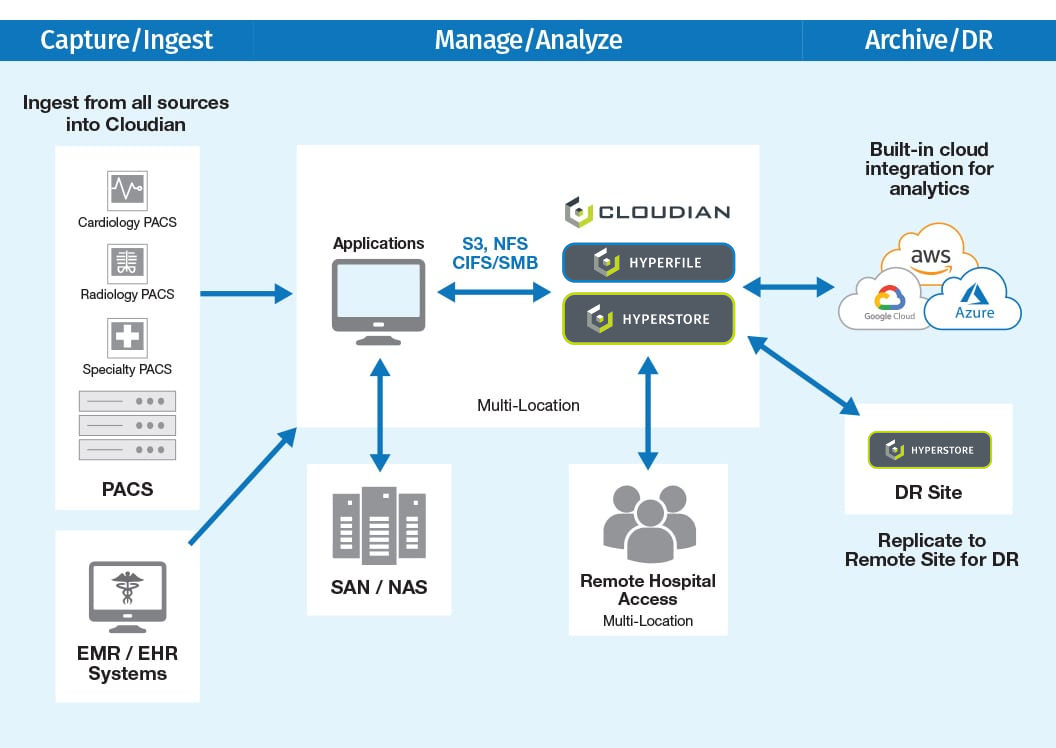 Hyperstore provides the following benefits for healthcare organizations:
Cloud flexibility—deployments can start small and grow as needed, from a 3-node configuration to thousands of nodes as needed. Each node can be a physical appliance or virtual, running on commodity hardware.
Broad integrations—Hyperstore integrates with numerous healthcare applications and archive solutions, allowing it to be used as a central repository, with access to a complete view of patient information.
Security and compliance—Hyperstore is HIPAA-compliant, with security features including data encryption and transparent key management, AES-256 server-side encryption for data at rest, SSL for data in transit, RBAC with specified levels of access, audit trail logging, WORM (Write Once Read Multiple) for storage of immutable data.
Rich metadata—HyperStore has rich metadata tagging features built-in, which lets data scientists to discover new patterns and insights in healthcare data.
Data protection—HyperStore provides data durability of 99.999999999999% (14 nines), by distributing data using replication or erasure coding. The number of replicas and erasure code scheme can be customized to meet the SLA.
Read more about Cloudian's storage solutions for healthcare.
Learn More About Health Data Management
Health Data Management (HDM) is the methodical organization of health data in digital form. This can be anything from Electronic Health Records (EHR), Electronic Medical Records (EMR) generated as a result of doctor visits, to handwritten medical notes.
Health Data Management enables you to integrate and analyze medical data to make patient care more efficient, and extract insights that can improve medical outcomes, while protecting the security and privacy of the data.
There's a lot more to learn about health data management. To continue your research, take a look at the rest of our blogs on this topic:
Medical Records Retention: Understanding the Problem
Every person in the developed world has a medical record. Medical records collect valuable and sensitive information about the health of an individual. This includes their well being, medical conditions they suffer from and required medical treatments.
The need to retain medical records for long periods of time, makes them complex to manage. This article reviews the concept of medical records, how long you need to retain them, and how to manage organizational and storage aspects of medical records.
Read more: Medical Records Retention: Understanding the Problem
HIPAA Compliant Cloud Storage and On-Premises Alternatives
HIPAA regulations apply to healthcare organizations, healthcare professionals, healthcare insurance companies, and business services providers. Protected Health Information (PHI) is increasingly digitized, and the exploding volume of protected data raises the question of how to store the data in a way that is HIPAA compliant and conducive to protecting data privacy and security.
This article reviews the basics of HIPAA compliance, how it applies to storage both in the cloud and on-premises, HIPAA compliance offered by the major public cloud vendors, and how you can achieve cloud-like benefits with HIPAA compliance on-premises.
Read more: HIPAA Compliant Cloud Storage and On-Premises Alternatives
Vendor Neutral Archive: From Silos to Unified Medical Image Data
A Vendor Neutral Archive (VNA) stores images generated by medical devices and scanners using a standard format. It enables interoperability between the systems that store the images and Communication Systems (PACS). Medical staff can view images from across the organization using multiple screens or devices.
This article explains how VNA systems can standardize and connect imaging silos across a medical organization, and allow medical staff and patients to access and view medical images from anywhere.
Read more: Vendor Neutral Archive: From Silos to Unified Medical Image Data
See Our Additional Guides on Key Compliance Management Topics:
Together with our content partners, we have authored in-depth guides on several other topics that can also be useful as you explore the world of compliance management.
Authored by Exabeam
Authored by Atlantic
Authored by Atlantic