Imaging systems in medical institutions generate over 600 million high-resolution images per year, in the USA alone. As medical imaging becomes almost exclusively digital, medical image repositories are becoming a huge burden for medical institutes, as well as a tremendous opportunity for improving medical workflows, sharing information between institutions, departments, and caretakers, and performing new types of analysis that can advance medicine.
Read on to learn how Vendor Neutral Archive (VNA) systems can help connect and standardize imaging silos across a medical institute and allow medical staff and patients to access and view medical images from anywhere. Vendor Neutral Archive (VNA) systems can be an integral part of your health data management plan.
In this article, you will learn:
• What is a Vendor Neutral Archive?
• How a Vendor Neutral Archive works
• Four considerations for implementing VNA
• Secure, low-cost object storage for VNA with Cloudian
What is Vendor Neutral Archive?
A Vendor Neutral Archive (VNA) stores images generated by medical scanners and devices using a standard format. It allows interoperability between the systems that store the images, called Picture Archiving and Communication Systems (PACS), and enables medical staff to view images from across the organization using multiple screens or devices.
PACS systems are used in 80% of hospitals in the developed world. They are silos that serve specific departments or types of medical scanning and imaging (for example, MRI). A PACS captures images generated by a specific type of medical equipment, in different variants of the specialized DICOM image format. It usually offers viewers that enable medical staff to view the high-resolution images and perform different types of analyses on them.
Because there are different PACS for each department or type of medical imaging, before the advent of VNA, there was no centralized way to view and share medical images across the organization. In addition, hospitals needed to carry out complex data migrations when they switched equipment or adopted new types of scanning because the previous image formats were not compatible.
Related content: Read our guides to VNA storage and Medical Records Retention.
Benefits of VNA
VNA was a big step forward, integrating all the different PACS in a healthcare organization, and automatically performing the conversions and format adjustments that would allow images from one system to work in another.
The benefits of a Vendor Neutral Archive include:
Ability to access data from any PACS without complex integration
Ability to change a PACS without complex migration
Central control and governance of image data
Enabling clinical workflows to use images from multiple types of medical imaging
Integrating Electronic Health Records (EHR) systems with medical images, allowing doctors to open images of tests from within the patient's record
Integrating with new imaging software that allows medical staff, and even patients, to view specialized images on any device or screen size
How a Vendor Neutral Archive Works: Compatibility, Integration, and Resilience
Traditional PACS typically stores medical images in the Digital Imaging and Communications in Medicine (DICOM) format. There are several syntaxes of DICOM, and each type of medical imaging tends to use a different syntax.
Vendor Neutral Archive systems sit between the image repositories and the PACS management system. When a PACS makes a request for an image, the VNA can deconstruct the image from the repository, and reconstruct it on the fly in the format needed by the requesting system, also modifying metadata tags as needed to improve compatibility. VNA can also access images in formats other than DICOM, using a standard called cross-document sharing (XDS).
Vendor Neutral Archives serve two other important purposes:
A VNA is an integration center for medical images, which also integrates and allows access to images from Electronic Health Records (EHR), and other medical documents defined by the Health Level Seven International (HL7) standard.
VNA systems improve resilience and security for images. Common features of VNA are backup and disaster recovery, logging, and security features that allow IT and security teams to better protect image repositories.
Four Key Considerations For Implementing a VNA System
Implementing a Vendor Neutral Archive system is a large project. While there are many considerations, which may vary depending on the institution and its image usage, here are four central considerations that will be relevant to most projects.
Motivation for implementing a VNA
Clarify why your organization needs a VNA. This will help you select the most appropriate tools and focus your implementation project:
To eliminate image migrations each time you change PACS vendors
To get a universal viewer for medical images integrated with EMR
To create a gateway to an external image registry or HIE (Health Information Exchange)
To store non-DICOM objects such as JPEG, Waveform files, video clips or Microsoft office documents (not all VNAs support this)
Image use and analytics requirements
Identify what is the "intent" of your medical images. Medical staff may use images for diagnosis, for guiding surgery or other active medical procedures, or as evidence of a medical procedure, for example footage taken during a colonoscopy. Depending on the intent, images may have different uses and participate in different workflows. Also identify what type of analytics will be performed on the data, and which departments should have access to images for analysis, either on a patient-by-patient basis or on a broader basis for medical studies.
Database capabilities
Unlike PACS systems that have a closed data structure with no access to the underlying SQL database, VNAs do provide access to their database scheme. Identify what type of queries your VNA database enables – only top-down Patient-Study-Series-Image queries, or more complex queries, like searching for all images created at a certain time or all images for specific groups of patients. Advanced VNAs may have fuzzy search algorithms that allow searching for data which is inconsistent or of poor quality.
Storage architecture
Some VNAs use traditional disk-based storage with a file-based representation of image data. However, the industry is gradually moving to object-based storage. In object-based storage, you don't know exactly where each object is stored, but there is a unique record located (URI) that lets you access the object from anywhere in the network. There is much more flexibility to duplicate and distribute objects across physical storage devices for redundancy and scalability.
Secure, Low-Cost Object Storage for VNA with Cloudian
VNAs require huge amounts of storage, which needs to be highly scalable, resilient and easy to backup, compliant with medical industry standards, and preferably, supporting an object storage paradigm.
Cloudian addresses these needs with HyperStore, an Exabyte-scale, on-premises storage platform for healthcare environments. HyperStore is a distributed, secured object storage system that can store healthcare image data at up to 70% lower cost than disk-based storage.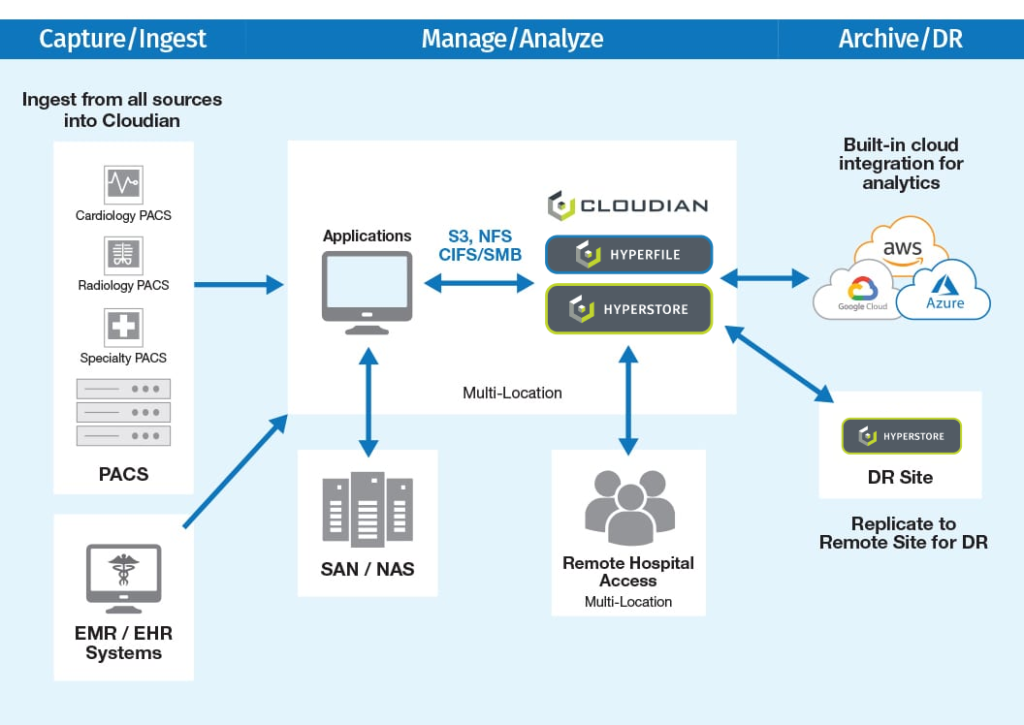 Hyperstore provides the following benefits for healthcare organizations:
Cloud flexibility—deployments can start small and grow as needed, from a 3-node configuration to thousands of nodes as needed. Each node can be a physical appliance or virtual, running on commodity hardware.
Broad integrations—Hyperstore integrates with numerous healthcare applications and archive solutions, allowing it to be used as a central repository, with access to a complete view of patient information.
Security and compliance—Hyperstore is HIPAA-compliant, with security features including data encryption and transparent key management, AES-256 server-side encryption for data at rest, SSL for data in transit, RBAC with specified levels of access, audit trail logging, WORM (Write Once Read Multiple) for storage of immutable data.
Rich metadata—HyperStore has rich metadata tagging features built-in, which lets data scientists to discover new patterns and insights in healthcare data.
Data protection—HyperStore provides data durability of 99.999999999999% (14 nines), by distributing data using replication or erasure coding. The number of replicas and erasure code scheme can be customized to meet the SLA.
Read more about Cloudian's storage solutions for healthcare.