High-Margin MSP Business Models for Differentiated as-a-Service Offerings
Expand your cloud service provider offerings with services built on Cloudian S3-compatible storage and VMware Sovereign Cloud. Cloudian gives you a proven path to a profitable services business.
Speed to Market
Get revenue-ready solutions via built-in integrations with Veeam Cloud Tier and VMware Cloud Director (and storage available for purchase through the VMware Cloud Provider Program).
Increased Revenue and Margins
Save up to 70% with the storage industry's lowest total cost; create and offer services with margin potential in excess of 50%.
Differentiated Services 
Backup and Storage-as-a-Service: Combine Veeam Backup and Replication software with Cloudian HyperStore and package them into an easily consumable Backup-as-a-Service.
Ransomware Protection as-a-Service: Offer the industry's first standards-based Ransomware Protection as-a-Service with the S3 Object Lock-based data immutability solution from Veeam and Cloudian.
Microsoft Office 365 Backup-as-a-Service: Offer complete protection for Office 365 environments using Veeam Backup for Office 365 (VBO) backing up to secure Cloudian HyperStore.
Disaster Recovery-as-a-Service: Combine Veeam Backup and Replication software with Cloudian HyperStore in copy mode to create and offer a complete DR as-a-Service with offsite storage.
Get Started with
our Free 45 Day Trial
Start Your Free Trial
Download the full-featured free trial of Cloudian®️ software and install it on any commodity hardware to build and test a public, private, or hybrid cloud solution.
Building a Sovereign Cloud with VMware and Cloudian
Data sovereignty and sovereign clouds have taken on a new significance in the world today. The need for compliance creates a complicated patchwork of requirements. Data hosted in a particular country should be under that country's jurisdiction, not a foreign entity. It is also essential to consider the privacy laws in the country where the data was collected. Beyond that, there are the organization's own requirements for data privacy, data residency, data protection and data security.
Given this complexity, it is no surprise that organizations are increasingly working with service providers and managed service providers (xSPs) to help them both implement data security and data protection measures and navigate regulations to ensure compliance with data privacy legislation. This presents an opportunity for cloud xSPs to meet this demand with end-to-end cloud services that are scalable, cost effective, and secure.
The Economics of High-Value Cloud Services with High Margin Potential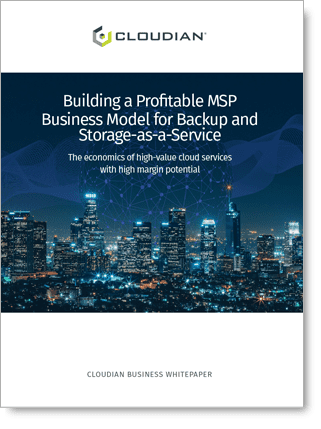 Managed Services is a healthy, thriving market. Organizations of all sizes are streamlining their operations by focusing their resources on the work they do best for their customers while partnering with service providers for the rest. As a result, the managed services market is expected to reach $257 billion by 2022.
The nearly $250B Managed Services market is becoming increasingly competitive. To succeed, MSPs must deliver a broad portfolio of sought-after services along with excellent customer service.
Download this guide to learn how:
Storage-as-a-Service and Backup-as-a-Service are growing in popularity
Managed Service Providers benefit from this market opportunity
Cloudian HyperStore enables margin potential in excess of 50% for MSPs
Modular storage growth lets you start small and expand with demand
High Value-Add Services for Cloud Service Providers
Offer S3-compatible storage-as-a-service, or combine Cloudian storage with 3rd party applications to create additional services. Interoperable with all applications that connect to AWS S3 storage, Cloudian lets you leverage the full S3 API application ecosystem so you can deliver new revenue streams for your business.

NEW! Ransomware-Protection-as-a-Service (RPaaS)
Address your clients' urgent need to protect data from loss or malicious attacks. Cloudian and Veeam now support Object Lock, a data protection feature that makes backup data copies to be made unchangeable for a set period of time.
NEW! Office 365 Protection as-a-Service (OPaaS)
Help your clients address the urgent need to protect their Office 365 data with HyperStore as a secure backup repository.
Storage-as-a-Service (STaaS)
Provide additional storage capacity on a subscription basis to help customers address their growing volumes of data.
Backup-as-a-Service (BaaS)
HyperStore can serve as a backup target that integrates easily with backup platforms such as Commvault, Rubrik, Veritas, and Veeam.
Archive-as-a-Service (AaaS)
With its limitless scalability and data durability (up to 14 nines), HyperStore is ideal for providing a long-term data repository.
Disaster Recovery-as-a-Service (DRaaS)
Help customers avoid the risks of business and organizational disruptions resulting from disasters by keeping a copy of their data offsite.
Big Data-as-a-Service (BDaaS)
Leverage Cloudian's rich metadata tagging to apply machine learning and analytics to large data sets. Enable new insights, discoveries, and operational efficiencies.
Cost-Effective to Buy and Manage
Built for cloud service providers, Cloudian makes it easy to grow and manage your business. Cloudian scale-out storage systems are designed to keep your costs down and profits up.
Cloudian's native S3 API implementation works seamlessly with your client's applications to ensure a great user experience. Plus, it guarantees trouble-free connectivity with the full range of S3-enabled applications, giving you more cloud service revenue opportunities.
Low Startup Costs, Easy to Grow
The modular architecture keeps CAPEX to a minimum by letting you can start small and add capacity with demand, rather than ahead of it. Performance grows, too, as you add capacity, to help eliminate bottlenecks.
Plus, Cloudian offers the industry's richest service-provider feature set, including multi-tenancy, billing, and  embedded QoS controls to give you flexibility and control.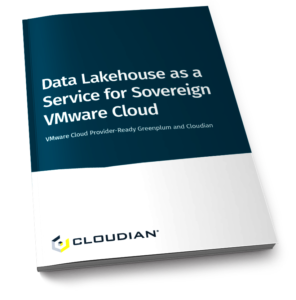 Data Lakehouse-as-a-Service for Sovereign VMware Cloud
Modern analytics applications have evolved in the public cloud. However, where data sovereignty is a concern, organizations have not been able to take advantage of many of these analytics paradigm shifts.
Therefore, Enterprises that need to maintain data sovereignty often look to Managed Service Providers to help them modernize analytics while maintaining data sovereignty, security, and privacy.
There is a huge opportunity to combine the scale and efficiency of S3 data lakes with the data management and ACID transactions of data warehouses and offer a sovereign Data Lakehouse as a Service that is secure, affordable, and scalable.
Cloudian HyperStore is an on-prem S3 Data Lake that integrates with VMware Greenplum, an analytics tool built on open standards. This combination is made for xSP success, with in-built VMware Cloud Provider Program integration, multi-tenancy, billing, metering, and the ability to expand to petabyte scale on-demand.
New Cloud Services Opportunities with Object Storage and VMware Cloud Director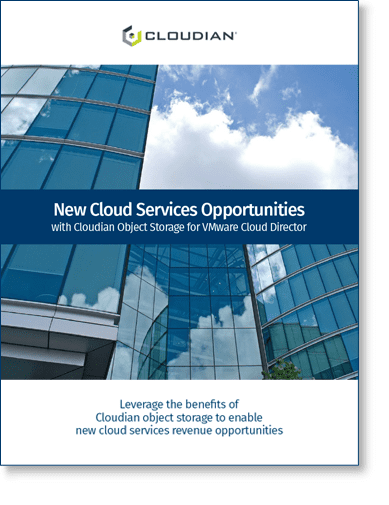 Download this paper to learn how Cloudian Object Storage for VMware Cloud Director and storage-based services can help you drive more profitable revenue.
Cloudian Object Storage for VCD enables Storage-as-a-Service and other new revenue-revenue "as-a-services" which are growing in popularity
Current market for storage-based services is $20B globally. VMware Cloud Providers are well-positioned to benefit from this large market opportunity
With exceptional economics, Cloudian helps cloud providers deliver profitable services on a proven platform
Prevent Ransomware Attacks with Veeam, VMware, and Cloudian
In this video, Rajeev Bhardwaj, VP of Products at VMware, Dave Russell, VP of Enterprise Strategy at Veeam, and Jon Toor, CMO at Cloudian, discuss new technology from Veeam and Cloudian, managed within VMware Cloud Director, that locks down your backup data so that it keeps your data safe and malware out.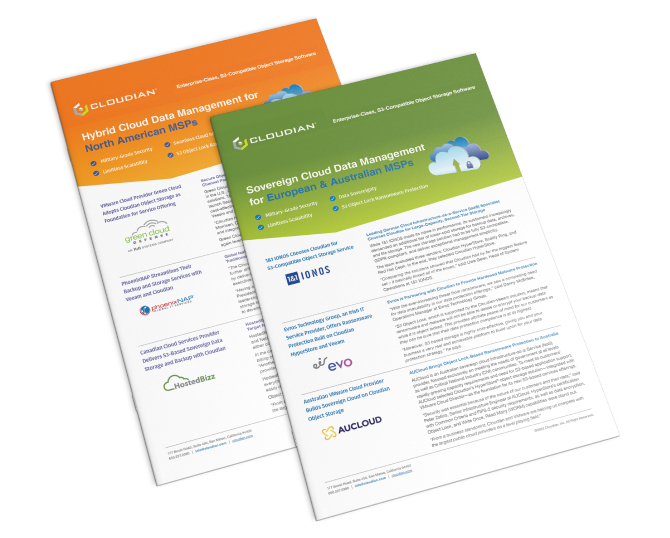 MSP Customer References
Are you looking to build a profitable services business while also safeguarding your customers' data? Need to be sure you can meet stringent data privacy and sovereignty restrictions, but also know you are protected from ransomware?
Take 2 minutes to hear how other MSPs have built their businesses with Cloudian and see if Cloudian is a fit for your organization.
Enable Cloud Services with Veeam and Cloudian
VIDEO: Veeam & Cloudian. Better Together.


Watch this video to learn how Veeam and Cloudian together provide an end-to-end, cost-effective and scalable enterprise-grade data protection solution including the industry's best ransomware protection. It is a revenue-ready solution for as-a-Service deployment in Service Provider environments and is fully integrated with VMware Cloud Director.
Cloudian HyperStore provides a proven on-prem backup target for Veeam. Cost-effective and limitlessly scalable, Cloudian lets you start small and grow without disruption. Veeam's native support of the S3 protocol — the de-facto standard for cloud storage — allows seamless integration with Cloudian HyperStore, the industry's leading on-prem S3 storage platform.
Protect backup data from ransomware with Cloudian Object Lock, the only on-prem solution that offers hardened data immutability, verified in US government certification testing.
Backup to Cloudian at 70% less cost than public cloud
Integrated ransomware protection
Proven, plug-and-play solution
Rich service provider feature set, including multi-tenancy, billing, and QoS
Free MSP Bootcamp
Created by experts who focus solely on making Cloud Providers successful, this free bootcamp provides tools and training to help you make money offering high-value services such as storage-as-a-service and backup-as-a-service. This course includes 8 modules with 12 powerful components to help you market and sell your solution, including how to build a marketing and lead generation system that delivers, appointment setting that really works, presenting a solution overview that sells, pricing to win, and more.
Complete Protection for Office 365 Data with Veeam and Cloudian
Veeam Backup for Microsoft Office 365 (VBO) paired with Cloudian HyperStore provides a cost-effective solution to protect your Office 365 data. With Veeam and Cloudian, you have the access controls, data backups and data security that protect you from accidental deletion, rogue employees, and malware.
---
DEMO: Adding Cloudian Object Storage to Your Veeam Backup for Office 365
How to create repositories in Veeam Backup for Office 365 and connect them to a secure on-prem Cloudian HyperStore target for complete Office365 suite protection.
Veeam Backup for Microsoft Office 365 (VBO) paired with Cloudian HyperStore provides a cost-effective solution to protect your Office 365 data. With Veeam and Cloudian, you have the access controls, data backups and data security that protect you from accidental deletion, rogue employees, and malware.
Cloudian is the industry's leading on-prem, S3-compatible storage platform. From VBO, Office 365 backups are stored directly to Cloudian, providing a fast, on-premises, disk-based data protection solution. You have an immediately accessible backup copy within the security of your data center, at 70% less cost than traditional solutions. And because Veeam VBO v4 offers native support for the S3 API, Cloudian integration is seamless.
EMEA Service Provider Offers Ransomware Protection with Veeam and Cloudian
"With the ever-increasing threat from ransomware, we saw a compelling need for data immutability in our data protection offerings. As a long-standing Veeam service provider, we're excited about the new Object Lock solution with Cloudian, which allows us to provide hardened ransomware and malware protection to our customers."
Danny McEntee
Operations Manager at Evros Technology Group
Data Sovereignty Requirements for xSPs outside United States
As organizations generate exponential volumes of unstructured data, it's important for Managed Service Providers and/or Cloud Service Providers (xSPs) to be able to offer broad, end-to-end cloud services that are scalable, cost effective, and secure.
This in-depth white paper covers the 5 most important things xSPs outside the USA need to know about their data in the era of sovereign cloud:
Privacy
Residency
Sovereignty
Protection & Management
Security
Data needs to be stored on-premises in the country it was collected to be protected by national laws. For this purpose, object storage is a more affordable, scalable solution than block or file. xSPs also need to embed data protection into the cloud stack with backup, encryption, and micro- segmentation capabilities to secure workloads.
ON-DEMAND WEBINAR
Confessions of a public cloud provider: End-user data has left the country
Join VMWare, Veeam, and Cloudian for a fireside chat about Data Sovereignty to find out:
What really happens to data when it's processed by a hyperscaler in the public cloud?
How are hyperscalers responding to the requirements of the market to protect their data?
What is the role of MSPs when building Sovereign Cloud environments for their customers?