Enterprise Storage Unleashed
Break through the capacity barrier with Cloudian file and object storage. Gain simplicity and one-click data management in your data center, across sites, around the world, or in the cloud. Cloudian's limitless capacity, global data fabric and single management view lets you do more, at less cost, and derive more value from your data.
LEARN MORE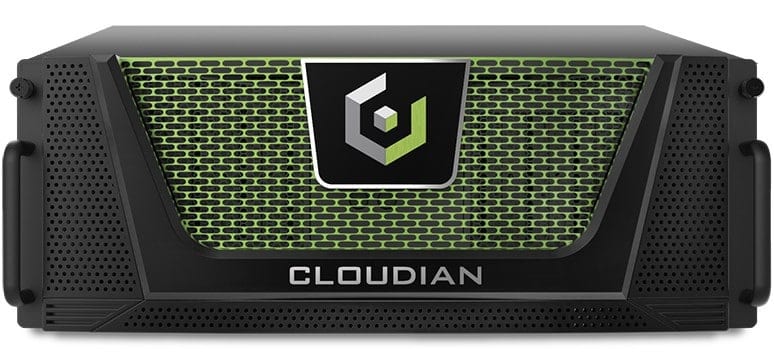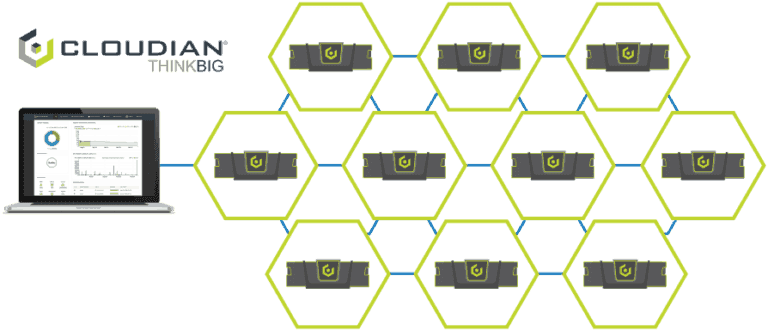 Exabyte Scalable
Think Big. Consolidate data, organization-wide, to a single, exabyte-scalable data fabric. Cloudian's modular design makes it easy to grow. Expand capacity and geographic reach simply by adding nodes anywhere you need capacity. Performance scales, too, thanks to the peer-to-peer, shared-nothing architecture. With industry-leading S3 compatibility plus file support, Cloudian gives you capacity on-demand for any data-intensive workload.
LEARN MORE
Cloud Integrated
Converge your storage worlds: On-prem storage, private cloud, hybrid-cloud, or multi-cloud. Connect seamlessly with AWS, Azure, and GCP, then use Cloudian's integrated tools to replicate or fluidly migrate information. Whether your goal is disaster recovery, capacity expansion, or a data archive in the cloud, Cloudian makes it effortless to integrate on-prem and cloud storage. Optimize for performance, cost, and security, all within one management environment.
LEARN MORE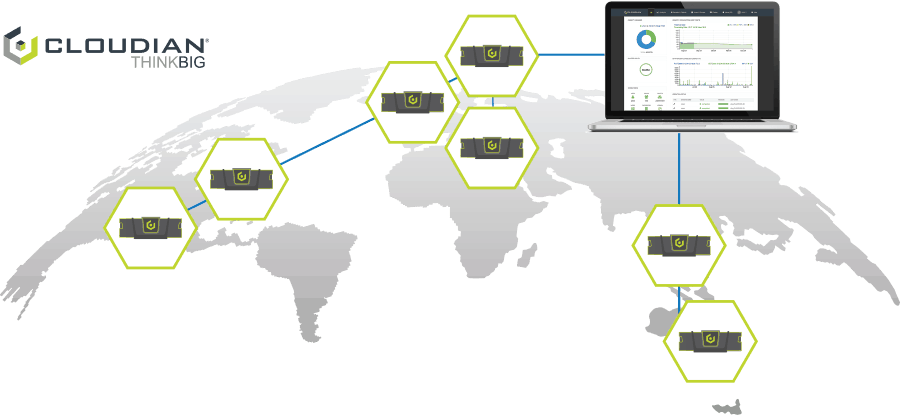 Geo-Distributed
Put data capacity where you need it:  Deploy Cloudian nodes within your data center, at your DR site, or at remote offices – then control them in a single data fabric. All fabric-connected Cloudian devices work as one, so you can store, find and protect information wherever it resides. Deploy Cloudian as appliances, as software-defined storage, or as virtual machines. From a single screen, use policy-based tools to manage, migrate or replicate data across the fabric.
LEARN MORE
The Object Storage Buyer's Guide
Everything you need to know to put cloud storage technology and economics in your data center.
Read this eBook to learn about object storage, the next-gen storage class that puts cloud scale and cloud simplicity in your data center, behind your firewall.
Chapters include:
How Does Object Storage Work?
Technical Benefits
Financial Benefits
Object Storage and the Cloud
Use Cases
"Cloudian has the most mature object storage solution out of all the vendors we have tested. After spending close to a year testing all the major object storage vendors, Cloudian proved to have the most resilient, mature, and performant product."
– Director, Telecommunications Company
The Gartner Peer Insights Logo is a trademark and service mark of Gartner, Inc., and/or its affiliates, and is used herein with permission. All rights reserved.
FEATURED TECHNOLOGY ALLIANCES FOR COMPLETE END-TO-END SOLUTIONS
Broadcasters look to optimise workflow costs as storage models evolve
Security, cost-efficiency and the sheer volume of content are becoming increasingly critical as customers adopt more varied storage patterns, writes David Davies. It is difficult to make generalisations about broadcasters' use of storage at the present time, split as it so frequently between on-premise, public cloud and hybrid-type solutions. But what is clearly universal is...
Scale your Data Independently of Compute with On-Prem S3 Compatible Storage
Strata Data Conference is always a great place to geek out on the data techniques and technologies that are fueling our future. As a product manager, it gives me a chance to meet and brainstorm with researchers, data scientists, executives and business thought leaders from around the world.  One of the themes for breakout sessions...
Cloudian Makes Two Executive Appointments to Power Further Innovation and Growth
Former HDS, Pivot3 and BlueArc Executive Carlo Garbagnati Named Vice President of Engineering Founding Engineering Leader Gary Ogasawara Becomes CTO SAN MATEO, Calif., Nov. 18, 2019 – Building on its growth and market momentum, Cloudian® today announced two executive appointments that strengthen the company's technical leadership. Carlo Garbagnati has joined Cloudian as vice president of engineering,...