Simplify storage for your Nutanix environment with an affordable, feature-rich, S3 compatible limitlessly scalable storage platform.
Enhance object storage deployment flexibility with Cloudian® HyperStore® running natively as Nutanix VMs and external clusters to serve your increasingly critical data storage needs.
A Built-in Object Storage Solution for Your Nutanix Environment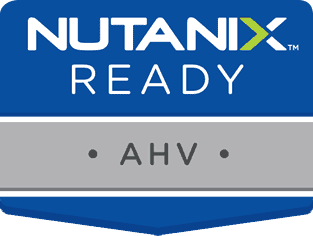 Nutanix hyperconverged infrastructure provides a simple and efficient platform for running even the most data-intensive workloads. Cloudian object storage solutions provide the same level of simplicity and economics.
Cloudian and Nutanix have collaborated to create a Nutanix-certified solution that is multi-cloud ready with flexible deployment options. HyperStore is S3 compatible storage and provides a secure, enterprise-grade storage tier for Nutanix environments. Deploy as a VM within the Nutanix cluster as well as an external cluster for additional, limitless scalable capacity.
A Storage and Archive Tier for Data that Needs to be Protected
For data protection, your typical choices are disk-based appliances or tape. Cloudian breaks the price-performance barrier with a disk-based backup target that is fast, simple, and cost-effective.
Cloudian HyperStore/Nutanix Solution
Cloudian HyperStore for Nutanix lets you integrate object storage within your Nutanix-powered private cloud. With Cloudian HyperStore, you have the industry's most compliant S3 storage environment that is guaranteed interoperable with the thousands of applications that support the S3 API.
Solution Overview
With Cloudian HyperStore for Nutanix, you have a complete object storage platform within your system.
S3 API: 100% native S3 API, delivers industry's highest level of S3 compatibility
Feature Rich: Includes data encryption, compression, data protection, tiering to cloud, fine-grain policy control
Easy to Deploy: Self-contained entirely on Nutanix; no additional hardware required
Scalable Storage: Start small with a few TBs; upgrade path to 100s of PBs based on dedicated storage hardware
Nutanix at NAB 2019
On-Premises Cloud for Media Workflows (13:29)

Three Solution Options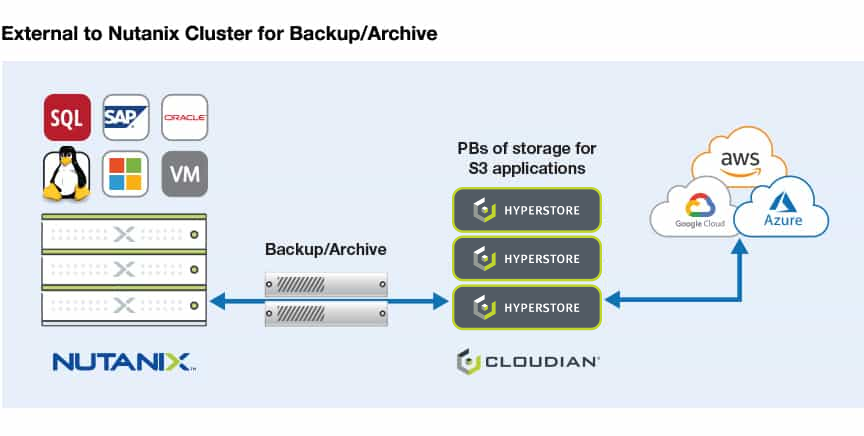 Using Cloudian HyperStore for Nutanix, administrators can quickly get started with object storage. Create an S3-compatible storage environment entirely within your existing Nutanix cluster — with no additional hardware required, and with data stored and access locally on the Nutanix cluster. Tier to S3 public clouds or external Cloudian clusters for expanded capacity, offsite storage, or content distribution.
KEY SOLUTION BENEFITS
Seamless integration with Nutanix; HyperStore deployed as one or more VMs and as an external cluster
Turnkey hyperconverged solution for compute storage, networking, and virtualization
Flexible deployment and configuration options
Multi / Hybrid cloud ready — tier seamlessly to public cloud
Scalable: start small and expand non-disruptively to suit needs
Leverage multiple compatible backup and recovery options
Unified view of data: a single namespace across locations
Strong security encryption to protect the most sensitive data
Native S3 compatibility for industry's best interoperability