SAN MATEO, Calif., Feb 7, 2023 – Cloudian® today announced its new Cloudian HyperStore for AWS Outposts servers, an on-premises, fully managed storage offering. The new solution is now available in AWS Marketplace, a digital catalog with thousands of software listings from independent software vendors that make it easy to find, test, buy, and deploy software that runs on Amazon Web Services (AWS). Delivering 112 terabytes (TBs) of usable capacity in a compact one-rack unit (1U) height form factor, the new offering provides self-contained object storage for AWS Outposts 2U servers in a customer's data center or edge location. The combined hybrid solution helps satisfy data locality, regulatory, contractual, or information security requirements. Full Amazon Simple Storage Service (Amazon S3) API compatibility ensures interoperability with applications designed to employ Amazon S3 storage.
Local storage for AWS Outposts servers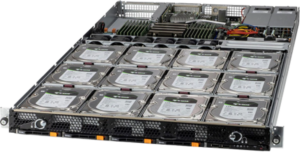 Customers can use Cloudian HyperStore object storage and AWS Outposts 2U servers to deliver a consistent management experience, on premises and at the edge, while meeting low latency, data residency, and local processing needs. AWS Outposts 2U servers, the 2U form factor of AWS Outposts, provides local compute and networking services for sites with space and capacity constraints, like retail stores, branch offices, healthcare provider locations, or factory floors. The combined hybrid solution helps customers accelerate digital transformation, improve IT productivity, and differentiate end-user experiences.
Built on Cloudian's proven HyperStore platform, Cloudian HyperStore for AWS Outposts servers is a fully managed infrastructure solution. Once connected to a network, Cloudian specialists will remotely configure and manage the storage resource, which is then transacted and billed on the company's existing AWS bill. To help meet regulatory compliance, all data managed by Cloudian HyperStore is stored locally. Optional configuration settings enable data replication or data tiering to the AWS Region to which the Outposts is connected.
HyperStore for AWS Outposts servers benefits include:
Amazon S3 Object Lock: Provides data immutability, ransomware protection, and regulatory compliance. When activated, Amazon S3 Object Lock protects data from ransomware attack by preventing hacker encryption.
Low latency: It allows access to data locally for optimized performance.
Robust security: Security certifications ensure compliance with regulatory and security requirements.
Hybrid cloud-ready: It offers configurable data replication and policy-based data tiering to Amazon S3.
Advanced metadata tagging: It allows accelerated data searches and more easily integrates with artificial intelligence (AI), machine learning (ML) and analytics applications.
"As organizations deploy AWS infrastructure and services on-premises, local storage becomes a key requirement to meet data residency and low latency access needs," said Larry Meese, vice president of products and solutions, Cloudian. "HyperStore for AWS Outposts servers provides on-site storage that lets customers quickly add Amazon S3 API-compatible capacity in a fully managed solution."
Available on AWS Marketplace
HyperStore for AWS Outposts servers is available now in AWS Marketplace. Every subscription includes Cloudian HyperCare, a remotely managed service offering. Once the device is network connected, Cloudian storage experts take on the responsibility of managing the customer's Cloudian storage environment software, thus freeing them from day-to-day management tasks. Organizations simply consume storage resources just as they would in the cloud, but behind their firewall.
"Modern applications require a modern data architecture that enables improved developer productivity, operational efficiency, and time-to-market. Customers are looking for simple, scalable solutions to securely store and manage their data wherever it is needed, at edge locations, on premises, or in the cloud," said Rob Czarnecki, senior manager, AWS Outposts at Amazon Web Services. "With Cloudian HyperStore for AWS Outposts servers, customers can benefit from a consistent storage management experience for any application on AWS, whether running on AWS Outposts, in AWS Local Zones, or in AWS Regions, for a truly consistent hybrid experience."
To learn more about Cloudian HyperStore for AWS Outposts servers, go to cloudian.com/aws/.
About Cloudian
Cloudian is the leader in data management software for the hybrid cloud. With military-grade security, limitless scalability and seamless cloud integration, Cloudian's cloud-compatible object storage lets users optimize data access, meet data sovereignty requirements and cut costs by consolidating information to a single, cloud-like platform. Cloudian's geo-distributed architecture manages and protects object and file data at the edge, core, and in the cloud, for both conventional and modern applications. Learn more at cloudian.com.
Georgiana Comsa
Silicon Valley Public Relations
[email protected]