Cloudian HyperStore Software​
Simple, Secure, Scalable.​
S3-Compatible, Cloud Native Data Management​
Enterprises choose Cloudian HyperStore for​
Native S3 API Compatibility​
With the industry's highest S3 API compatibility, Cloudian is guaranteed to work with your applications.​
Modular Scalability​​
Only Cloudian can start small and scale without limit, and without interruption. Add capacity on-demand.
Hybrid Cloud Enabled​
Integrate Cloudian with AWS, Azure, and GCP clouds to build a hybrid cloud.
Ransomware protection​​​
Lock out ransomware. Cloudian Object Lock delivers proven protection from hacker encryption.​
Enterprise Grade Flash
Cloudian all-flash appliances employ 64-layer triple-level cell (TLC) 3D NAND media for industry-leading performance, durability, and efficiency. Compared with competitive QLC flash-based systems, Cloudian's enterprise-grade flash media offers up to 30X more durability, 45% lower latency, and 40% less power consumption.
Capabilities and Benefits​
Military-Grade Security​
Cloudian keeps your data secure with a proven platform that's verified in nine stringent security certifications, the most of any object storage. ​
Multi-platform Ready​​
Cloudian HyperStore software runs on the platform of your choice, including containers, VMs, servers, or the public cloud. So you can put Cloudian wherever your data resides. ​
Geo-distribution​​​
Put Cloudian storage wherever you need it, and then manage it all from a single location. Only Cloudian enables flexible and highly granular policies that let you tailor data management to each specific data type.​
Complete Visibility​
View your entire environment from a single screen with Cloudian HyperIQ. View storage, networking and server metrics, and monitor user behavior to quickly spot performance or compliance issues. ​

Integrated Metadata Search
Cloudian HyperSearch, a powerful metadata index and search feature, is fully integrated with HyperStore. Effortlessly index content such as images, X-rays and log data. Unlock valuable insights and improve operational efficiency. ​
Enterprise Support​
With local support and professional services teams located around the globe, Cloudian is there 24×7 to ensure your success. ​
"With Cloudian, DR became automatic. We store data to the archive and it's automatically replicated to the cloud. That's a lot simpler and more reliable than managing tapes."​​
Shane Miner​
GBH Senior Director of Technical Services
Ransomware Protection​
Deploy Cloudian as an on-prem target for reliable, high-speed backup and restore. Object Lock enables set-and-forget ransomware protection. Cloudian is proven compatible with all major data protection software.​
Storage Services​​
Provide services to multiple users, applications or customers from a single storage pool. Cloudian's cloud-native, service-ready architecture make it secure and easy to manage.​
Data Sovereignty​​​
Regulatory compliance often requires tight control of data locality. Cloudian gives you complete control over data location, while providing the scale and simplicity of cloud-native data management.
Containers​​​
Modern applications require cloud-native persistent storage. Cloudian software is scalable and containers-ready. Seamlessly move your modern applications from dev ops to production in a single storage environment.​
The Object Storage Buyer's Guide
Learn how customers leverage Cloudian for unstructured data management, ransomware protection, analytics and more. ​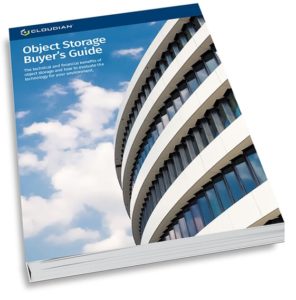 Multi-Platform
Cloudian HyperStore software runs on VMs, containers, the public cloud, and industry standard servers from most hardware vendors. See the datasheet for hardware requirements.
Cloudian Appliances​
Cloudian appliances include pre-integrated HyperStore software. Available in 1U and 4U form factors, and in all-flash and HDD-based configurations, Cloudian appliances offer capacities ranging from under 100TB to over 1PB. ​