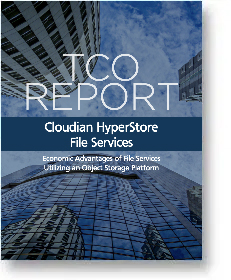 The Economic Advantages of File Services Utilizing an Object Storage Platform
A new class of storage promises to revolutionize file data management with scalability, simplicity, and cost benefits that together represent a step-function improvement from traditional NAS.
Read this TCO Report to learn how Cloudian HyperStore File Services offers a new approach that addresses both scalability and cost concerns for large-capacity, less frequently used files.
It is the first to combine traditional NAS features with a limitlessly scalable, fully modular storage environment that reduces CAPEX costs by 2/3 while simplifying management and eliminating storage silos.
HyperStore File Service's scale-out architecture lets you add bandwidth simply by adding nodes. Multiple NAS controllers can access a shared namespace, or access separate namespaces. Independently scale performance and capacity on demand.