ON-DEMAND WEBINAR
Accelerate Your Media Management Workflows with Evolphin and Cloudian
The broadcast industry needs high-capacity storage and fast media access to keep up with time-pressured workflows. As capacity requirements grow exponentially, traditional solutions become cost-prohibitive and insufficiently scalable.
View this webinar with Cloudian and Evolphin to find out how a scalable media management solution can:
Achieve faster, more accurate search for media retrieval
Get cross-region replication for DR and collaboration
Realize speeds 100x faster than tape and 70% less cost than traditional storage
Combine on-premises and public cloud storage into a single management pool
Set retention policies to enable automatic archive of content
Search archived files, and see thumbnails on archived content from within the Zoom Asset Browser
Execute restore parameters and workflows from within Zoom
SPEAKERS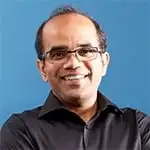 Rahul Bhargava, CTO and Founder, Evolphin Software
Prior to Evolphin he was one of the founders of WANdisco. Rahul is a serial entrepreneur with a track record of creating successful companies, which he complements with 20 years of software industry experience in a wide variety of leadership roles in Silicon Valley. This has included serving on standards bodies such as J2EE, EJB, CORBA, and Liberty Alliance, and leading the SSL security initiative at Netscape,which was a significant precursor to the Internet revolution.

Sanjay Jagad, Sr. Director of Products and Solutions, Cloudian
Sanjay has worked in the storage industry for almost 20 years helping customers build dynamic IT infrastructures that better align with business challenges, using the latest technologies around Flash Big Data, OpenStack, and Hybrid Cloud. He brings with him the industry knowledge and diverse experience in product marketing, product management (inbound and outbound), sales and channel enablement, business development, developing GTM strategies and development engineer (writing firmware in his early engineering days).