The Answer for Big Data Storage
Big Data analytics delivers insights, and the bigger the dataset, the more fruitful the analyses. But, with large storage capacity comes large challenges: cost, scalability, and data protection. To derive insight from information, you need affordable, highly-scalable storage that's simple, reliable, and compatible with the tools you have.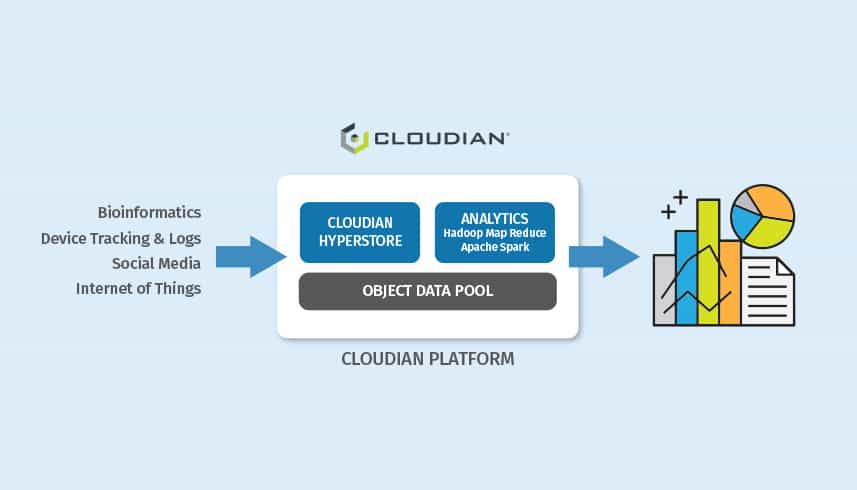 Cloudian® HyperStore® and Splunk SmartStore reduce big data storage costs by 70% while increasing storage scalability. Together they provide an exabyte-scalable storage pool that is separate from your Splunk indexers.
With SmartStore, Splunk Indexers retain data only in hot buckets that contain newly indexed data. Older data resides in the warm buckets and is stored within the scalable and highly cost-effective Cloudian cluster.
Optimize Your Big Data Analytics Environment for Performance, Scale, and Economics
Improve data insights, data management and data protection for more users with more data within a single platform
Combining Cloudera's Enterprise Data Hub (EDH) with Cloudian's limitlessly scalable object-based storage platform provides a complete end-to-end approach to store and access unlimited data with multiple frameworks.
Proven with the Most Popular Big Data Solutions
Cloudian object storage provides cost-effective, petabyte-scalable big data storage that can replace or augment existing HDFS clusters for Cloudera, Hortonworks, Amazon EMR, and others. Cloudian HyperStore makes data analyses simpler while reducing operational and capital costs. Cloudian HyperStore can emulate HDFS storage for Hadoop and Spark workloads, which allows compute and storage to scale independently in large environments.
With Cloudian, you can efficiently store blocks of any size from 4KB to multiple TB and can reduce storage footprint with integrated erasure coding and compression. Features such as SSE and SSE-C encryption protect data at rest, while TLS can secure data in flight.
Benefits
Certified by HortonWorks
Scale compute resources independent of storage
No minimum block size requirement
Reduces big data storage footprint with erasure coding
Increases performance with replicas that mimic HDFS
Compress data on the backend without altering the format
Enables data protection and collaboration with replication across sites