Reclaim Tier 1 NAS Capacity
Over 60% of NAS data is typically cold and infrequently accessed. Nonetheless, it consumes expensive capacity and data backup resources every day. Cloudian and Komprise let you move that data to on-premises archival storage and immediately reclaim 60% of your Tier 1 NAS capacity.
Transparent to Users
The Cloudian / Komprise solution is completely transparent to users. Throughout the lifecycle, your users see no change in data access. When a migrated file is requested, the data is automatically returned to the filer for transparent user access.
Seamless Data Management
In the Cloudian / Komprise solution, Komprise data management software identifies inactive NAS data and transparently moves it to Cloudian scale-out storage based on your policies. Select from various parameters including data age and frequency of use to determine which files will be migrated. All analysis occurs outside of the data path. Analysis activity adapts to production workloads to ensure no performance impact.
Proven Solution
Both Cloudian and Komprise are proven, enterprise storage solutions with hundreds of petabytes under management.
Cloudian
Enterprise storage that seamlessly scales from TBs to PBs in a single storage environment.
Highly available: Data redundancy is built-in. Every Cloudian cluster is HA with no single point of failure.
Efficient and secure: Compression and encryption features included.
No performance bottlenecks: Throughput grows as your cluster expands
Available as software or as pre-configured appliances: Deploy on industry-standard standards, or select fully-supported, pre-configuredappliances.
Komprise
Enterprise-class data management platform provides storage analysis and data migration via scale-out data movers.
No hardware to deploy: Runs in VMs
No storage agents: Uses NFS, SMB/CIFS,S3 standard interfaces.
No stubs: Uses a dynamic link technique to avoid static stub limitations
No impact on hot data path: Out-of-band management
No disruption: Runs in the background and does not interfere with file system activity. Adaptive to production workload.
No changes to user or application access: Moves data transparently and moved files are accessible as before via the primary storage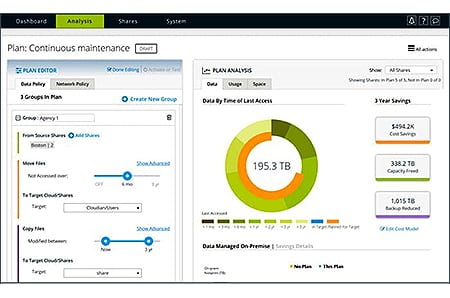 Komprise scans your files and calculates potential cost savings based on your requirements. Dormant files are identified and tagged for migration to Cloudian storage. Process is transparent to users, even when files are later requested and automatically retrieved.
Over 50% Cost Savings
Save costs in three significant ways:
Reduced cost storage: Cloudian provides high-availability, enterprise-class storage at 70% less cost than traditional NAS.
60% less backup cost: Data migrated to Cloudian no longer consumes backup license costs. That data is protected via Cloudian's built-in redundancy.
Simple offsite storage: If offsite archival storage is required, Cloudian's built-in cloud integration makes it easy to replicate data either to remote Cloudian devices or to public cloud services such as Amazon or Google.

SOLUTION BENEFITS
Immediately free up NAS capacity
Delay costly capacity expansions
Reduce Tier 1 NAS costs by 50% or more
Reduce backup times by 60%
Transparent to users, both when data is archived and when retrieved
Fast data retrieval
Works with NFS and SMB/CIFS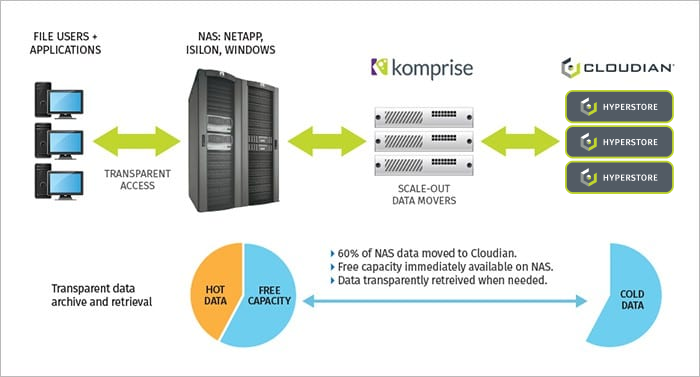 "Komprise and Cloudian combined to give us a seamless and scalable approach to managing files that significantly reduced our CAPEX and OPEX."
— Richard Tatham, GM of Cloud Services at Sithabile Technology Services in South Africa