S3-Compatible Object + File Services
Cloud services are rapidly changing the storage-as-a-service landscape. Enterprises demand S3-compatible storage and file storage. You need limitless scalability, security, built-in data protection, and multi-tenancy. Cloudian addresses all of these needs with the industry's simplest solution for petabyte-scalable storage.
Cloudian offers the industry's most proven storage services solution. Hundreds of deployments worldwide with millions of end users.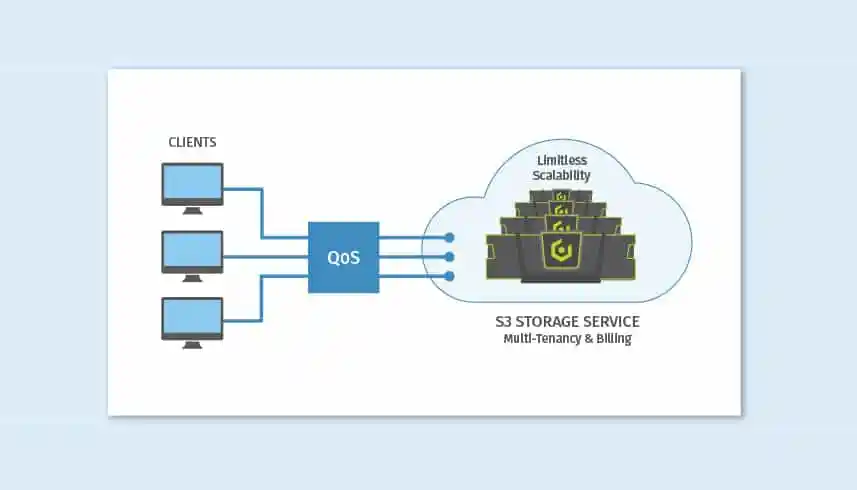 A 100% native S3 API and SMB(CIFS)/NFS
Cloudian HyperStore software deployed on your commodity server infrastructure lets you get up and running quickly as an S3 object storage provider. Cloudian HyperStore employs a 100% native S3 API, the defacto standard for object cloud storage, so it offers the broadest possible interoperability with your customer's S3-enabled applications.
Cloudian HyperFile lets you add SMB(CIFS) and NFS file services, with enterprise features like snapshot, WORM, and AD/LDAP support.
Cloudian employs a shared-nothing, peer-to-peer architecture, so adding capacity is simple and non-disruptive. Performance scales linearly with added nodes, and failure domains are limited to a single node.
Choose from data protection options and configure specific users accounts for the data durability they choose, including the ability to lose a node or even an entire site without data loss or service disruption. Secure multi-tenancy is built-in and enforced with robust QoS tools. Self-service provisioning is made simple through an end user GUI, while policy generation and billing are automated based on administrator settings.
Proven at storage service providers worldwide, Cloudian gives you scalable storage-as-a-service with an elegant architecture, efficiency, and automation to reduce TCO and boost your bottom line.
Benefits
100% native S3-compatible interface
SMB(CIFS)/NFS file services
Start small and grow without limits
Shared-nothing architecture for linear performance growth
Data protection configurable at the per-user level
Runs on commodity X86 hardware and VMs