Make the jump
to all-flash
New flash-optimized HyperStore
3X the price/performance of competing flash.
DevOps-agile.
Enterprise-ready.
Learn why Cloudian private cloud storage is perfect for Kubernetes
Unleash Your Storage Superpower
Observability and analytics, at your fingertips
S3-Compatible Object Storage
Solve your capacity and cost challenges with Cloudian S3-compatible object and file storage. Exabyte-scalable and cloud-compatible, Cloudian software-defined storage and appliances make it easy for enterprises and service providers to deliver storage at one site, or across multiple sites with a modular architecture that's easy to manage and grow.
Observability and Analytics
Gain actionable insight. Cloudian HyperIQ provides real-time infrastructure monitoring and user behavior analytics. Track user data access to verify compliance and monitor service levels. Spot infrastructure issues before they become problems with configurable, real-time alerts. Customize HyperIQ to your environment over 100 available data panels.
Ransomware Protection and Data Security
Protect your data from ransomware with Cloudian Object Lock, a hardened solution for data immutability. For other threats, Cloudian offers the industry's most complete security certifications including FIPS 140-2 and Common Criteria, and compliance certifications with SEC 17a-4, FINRA, CFTC, and more.
Kubernetes Support
Get API-driven storage that is DevOps-agile and production-ready. A lightweight Kubernetes Operator makes it self-service and easy to use. For production, Cloudian's exabyte scalability and modular architecture deliver the capacity and performance you need. Cloudian ensures application portability, too, with the industry's most compatible S3 API.
Lowest Total Cost of Ownership
Save over 60% compared to traditional enterprise storage or public cloud. Cloudian offers the industry's most cost-effective, highest-density hardware platforms to save you space and cost. And with a simple modular design, you can start small and grow without disruption. Available as software-defined storage or pre-configured appliances, Cloudian delivers total costs – hardware, software, and support – to 0.5¢ per GB per month.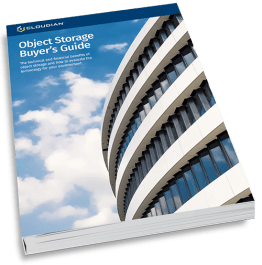 The Object Storage Buyer's Guide
Everything you need to know to put cloud storage technology and economics in your data center.
Read this eBook to learn about object storage, the next-gen storage class that puts cloud scale and cloud simplicity in your data center, behind your firewall.
Chapters include:
How Does Object Storage Work?
Technical Benefits
Financial Benefits
Object Storage and the Cloud
Use Cases
Cloudian HyperStore named a 2020 Gartner Peer Insights Customers' Choice
for Distributed File Systems and Object Storage.
"Cloudian improved our archival workflows, fit into our tiered storage strategy seamlessly"
– Media Operations Manager in the Media Industry
"Exceptional, high-performance, resilient S3 architecture at a great price"
– Software Engineer in the Services Industry
The Gartner Peer Insights Customers Choice Logo is a trademark and service mark of Gartner, Inc., and/or its affiliates, and is used herein with permission. All rights reserved.
FEATURED TECHNOLOGY ALLIANCES FOR COMPLETE END-TO-END SOLUTIONS
Cloudian's HyperStore Object Storage is Now Flash-Optimized
Cloudian recently announced that its HyperStore object storage software is now flash-optimized. This enables enterprises to meet the needs of performance-intensive workloads such as data analytics, artificial intelligence and machine learning, cloud-native applications, and rapid backup and recovery. Cloudian's new solution features the ability to deploy flash and HDD-based nodes within an adaptive hybrid architecture....
Cloudian HyperStore for VMware vSAN Data Persistence Platform
Cloudian today announced that it will offer its enterprise-grade, fully native S3-API compatible object storage software for VMware Cloud Foundation™ with VMware Tanzu™. The integrated solution combines industry-leading VMware HCI platform and Cloudian HyperStore object storage into a single shared-nothing data platform, allowing IT operators to modernize their storage infrastructure, accelerate innovation and improve time...
Cloudian to Provide S3 Object Storage Software for VMware Cloud Foundation with VMware Tanzu
Will Interoperate with VMware vSAN Data Persistence Platform to Deliver Enterprise-Grade Storage for Kubernetes Environments SAN MATEO, Calif., Sept. 15, 2020 – Cloudian® today announced that it will offer fully native S3-compatible object storage software for VMware Cloud Foundation™ with VMware Tanzu™. Through the new VMware vSAN™ Data Persistence platform, Cloudian will enable users to...