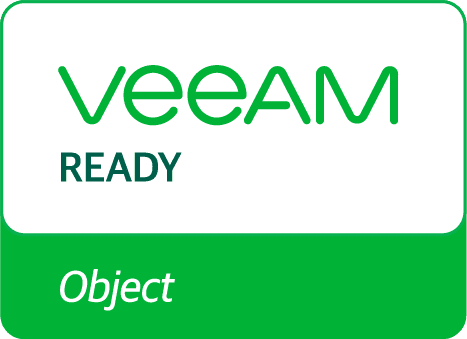 Cloudian Achieves Veeam Ready – Object Qualification
Today Cloudian was honored to be among the first to receive Veeam's new object storage certification. Called Veeam Ready – Object, this qualification gives storage administrators a worry-free, out-of-the-box integrated path to employ Cloudian object storage as a backup target for Veeam.
Veeam and Cloudian have been working together to meet the data protection needs of customers (enterprise, corporate, service providers, governmental) for several years now. In Jan 2019, Veeam made the solution integration even better with the launch of Veeam Availability Suite 9.5 Update 4. This release added native support for S3-compatible storage targets through the Veeam Cloud Tier offering.
Because Cloudian offers the storage industry's best S3 compatibility, Veeam data protection customers are now able to take full advantage of HyperStore's limitless scale and value benefits as a backup, archive, and disaster recovery storage target.

The new Veeam Ready – Object qualification ratifies this integration. Veeam's rigorous qualification process stresses the storage platform backup with workloads consisting of 1M+ objects.  They require the entire write operation (Scale-Out Backup Repository – SOBR offload) to complete in less than 4.5 hours. A bulk delete must also complete in 4.5 hours. These criteria are representative of real-world scenarios where a backup chain of an expected size would be offloaded as well as an expired backup chain be deleted from Cloudian HyperStore object storage.
Veeam Ready – Object qualification ensures confidence to joint Veeam-Cloudian customers and prospects that the join solution — Veeam Cloud Tier and Cloudian HyperStore object storage — will function properly and perform at a level that satisfies the expected customer workload, even when the data requirement scales to a large size distributed across multiple locations.
To learn more about the solution please visit cloudian.com/veeam/