Cloudian is proud to be part of milCloud 2.0, a program that allows authorized government administrators to easily "shop" for services that match their needs from a variety of commercial cloud providers.
About milCloud 2.0
MilCloud describes their value succinctly:
With the Department of Defense mandate to accelerate cloud adoption, defense agencies are ready to transform their IT infrastructure to improve security, data accessibility, affordability, and performance.

But the acquisition and migration process is often daunting and time-consuming. By the time you get up and running, you're a technology generation behind – at least.

It's time for a new cloud – one designed specifically for the warfighter – and milCloud® 2.0 is here to deliver. Powered by General Dynamics Information Technology (GDIT), milCloud® 2.0 connects cloud service offerings to DoD networks, providing Defense Information Systems Agency (DISA) mission partners the latest cloud technology at competitive prices – at the highest levels of security and performance.
MilCloud® 2.0 lets DoD agencies purchase cloud services within 48 hours and immediately begin data center migration. Agencies can take advantage of today's latest technology and innovate more quickly.
Cloudian's Role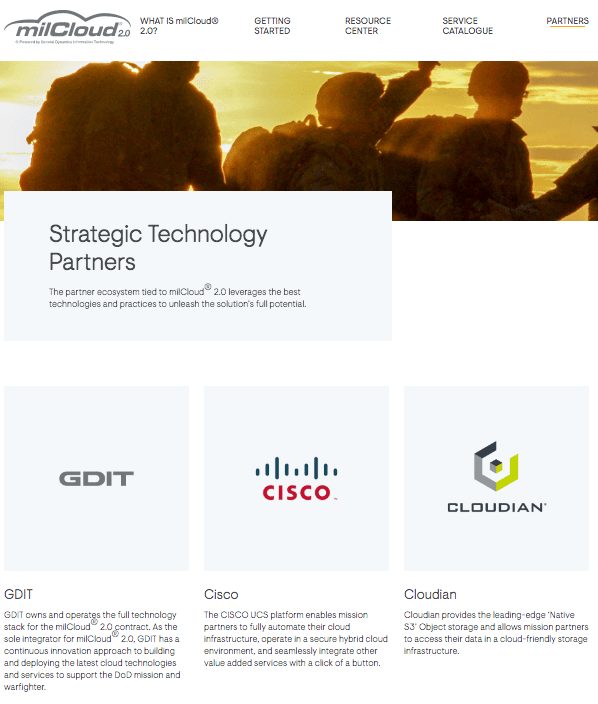 Cloudian partners with milCloud 2.0 to provide object storage solutions for a variety of use cases within this diverse operating environment. To learn more about Cloudian, click here.