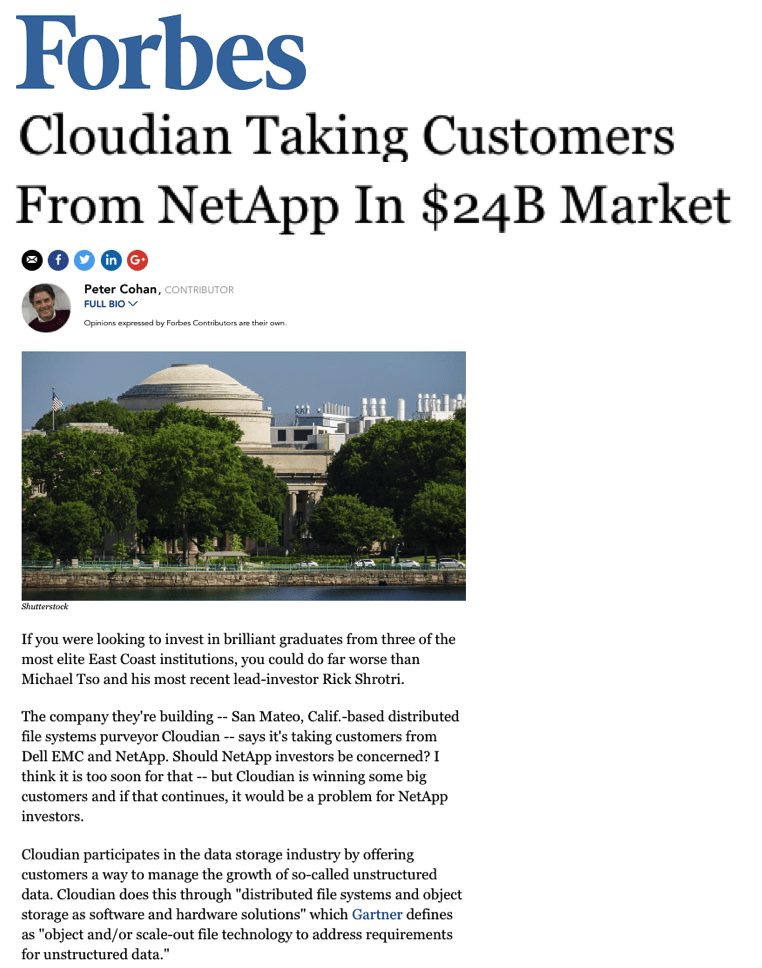 A Forbes article today reported on Cloudian's growth, noting the sea change in the market as customers move from yesterday's solution to newer alternatives.
The author, Peter Cohan, notes, "The company they're building — San Mateo, Calif.-based distributed file systems purveyor Cloudian — says it's taking customers from Dell EMC and NetApp. Should NetApp investors be concerned? I think it is too soon for that — but Cloudian is winning some big customers and if that continues, it would be a problem for NetApp investors."
What is motivating customers to look at new alternatives like Cloudian object storage, vs established technologies?
Reasons vary, but three themes we hear from customers are these:
Scale: Data sets are outgrowing the capacity easily accommodated by traditional solutions. Furthermore, users know that capacity growth will continue unabated. A new solution needs unlimited capacity.
Search: Finding data, in many applications, is as big a challenge as storing it. A database works great with structured data, but has limitations when dealing with unstructured data. Why not learn from web developers and use Google-like tools to find information? That's what the next gen storage solutions enable.
Cloud: Most users see a need for hybrid cloud, either now or in the near future (watch this WGBH video to see a hybrid cloud in action). Cloud integration is an essential part of a next-gen solution.
The article relates these points back to Cloudian's founding. "[Mike] Tso started the company because he thought he could build a better product to meet evolving data storage needs. As he said, 'I realized in 2011 when we started the company that the world will be going to the cloud, and data will be generated around the edge and stay there. Organizations would want scaling and ease of management. I saw that the problem would get harder as data was spread across 1,000 servers in 10 data centers around the world.'"
Cloudian was started in 2011 to address the storage challenges of today. Which is about right; it takes years to develop and battle-harden a new class of enterprise storage. But the trends that were just beginning seven years are now in full bloom and customers now seek solutions to the new challenges.
Learn more about Cloudian's solutions here.