Gartner last week published their annual Magic Quadrant for File and Object Storage. Storage Newsletter posted their analysis of the report today. In this piece, they concluded with a "more representative" view of the rankings, based on data from Gartner Peer Insights. Here are a few highlights.
1. First up was the lack of change from last year:
"If we need to summarize or qualify in one word the report we should say that it shows a real status quo with no real differences since last year…"
2. Next they noted many of the inconsistencies that result from mixing file and object storage in one report:
"The second paragraph of the Market Definition/Description introduces strange terms in conflict with criteria as it is mentioned 'object and scale-out file technology' meaning that the scale-out term is applied to file but not object." "Let's consider this as an oversight."
3. Lastly, they noted the inconsistency between the MQ rankings and the rankings on Gartner's own Peer Insights page:
"We also found on this page on the Gartner Peer Insights web site. This page also displays the same 15 vendors showing a more representative view of the world presence and activity with a complete different ranking, here are the first seven players for four positions:
#1 Huawei (5), real surprise to obtain 5
#2 Cloudian and Qumulo (4.8)
#3 Red Hat and Caringo (4.7)
#4 SwiftStack and Exablox (4.6)"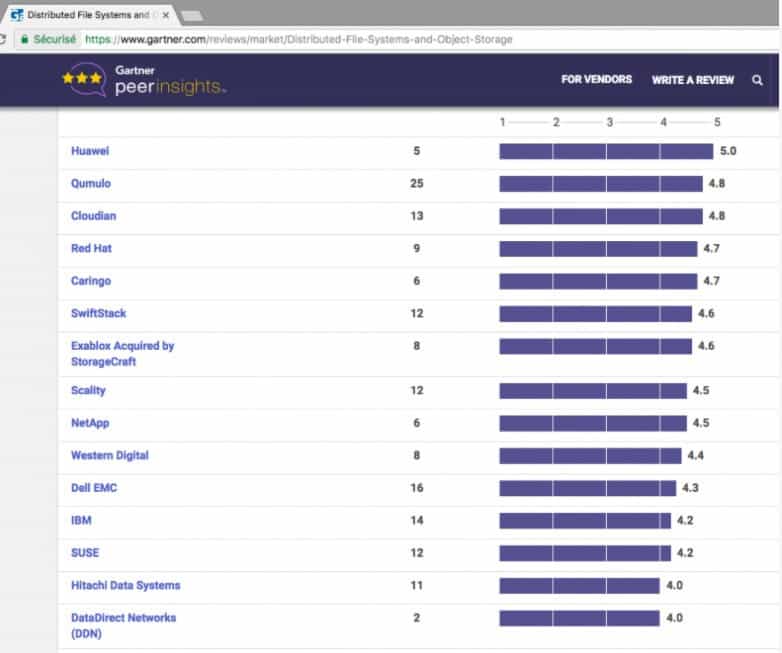 Storage Newsletter's insights add an extra dimension to this report. Clearly the people who use Cloudian have a high opinion of the product.