Does cloud infrastructure limit you to a specific set of physical locations? Not anymore. At a Barclays Global Tech conference, Snowflake's CFO, Mike Scarpelli, spoke about the benefits of bringing the applications to the data, wherever it might be located.
You probably already know Snowflake. Briefly, they are a leading provider of cloud-based data analytics. They have operated in the public cloud since their inception, and have now made a move towards on-prem by qualifying their solution with several storage providers, including Cloudian.
In his comments, Mike Scarpelli spoke about the benefits of a hybrid model that allows data to remain close to its source.  Here are excerpts of Mike's remarks with comments:
"Data is becoming one of the core assets for companies today."
How companies manage data matters. Do a bad job at this, and your company and customers suffer. An example is the recent operations meltdown at Southwest Airlines. Though winter weather was clearly the driving factor in their massive flight cancellations, all US airlines faced the same conditions. One factor that made Southwest especially vulnerable, according to the Southwest Airlines Pilots Association, was the company's antiquated scheduling software: it simply could not handle the complexity of scheduling changes needed. At its core, this is data management. The pilots did not blame the staffing levels or the weather. They blamed IT.
"We are fundamentally changing customers' relationship with data. We are eliminating data silos."
Eliminating data silos is a key benefit of the cloud operating model. Because cloud infrastructure enables a single, scalable namespace, it makes data accessible and searchable within a single pool, regardless of its physical location. This reduces management costs and increases the value of data.

"…instead of bringing data to the applications, bring the applications to the data. There's huge costs associated with moving data. You can eliminate that cost."
Hybrid cloud architectures accomplish exactly this. The infrastructure and bandwidth expenses associated with moving data go away if we instead bring the applications to the data. You retain the benefits of single namespace simplicity and one-stop search, but there's no need to physically move the data. The result: cost savings and accelerated time to insight.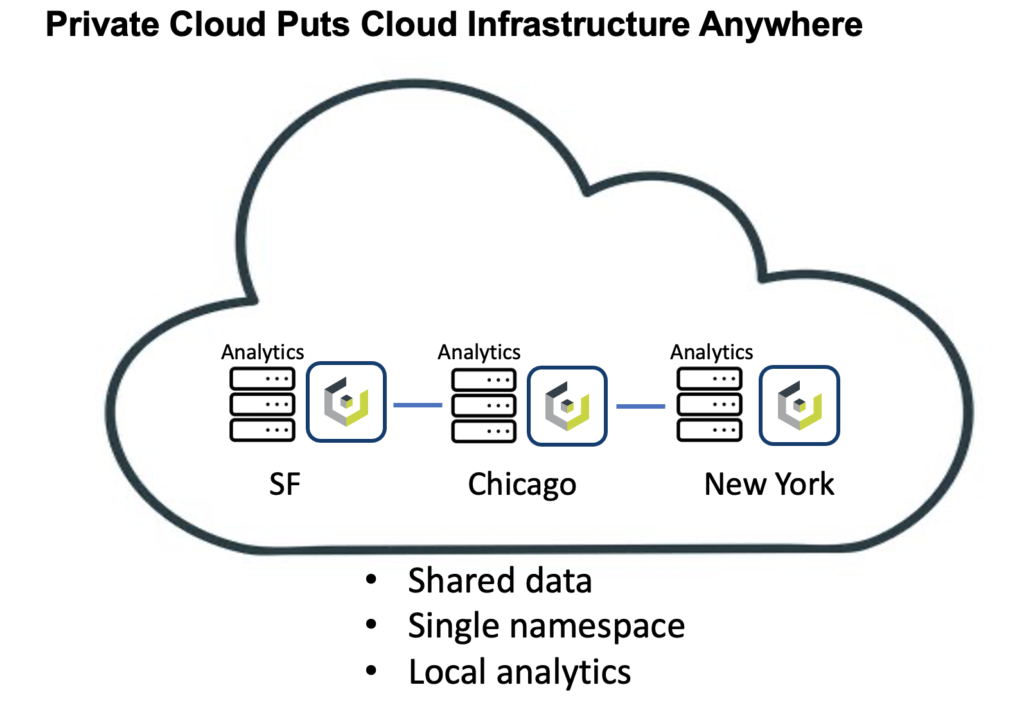 "There's also a lot of security and governance issues. You can eliminate that."
Data sovereignty is emerging as another key driver of hybrid cloud architectures. The fact is, not all data can go to the public cloud. Compliance, security and data governance concerns may dictate specific requirements for data sovereignty, ie, who controls the data storage environment. They may also dictate data residency, ie, where the data is physically located. Government agencies and regulated industries, such as healthcare, finance, and gaming, know these restrictions well.
Mike Scarpelli's comments echo what we believe at Cloudian. Cloud can be anywhere that data exists. This strengthens the value proposition for cloud by allowing the cloud operating model to become ubiquitous, wherever the data is found, rather than being limited to specific locations.
Cloudian qualified with Snowflake software last year, and also with analytics software from Teradata, Microsoft, Greenplum, and Vertica.  Thanks to this new interoperability, analytics software and cloud infrastructure are now ready to go anywhere you need.
My thanks to investor Austin Lieberman who posted Mike's comments in comprehensive string of Twitter posts.