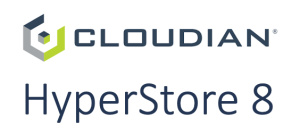 Cloudian today announced HyperStore 8 software, the most powerful, feature-rich HyperStore yet. HyperStore 8 unifies file and object software to simplify management and increase the value of data. With a plethora of new data management and performance features, Cloudian scale-out storage is now faster, smarter, and more scalable than ever.
ARVE Error: src mismatch
provider: youtube
url: https://youtu.be/UTVee1VODBY?si=8HaUd6Rm994BgvkR
src in org: https://www.youtube-nocookie.com/embed/UTVee1VODBY?wmode=transparent&rel=0&feature=oembed
src in mod: https://www.youtube-nocookie.com/embed/UTVee1VODBY?wmode=transparent&rel=0
src gen org: https://www.youtube-nocookie.com/embed/UTVee1VODBY


Key Features of HyperStore 8 software
Leading performance: On an all-flash platform, HyperStore 8 delivers 17.7GB/s write and 24.9GB/s read from a cluster of six power-efficient, single-processor servers, representing a remarkable 74% improvement in power efficiency compared to HDD-based systems.
Unified storage: File and object storage seamlessly integrate within a modular, software-defined-storage platform compatible with industry-standard flash-based and HDD-based servers.
Bimodal data access: Data is accessible in both file and object formats, regardless of its original format, making information universally available to both legacy and modern applications.
Global geo-distribution: Manage a global network of Cloudian storage nodes from a single screen, with fine-grained policy management to provide local storage performance, security and data sovereignty together with single-point-of-control simplicity.
Military-grade security: The most extensive set of security certifications in object storage, plus data immutability for ransomware protection and Secure Shell for intrusion defense.
Software-defined: Deploy HyperStore 8 as either software on the server of your choice, or as pre-configured appliances.
Hybrid cloud-ready: Tier or replicate data to the cloud, or run Cloudian in the cloud for multi-cloud management. And now you can procure Cloudian from AWS to deploy alongside AWS Outposts or AWS Local Zones. Local hybrid edge made easy!
Widely available: Cloudian HyperStore is available from Lenovo, HPE Greenlake, VMware, AWS, and from top resellers worldwide.
Let's go into a little more detail on a few of the features that make HyperStore 8 unique.
Unified file and object management
HyperStore 8 combines file and object storage management into a single management environment. A single screen gives you a view of both. Objects and files share an exabyte-scalable storage pool in HyperStore 8's clustered storage environment. To optimize performance, files are initially stored in a file cache for low-latency access to recently stored and frequently-used files.
Hybrid cloud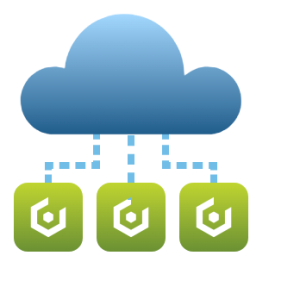 Cloudian has long offered public cloud integration that lets you replicate / tier data to AWS, Azure and GCP. Now we take this a step further, offering hybrid cloud services via the AWS Marketplace. Cloudian software and appliances that support AWS Local Zones and AWS Outposts Servers can now be procured as part of your AWS purchasing process. This enables scalable, easy-to-buy local storage to address your data sovereignty or low-latency data access needs, alongside your AWS services.
Bimodal access increases data value and accessibility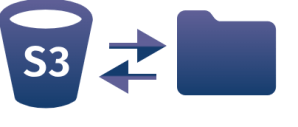 Bimodal data access makes all your unstructured data accessible either as files or objects, regardless of how the data was written. You can now access file-based data from a modern app, or read object data using a file app. This dramatically increases the value of information by making all data available to both legacy and modern applications.
Bimodal data access is just one example of what's in HyperStore 8, the industry's simplest, most scalable, and most secure storage environment for files and objects.
Application aware storage optimizes performance and capacity efficiency
Another exciting new feature of HyperStore 8 is hybrid storage policies, a feature that makes the storage application aware to optimize for performance and efficiency. It lets the systems adapt on the fly by selecting the ideal data protection policy. Object storage protects data in one of two ways: with erasure coding (EC), which stripes data across multiple nodes. Or with replication factor (RF), which makes complete data copies on multiple nodes. Each has its advantages. Hybrid storage policies let the system adapt on the fly to use the optimal policy for that particular data. EC for large objects, and RF for small objects. You get enhanced performance and built-in data durability.
Conclusion
HyperStore 8 takes unstructured data storage to the next level by unifying file and object to a single storage environment built for scale, performance, and data durability.
For the first time, all data is available to all applications, whether file or object based. And HyperStore 8 unifies cloud and on-prem by making hybrid cloud simpler than ever, right down to the procurement model. Geo-distribution unifies your global sites, while multi-tenancy keeps your use cases secure. And with the most security certifications in object storage, Cloudian is built for compliance and secure operations. Cloudian global unified file and object storage is the one for simplicity and security.
For more, read the Top 5 Reasons to Consider HyperStore 8, or get a Free Trial.