Mobile video surveillance can do a lot to ensure safety on transit systems. After all, bus and train operators must focus on operating their vehicles, not on policing riders.
Real-time mobile video surveillance would allow one staff member to monitor multiple vehicles, which could save cost and increase safety.
The problem is this: traditional technologies record video on the vehicle for later retrieval after the vehicle returns home. The obvious problem here is the lack of a real-time view. When an incident occurs, you can only see what happened after-the-fact.
Also, when an incident occurs finding the relevant clip takes a long time. The manual process consumes expensive resources and slows a response.
A better video surveillance answer was devised by the City of Montebello. View this video to learn more.
The Challenges in Storing Video Surveillance
Montebello Bus Lines currently operates 72 buses that serve over 8 million passengers a year, and each bus houses five cameras and a recording system. All videos were only recorded locally on the buses. Transferring the data into the operations center at the end of the day took time.
Then, MBL had to manually locate clips using time codes. This made it difficult to follow up on reported incidents in a timely manner.
Another storage issue was budget. Budget limitations meant MBL couldn't keep the video data for more than a few days. If someone filed a complaint after the video was deleted, the city of Montebello would face financial risk.
Finding the Answer in Object Storage
What MBL needed was the ability to wirelessly upload video in addition to storing the data locally. This would allow for immediate review by transit staff or law enforcement and would serve as an additional layer of backup to prevent data loss.
MBL first tried using a Network Attached Storage (NAS) system, but the problem with NAS is that the entry systems simply aren't fast enough while the better performing systems are cost-prohibitive. Another challenge was the file structure, which did not allow graceful transfer over a wireless network. An interrupted transfer resulted in re-starting the process. Finally, NAS systems allowed limited metadata tagging, containing only the most basic information.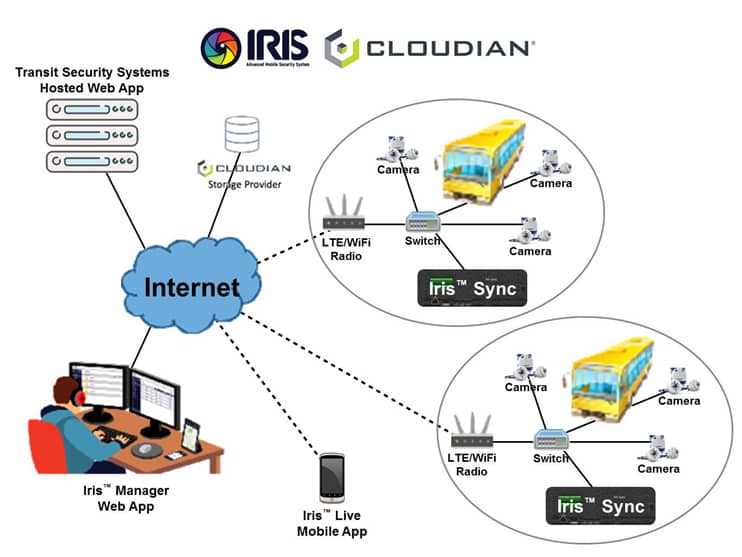 But this is where Cloudian steps in. With Cloudian and Transportation Security Systems (TSS) IRIS, MBL is now able to add metadata tagging on their videos. The metadata search also makes it easier to locate videos based on parameters such as time, location, vehicle, and more.
Large clips are broken into smaller pieces before being transferred concurrently, resulting in better reliability and successful use of wireless data transfers. Additionally, object storage is more cost-efficient, meaning it's easy (and affordable) to scale up as more videos are stored.
David Tsuen, IT Manager for the City of Montebello, stated that "Cloudian and TSS together allowed us to solve a very challenging problem. We now have a path to significant cost savings for the City and a safer experience for our riders. That's a genuine win-win."
You can learn more about how we solved MBL's challenges by reading our case study, or you can try Cloudian out for yourself with our free trial.