CommVault has certified interoperability between CommVault Simpana, its data protection and management software, and Cloudian HyperStore software, as a technology for the long-term storage of large volumes of data. The two companies actively partner to offer this new storage solution. This blog post is based on a discussion between CommVault Cloud Solutions Group Sales Executive, Norihiro Saito, and Cloudian Chief Operating Officer, Shinya Motohashi and explores how Cloudian HyperStore hybrid cloud storage is used for backup and archiving.
Mr Saito, please tell us a bit about CommVault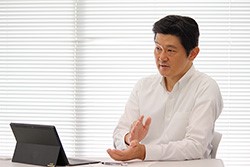 Saito: CommVault started as a Bell Research Center development group in 1988 and went independent in 1996. CommVault has provided data protection and management software since that time. Simpana, our data protection and management software, is now used by 20,000 companies around the world. While the worldwide backup market has plateaued in recent years, our company grew on average by 21% annually, between 2006 and 2013.
The cloud market is experiencing extremely healthy growth at the moment.  The cloud is being used increasingly by service providers the world over. CommVault's Cloud Solutions Group, to which I belong, is a worldwide organization that supports the development of the world's latest technology and its utilization among cloud service providers around the world.
What are Simpana software's distinctive features?
Saito: Simpana offers the complete range of functions required for data protection and management­—software backup/recovery, archiving, eDiscovery, deduplication, data compression, management, reporting—all in the one software platform.
What makes Simpana markedly different from products offered by other companies is that it is not a "solution" comprised of a combination of a variety of products. What sets Simpana apart is that all of this has been developed in-house to work as a single software platform. Not only backup and archiving, but the complete line of data management processes, including:  retrieval and protection and access and analysis, are all integrated.
It is easy to start off on a small-scale, with only what is necessary to individual users, and then gradually expand the range of functions used. Because the platform is integrated, you can add more hardware infrastructure as your company grows and bring a brand new data management system to life with the flick of a switch. This kind of coherence is particularly popular among service providers.
What does object storage mean to Simpana?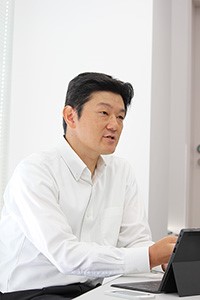 Saito: Simpana takes storage very seriously. Put simply, different types of storage come with different attributes, from high-speed SSD to cheaply priced cloud storage. Particularly for service providers, optimization is vitally important, in terms of being able to maintain an appropriate level of service at appropriate cost / usage charges. Data management is experiencing an increased demand for the long-term storage of large volumes of data. Object storage software, as exemplified by Cloudian, is able to satisfy this demand. Take for example health care, where medical data like large-scale images such as X-rays need to be stored for long periods of time at an appropriate level of security, but also quickly accessed when needed. In this regard, the high level of availability offered by object storage is particularly noteworthy.
Does object storage mean that tape media will be replaced?
Saito: In terms of easy online retrieval, object storage is perfect. However, I feel that it is important to differentiate between methods of storage according to one's aims.
Motohashi: Cloudian does not consider tape media unnecessary. In terms of compressing large volumes of data and storing it for a long time in a safe place, tape media is an important storage technology.
What about interoperability between Simpana and Cloudian?
Motohashi: Nippon Telematique Inc., one of Cloudian's partner companies, verified connectivity between Cloudian and Simpana by ascertaining both Cloudian's high level of compliance with Amazon S3 and Simpana's compatibility with S3. This shows that the two products are able to work together seamlessly, and that Cloudian HyperStore software can be utilized for storage when using Simpana.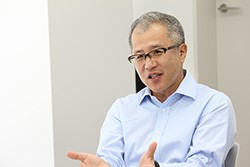 We are actively promoting the expansion of ecosystems that work through Amazon S3 API. This acts as an excellent starting point. We are like "first time buddies" that have verified each other and have certified each other's connectivity. Just as object storage is considered important for the data protection industry, I feel that data protection, with backup and all the other components, is a killer application for Cloudian.
Saito: Simply by deciding data management policy, Simpana can move the storage area automatically, in accordance with the life cycle of the data. Cloudian HyperStore can be used in the same manner as standard storage, simply by designating this on Simapana's management window. With such an exceptionally high level of affinity, I feel that our partnership is able to offer the kinds of solutions that users want.
Motohashi: "Hybrid cloud" has become a key word these days. Cloudian HyperStore is used by multiple public cloud services and can also be employed as an on-premises system. Working through Simpana, it is easy to use Cloudian HyperStore in these two ways.
In what ways does Cloudian appeal to CommVault?
Saito: One or two years back, public storage systems stored data overseas, an arrangement that was often awkward for Japanese companies. Using Cloudian HyperStore, Japan's major service providers developed storage services that operate within Japan only. Personally, I found this rather interesting.
The greatest attraction about Cloudian HyperStore is that you can start with an extremely small environment. This suits enterprises. With Cloudian, you can make a small scale start with just a 1TB system on two servers.
Especially overseas, most object storage products are premised on large-scale storage of the likes of 1PB. This is too large for most enterprise users.
In the Japanese market, Simpana software is particularly popular among service providers, and we want to vigorously promote it to enterprise users. When proposing a system, being able to suggest Cloudian HyperStore as object storage for a small-scale start can be a powerful weapon.
Our two companies are looking forward to working together, not only in Japan but also overseas, offering the optimum environment for diverse users with this solution that combines Cloudian­ HyperStore and Simpana.
Motohashi: CommVault is a particularly popular vendor in the USA. If we can work together in a full-blown way and increase the number of users using Cloudian HyperStore, that would be just great.
In what ways does CommVault appeal to Cloudian?
Motohashi: Conventional backup systems generally locked you in with a vendor. In other words, one purchased a storage device at the same time as buying back-up software. It was understood that these two would be used together. Simpana offers data protection technology that is completely new, and at the same time, by combining it with new storage technologies like Cloudian HyperStore, allows it to be used as a new solution. For example, with server visualization, the backup of VM was a major task involving a huge amount of servers. By combining Simpana and Cloudian, this headache can be remedied easily.
Saito: Companies have a lot of what is known as "dark data"—data that is needed but is not in use. If dark data is not managed effectively, it can give rise to various problems or additional costs.
With Cloudian HyperStore, large amounts of data are stored away in a batch. By improving the searchability using Simpana's index function, data is not left unused, but is utilized as "living data."
This kind of data information management will play a big role in businesses in the future. Both Simpana and Cloudian are preparing for this kind of future by providing for small starts using really minimally sized systems that can be easily expanded with the changing times and the growth of the business.