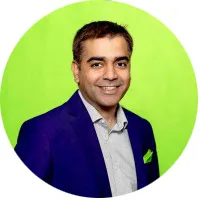 Amit Rawlani, Senior Director of Solutions & Technology Alliances, Cloudian
View LinkedIn Profile
---
As cloud services for Data Storage, Data Protection, and Data analytics gain traction, enterprise customers are keen to modernize their IT environments to remain competitive. A growing area of interest has been to find these services outside of the public cloud or in a cloud-adjacent manner due to various concerns ranging from security and privacy concerns, residency regulations, sovereignty regulations, and finally cost concerns. Service Providers (xSP's) are well suited and well equipped to address this rapidly growing market by offering cloud services to satisfy enterprise needs and take advantage of these new revenue-generating opportunities.
However, for xSP's to deliver competitive cloud services they need to contend with several issues, including:
Time to market: bringing new services to market in a timely manner
Growth: ensuring capacity without too much idle capacity, with potential for expansion
Security & Compliance: offering services that comply regulatory and security requirements
Integration: integration with customer applications at the least possible support cost
Cost: offering services that keep costs low thereby increasing profitability
Here, Cloudian provides xSP's with a scalable storage solution that enable service delivery at a fraction of public cloud cost, enabling them to generate margin potential in excess of 50%. Cloudian HyperStore, the industry's leading S3-compatible hybrid cloud data management platform, provides an off-the-shelf object storage solution for service providers of all sizes to build cloud storage services with very little risk. As a software-defined storage platform, HyperStore delivers industry-leading data integrity and protection with massive storage capacity. Scalability goes from one to thousands of nodes to support 100s of petabytes (PBs), with flexibility on storage access via the Amazon S3 Restful API. It has built in integrations with all leading applications allowing xSP's to offer a variety of cloud services out of the box.

In addition, by using Cloudian, xSP's can compete on cost, performance, and services. A comparison of the cost associated with offering Storage as a Service (STaas) in the public cloud vs the cost to build and offer the same at an xSP is shown below.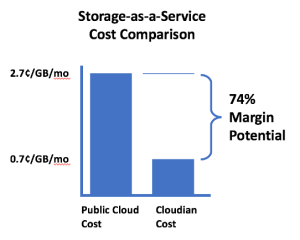 It is clear that, xSP's can build a compelling service offering addressing a growing market need at a fraction of the cost that public cloud offerings charge and build a highly profitable business offering. Furthermore, Cloudian allows xSP's to grow non-disruptively within a single namespace, eliminating the need to start small and procure capacity far ahead of demand.
By using Cloudian HyperStore for their cloud services offerings, xSP's can deliver competitively priced, high-value services to your customers, grow their business, and generate considerable profit for their organization. To learn see more detailed cost analysis about cloud services built using Cloudian HyperStore please click here.