Customers using cloud storage are demanding automated backup solutions from their service provider.  Also, many organizations that are using cloud storage for their public or private cloud are looking for ways to simplify and automate backup tasks for their cloud storage solutions. CloudBerry Managed Backup provides cloud storage services running Cloudian HyperStore with an enterprise ready solution to backup and protect their data from archival to possible disasters.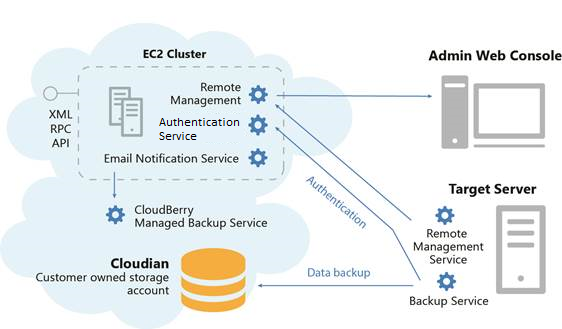 Cloudian HyperStore users can take advantage of CloudBerry's features such as scheduled and real-time backups, encryption and compression, block level backup, MS SQL server backup, network locations backup, bandwidth throttling, and MS Exchange backups.  Cloud Berry Managed Backup supports multiple Cloud Storage options to backup to such as Amazon S3, Amazon Glacier,  Windows Azure, or another Cloudian HyperStore deployment.

CloudBerry Managed Backup is a compute instance running on Amazon EC2. By having the solution stored in the cloud, the IT organization can reduce costs by not buying physical hardware and performing routine administrative and maintenance tasks on the machine. After the instance is deployed and client software is installed, users or administrators can see existing backups from the control panel and have full access to management functions. Service providers also have the ability to provide web-access to their users or customers to view their data.