IDC just published a report that looks at worldwide data growth. The changing landscape over the next eight years that suggests massive need for scalable object storage systems.
The report indicates that far more data will be collected and — just as important — continuously used for services that will impact our daily lives.
In other words, we will see ever-greater volumes of information that will require real-time data access. This is exactly the use case where object storage excels.  The scalability, data durability, and immediate access of object storage will make object storage essential to meet these changing needs.
Here are some of the fascinating stats the report presents:
By 2025 the global datasphere will grow to 163ZB. That's ten times the 16.1ZB of data generated in 2016.
By 2025, nearly 20% of the data in the global datasphere will be critical to our daily lives and nearly 10% of that will be hypercritical.
IDC estimates that the amount of the global datasphere subject to data analysis will grow by a factor of 50 to 5.2ZB in 2025; the amount of analyzed data that is 'touched' by cognitive systems will grow by a factor of 100 to 1.4ZB in 2025!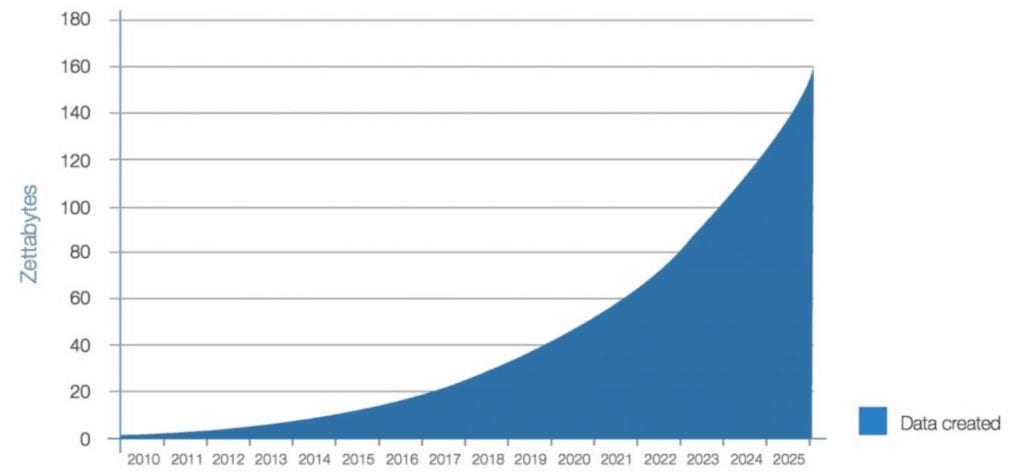 Other interesting findings include:
Resurgence of Enterprise-based Data
From 1980 to the early 2000s, PCs and entertainment media dominated data creation and consumption. However, with improved network and IP connectivity over time, there is less need for data to be stored locally on PCs and other mobile devices. With consumer video consumption shifting to streaming services, the share of storage within enterprise infrastructure rises and entertainment-related device stored data drops.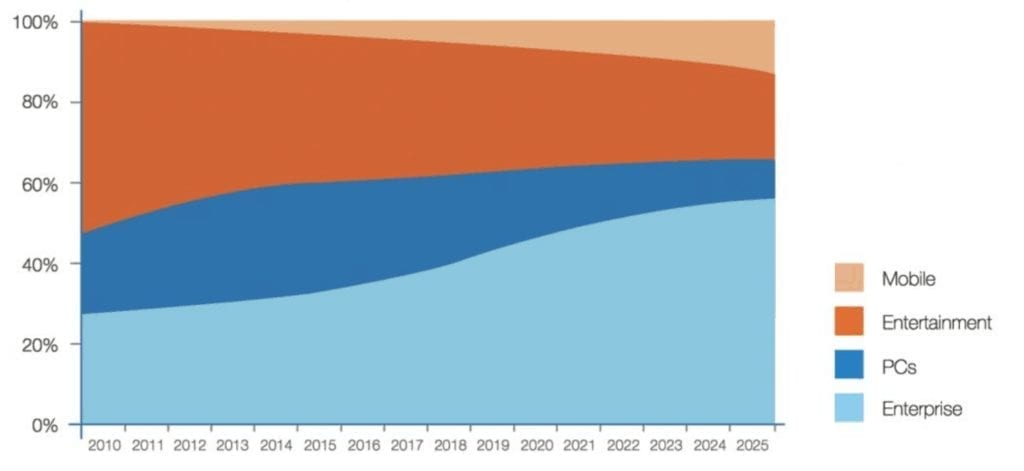 Increasing use of Analytics
The migration of analytics from a post-activity event to a real-time and predictive enterprise will demand a step-function increase in the use of analytics for evidence-based decision making. This means not just digital transformation of an organization's processes but also the culture and organizational structure of the organization. Analytics will become a competitive advantage. With embedded analytics and metadata tagging capability, object storage is a natural fit for this need.
Massive Data Sets Become Pervasive
The report estimates that by 2025, two-thirds of global financial firms will integrate cognitive data from third parties to improve the customer experience through targeted product and service offerings and fraud protection. These are large data sets such as behavioral data or network traffic patterns (for fraud detection) that demand the scalability of object storage. For more on how object complements AI/ML applications, here is a brief.
Data Tagging Essential to Derive Value from Data
The report observes that data tagging, especially automated tagging, is an important aspect of using cognitive systems. Tagging applies identifiers to information to make it easy to sort, analyze, put in context, and create value. This is an embedded element of object storage, making object an ideal fit for this requirement.
Drivers Point to Accelerating Object Storage Usage
In this context of these changing needs, it's interesting to consider the primary benefits of object storage vs other storage types:
Limitless scalability — proven scale-out architecture
Efficient — high data durability protects data
Software-based — deploy on standard servers or cloud-based resources
Metadata tagging — Embedded infrastructure for categorizing information
Finally, all of this is now delivered via a industry-standard interface, the S3 API, making object storage the ideal solution to the evolving challenges of data management.