What Is a Hybrid Cloud?
A hybrid cloud integrates infrastructure components on-premises, private, and public cloud sources into one centralized, distributed computing environment. It enables you to manage and orchestrate traditional and cloud native workloads across various infrastructure components, allowing you to use the most suitable resource for each scenario while centralizing management.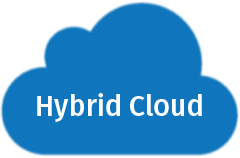 The term "hybrid cloud" typically refers to integrating your on-premises infrastructure with one cloud vendor. You can also integrate on-premises infrastructure with multiple cloud vendors by setting up a hybrid multi-cloud. This lets you combine cloud services and functionality from multiple cloud providers. 
A hybrid multi-cloud lets you choose the most suitable cloud offering for each application and workload and freely shift workloads between private and public clouds as needed. You can also leverage this model to leverage the most cost-effective and efficient cloud resources to improve performance and reduce cloud costs.
This is part of our series of articles about hybrid IT.
In this article: