Profitable MSP Business Models for Differentiated as-a-Service Offerings
Expand your cloud service provider offerings with cost-effective services built on Cloudian S3-compatible storage. Cloudian gives you a proven path to a profitable public sector services business.
Speed to Market
Get revenue-ready solutions via built-in integrations with VMware Cloud Director and storage available for purchase through Carahsoft and the VMware Cloud Provider Program.
Cost-Efficient
Save up to 70% with the storage industry's lowest total cost; create and offer services with margin potential in excess of 50%.
Differentiated Services 
Storage-as-a-Service: Deploy Cloudian HyperStore in one or more locations and offer as S3-compatible Storage-as-a-Service. Scale capacity to an exabyte.
Backup-as-a-Service: Combine Rubrik or Veritas backup software with Cloudian HyperStore and package them into an easily consumable Backup-as-a-Service.
Get Started in
Cloud Storage, Free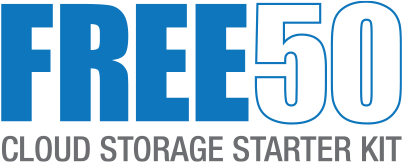 Exclusively for VMware Cloud Providers
Utilize 50TB of Cloudian in your data center for a year for FREE and see how easy it is to grow your business with new cloud services opportunities.
Comparing Cloudian to Public Cloud: The Economics of High-Value, Cost-Effective Cloud Services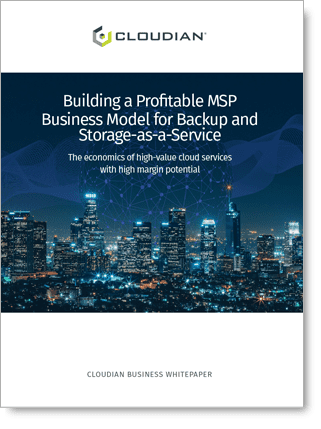 Managed Services is a healthy, thriving market. Organizations of all sizes are streamlining their operations by focusing their resources on the work they do best for their customers while partnering with service providers for the rest. As a result, the managed services market is expected to reach $257 billion by 2022.
The nearly $250B Managed Services market is becoming increasingly competitive. To succeed, MSPs must deliver a broad portfolio of sought-after services along with excellent customer service.
Download this guide to learn how:
Storage-as-a-Service and Backup-as-a-Service are growing in popularity
Managed Service Providers benefit from this market opportunity
Cloudian HyperStore enables margin potential in excess of 50% for MSPs
Modular storage growth lets you start small and expand with demand
High Value-Add Services for Cloud Service Providers
Offer S3-compatible storage-as-a-service, or combine Cloudian storage with 3rd party applications to create additional services. Interoperable with all applications that connect to AWS S3 storage, Cloudian lets you leverage the full S3 API application ecosystem so you can deliver new revenue streams for your business.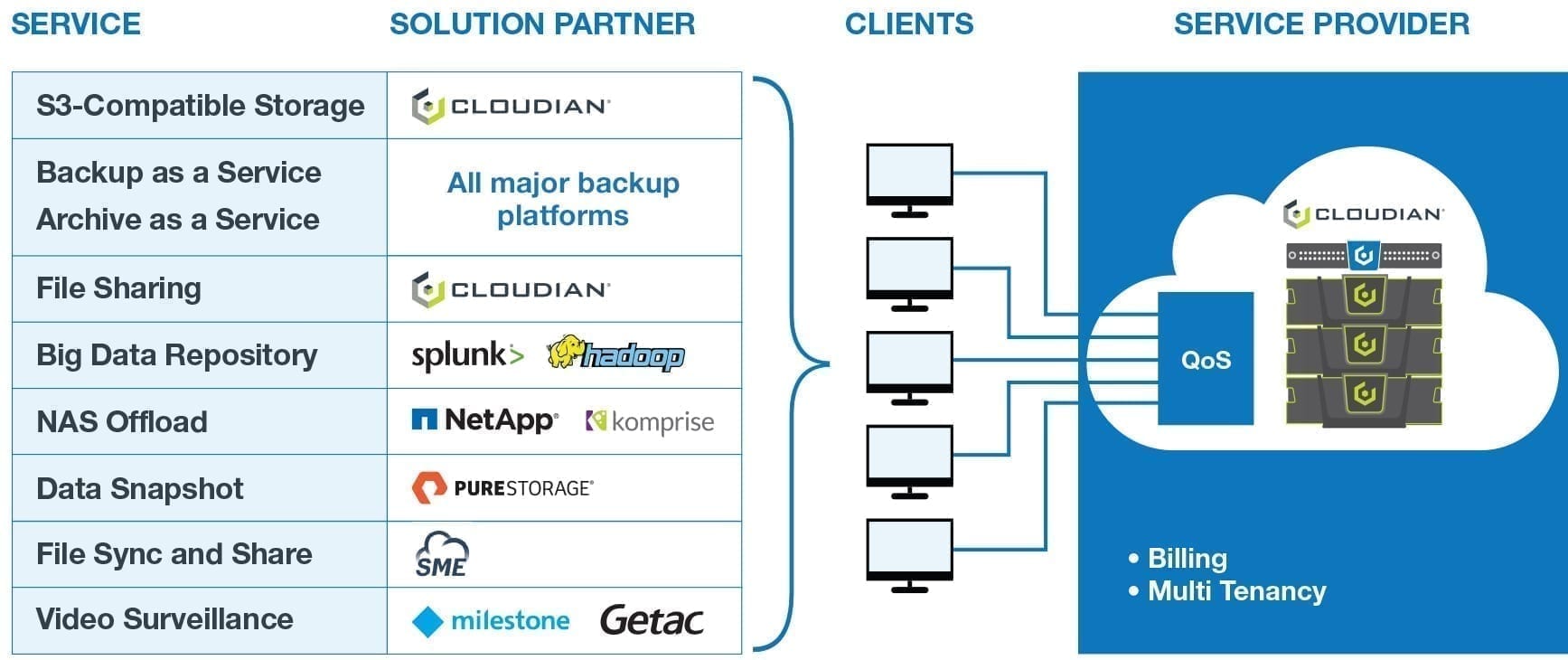 Storage-as-a-Service (STaaS)
Provide additional storage capacity on a subscription basis to help customers address their growing volumes of data.
Backup-as-a-Service (BaaS)
HyperStore can serve as a backup target that integrates easily with backup platforms such as Commvault, Rubrik, Veritas, and Veeam.
Archive-as-a-Service (AaaS)
With its limitless scalability and data durability (up to 14 nines), HyperStore is ideal for providing a long-term data repository.
Disaster Recovery-as-a-Service (DRaaS)
Help customers avoid the risks of business and organizational disruptions resulting from disasters by keeping a copy of their data offsite.
Big Data-as-a-Service (BDaaS)
Leverage Cloudian's rich metadata tagging to apply machine learning and analytics to large data sets. Enable new insights, discoveries, and operational efficiencies.
Compliance-as-a-Service (CaaS)
Help customers maintain regulatory compliance for their healthcare, financial and other regulated data as well as with privacy requirements.
Cost-Effective to Buy and Manage
Built for cloud service providers, Cloudian makes it easy to grow and manage your business. Cloudian scale-out storage systems are designed to keep your costs down and profits up.
Cloudian's native S3 API implementation works seamlessly with your client's applications to ensure a great user experience. Plus, it guarantees trouble-free connectivity with the full range of S3-enabled applications, giving you more cloud service revenue opportunities.
Low Startup Costs, Easy to Grow
The modular architecture keeps CAPEX to a minimum by letting you can start small and add capacity with demand, rather than ahead of it. Performance grows, too, as you add capacity, to help eliminate bottlenecks.
Plus, Cloudian offers the industry's richest service-provider feature set, including multi-tenancy, billing, and  embedded QoS controls to give you flexibility and control.
New Cloud Services Opportunities with Object Storage and VMware Cloud Director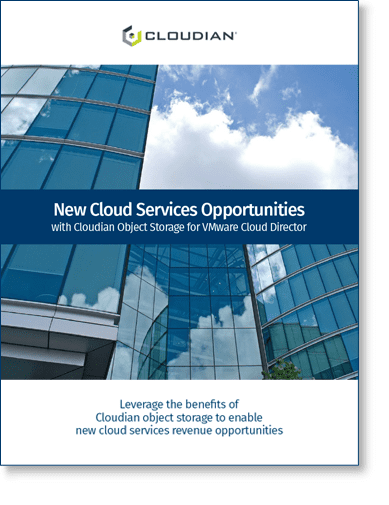 There are new cloud services opportunities that can be enabled with Cloudian object storage for VMware Cloud Director.
VMware cloud providers can enjoy new services revenue opportunities by leveraging the benefits of Cloudian HyperStore object storage to offer a portfolio of new high-value storage-based services. Service use cases include data protection, big data, healthcare, media archives, video surveillance, and more.
Download this paper to learn how Cloudian Object Storage for VMware Cloud Director and storage-based services can help you drive more profitable revenue.
BENEFITS
Cloudian Object Storage for VCD enables a new set of storage-based services that are growing in demand.
Current market for storage-based services is $20B globally. VMware Cloud Providers are well-positioned to capture and benefit from this large market opportunity.
With exceptional economics, Cloudian helps cloud providers deliver cost-effective services on a proven platform.
Hardened Solution
Data immutability verified in US Government certification testing
The accelerating need to improve data security and compliance is driving new data storage requirements. Cloudian HyperStore's Object Lock Compliance Mode protects government data. It meets securities industry requirements for preserving record objects in a non-rewriteable, non-erasable format until the specified retention period has expired.
According to the Cohasset Associates Compliance Assessment, Cloudian HyperStore meets:
SEC 17 CFR § 240.17a-4(f)
FINRA Rule 4511(c)
CFTC 17 CFR § 1.31(c)- (d)
Cloudian HyperStore 7.2 also meets the Federal Information Processing Standard (FIPS) Publication 140-2 Security Requirements for Cryptographic Modules (FIPS PUB 140-2) and is also Common Criteria certified with EAL2 designation.
S3-Compatible Storage for VMware Cloud Director
Cloudian Object Storage for VMware Cloud Director is a storage platform that lets VMware cloud providers and their tenant users deploy, manage and consume S3-compatible storage within their services environment.
For cloud providers, this opens the door to new service revenue streams in use cases such as data protection, big data, healthcare, media archives, video surveillance, and more. For their tenant customers, it delivers a best-in-class object storage service fully integrated and delivered through their preferred cloud management platform.
BENEFITS
Proven interoperability with the S3 API
Native integration with VMware Cloud Director
VCD virtual appliance deployment model
Limitless storage scale within a single namespace
Self-service storage management for customers
Helps cloud providers offer differentiated and value-add services
Available as a pre-configured appliance or as software-defined storage
Deployment Options
Choose from two deployment options. Deploy Cloudian software on existing VMware servers or select a pre-configured Cloudian hardware platform. Either way, pay-by-use for the Cloudian software. Metering and billing are provided via VMware using VCPP points.
With existing servers, deploy on a VM or on the server platform you prefer.
Alternately, the Cloudian hardware platform option provides an appliance-like experience.  Pre-installed software on high-density servers make it easy and cost-effective to get started.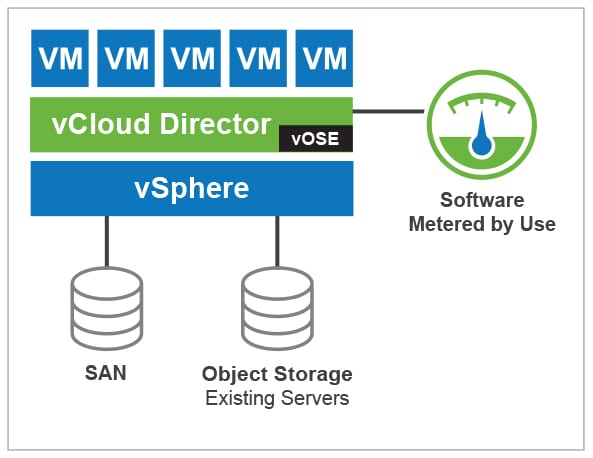 1. Existing VMware Servers
Deploy Cloudian software on existing servers and get S3-compatible storage within your current infrastructure. Run Cloudian software as a VM, or deploy on bare-metal servers. Software is sold and metered through VMware. Pay only for the capacity used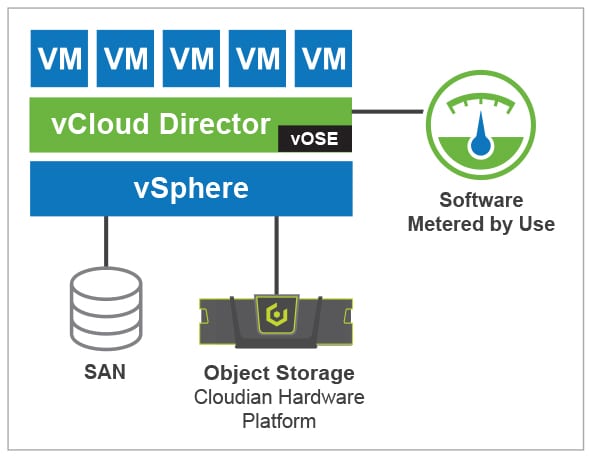 2. Cloudian Hardware Platform
For added convenience, select a hardware platform from Cloudian. This provides an appliance-like experience with pre-configured software. Device capacities range from 77TB to 1.5PB in both 1U and 4U height form factors. Software license is sold and metered through VMware.
5-Minute Lightboard Video
Object Storage for Cloud Providers Powered by VMware Cloud Director and Cloudian
Performant, scalable, and resilient S3-compatible Object Storage is now available to thousands of VMware Cloud Providers worldwide! Check out this jointly engineered solution between Cloudian, the world's leading Cloud Object Storage vendor, and VMware Cloud Director, the world's leading services platform for Cloud Providers. Find out more at cloudian.com/vmware/.
Cloudian is a Proud Partner of milCloud 2.0
Cloudian is proud to be part of milCloud 2.0, a program that allows authorized government administrators to easily "shop" for services that match their needs from a variety of commercial cloud providers.
MilCloud® 2.0 lets DoD agencies purchase cloud services within 48 hours and immediately begin data center migration. Agencies can take advantage of today's latest technology and innovate more quickly.
Cloudian partners with milCloud 2.0 to provide object storage solutions for a variety of use cases within this diverse operating environment.