Curing the Threat of Ransomware with Veeam and Cloudian
Ironclad Malware Defense with Object Lock
Challenge
According to the 2019 World Economic Forum, ransomware is one of the Top 5 threats to the world economy, with attacks growing 97% year-over-year. Hackers continue to plague healthcare organizations around the world, forcing providers to pay up in order to get their critical data systems back online.
Sophisticated attackers now go to the heart of the data protection environment, potentially shutting down operations while rendering backup data useless. In 2019 alone, 764 healthcare providers were impacted causing redirection of emergency patients, inaccessible medical records and cancellation of surgical procedures. On an average, ransomware attacks cost healthcare providers $8.1 million and 287 days to recover. The need for a new approach to protect critical healthcare data from this real and present threat has never been greater.
Solution
Veeam and Cloudian now offer a combined solution that protects data from ransomware. Veeam software already protects clinical applications for more than 20,000 healthcare providers worldwide. These providers — who run many major EMR, including Epic, Cerner, Allscripts, etc. — trust Veeam for proven protection and recovery of their clinical applications and data centers.
Cloudian's enterprise storage platform provides a cost-effective backup data repository for Veeam Availability Suite V10 — and now includes capabilities that deliver a hardened ransomware protection solution.
Ransomware Protection
To protect healthcare organizations from ransomware attacks, Cloudian HyperStore and Veeam Availability Suite V10 support Object Lock, a feature that protects backup data from any modification, deletion, or encryption by hackers, malware, ransomware, or internal threats. Object Lock makes data completely unchangeable for a fixed period of time. Object Lock immutable data technology ensures a clean data copy for reliable recovery. The resulting security is comparable to offline storage.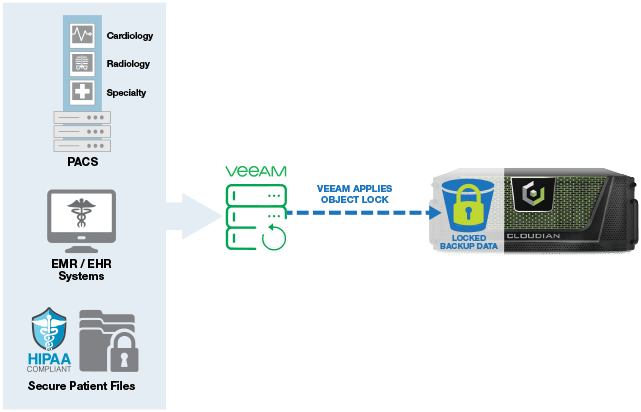 Complete data protection solution with industry-first Object Lock-based ransomware protection for healthcare organizations.
Security, HIPAA Compliance, and More
To protect patient data, Veeam and Cloudian meet the requirements of HIPPA and SEC Rule 17a-4(f) WORM (Write Once Read Many) storage. To protect data in flight, the solution employs HTTPs and SSL. For data at rest, AES-256 serverside
encryption provides additional security. Secure shell, integrated firewall and RBAC/IAM access controls further protect backup copies.
Protection for All of Your Healthcare Data
EHR, PACS and Document Management Systems have unique data protection needs. Veeam ensures reliable backup and recovery for each. Cloudian HyperStore scales to accommodate data from all sources: medical records from EMR and EHR systems, plus unstructured content from PET scans, MRIs, CT scans, and X-rays. The joint solution protects data across all healthcare IT needs and helps you recover quickly and reliably.

Hybrid Cloud-Ready
For disaster recovery purposes, Cloudian integrates public cloud connectivity. Replicate backup data to AWS, Azure and GCP using the included data management tools. Or replicate to a Cloudian cluster at a second site. Either way, you have a single view of data and your offsite copy will be automatically kept up to date.
Multi-tenancy
Increase efficiency by allowing multiple users to share a single backup and storage infrastructure, without compromising security. Both Veeam and Cloudian support multi-tenancy, ensuring that multiple healthcare departments may be supported within a single system while maintain full data security. Integrated billing simplifies management, and QoS controls help you deliver consistent service levels.
Lowest TCO
Cloudian HyperStore is a scale-out object storage system that provides a fast, cost-effective backup and archive storage platform at 70% less cost than public cloud storage or traditional storage options. The scale-out architecture lets you start small and grow, rather than buying capacity long in advance. A software-defined storage model gives you the option of deploying on the hardware of your choice, or on Cloudian's pre-configured storage appliances.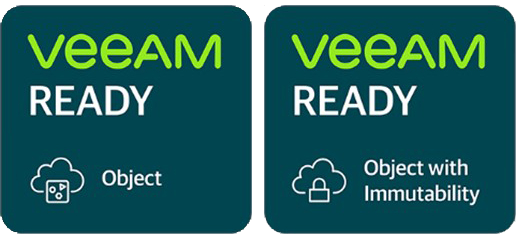 Solution Benefits
Ransomware Protection
Object Lock protects backup copies from encryption by ransomware
Assured restore in
Superior RPO/RTO
Fast restore from on-prem, disk-based backup target
Consolidate Data Silos
Support for EHR, PACS, Document Management systems
Consolidated health records for simplified access and data
Security and Compliance
HIPAA compliant
SEC Rule 17a-4(f)
Access controls, audit logs, encryption for data at rest and in motion
Lowest TCO
1/3 the cost of public cloud or traditional enterprise storage
30% lower TCO than tape
Modular and Limitlessly Scalable
Start small and expand without downtime
Cloud Compatible
Replication to public cloud for DR
Compatible with AWS, Azure, GCP