AWS re:Invent was a fantastic show this year. The show has seen phenomenal growth, with over 32,000 attendees, up from 18,000 attendees last year.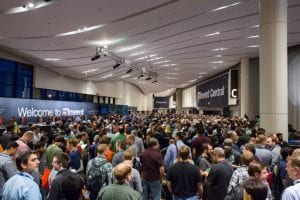 Many visitors were looking for solutions to let them integrate their on-premises operations with the cloud. By adopting a hybrid cloud storage approach, they would be able to capitalize on the scalability and cost of cloud storage when appropriate, while also maintaining the cost predictability and control of on-prem storage.
For these visitors, Cloudian proved to be the perfect fit. We provide 100% native Amazon S3 object storage, with automated tiering between the data center and the cloud. Our HyperStore solution is also available directly from AWS Marketplace, which means users can get all their usage and billing data within a single monthly invoice from AWS.
Steve Varner, Principal Data Engineer at Motorola Solutions, visited our booth and had this to say afterwards: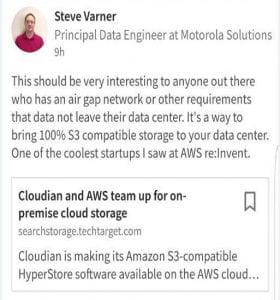 Interested in learning more about Cloudian? Contact us or try it out for yourself.