Cisco and Cloudian Collaborate to Create Scale-Out Enterprise Object Storage Solutions
By Samuel Nagalingam, Cisco Product Management
Cisco and Cloudian have partnered to create integrated scale-out Enterprise Object Storage Solutions, combining Cisco UCS Servers with Cloudian HyperStore software. This new solution is available today and just in time for the data-driven enterprise as the world's data is now doubling roughly every two years.
Cisco Unified Computing System (UCS) S-Series Storage servers offer a modular platform that delivers scalability and performance to match the size of your active data sets and the processing needs of your data-intensive workloads. UCS Management significantly reduces management and administrative expenses by automating routine tasks to increase operational agility.

Cloudian HyperStore 7 has been rated #1 Object Storage solution on Gartner Peer Insights in 2018 and also named as a finalist in the "Software-defined and Cloud Storage" category of TechTarget's Storage Magazine and SearchStorage.com 2018 Products of the Year Awards.
Cloudian HyperStore is on-prem S3-compatible and limitlessly scalable storage for one or more locations that is also hybrid and multi-cloud ready. Ideal as a capacity data storage tier, HyperStore is designed with a single global namespace across all locations, including public cloud, providing unified visibility and control of all your data. With fine grain, bucket-level storage policies, users have flexible data protection options with erasure coding and replication, to suit requirements.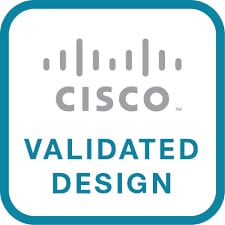 Cisco Validated Design of the Cloudian HyperStore 7.1.2 running on Cisco UCS S-Series Storage Server published in January 2019 provides a validated architecture and serves as a guide book for deploying a joint solution quickly and with confidence, reducing the risk and eliminating any guesswork. Details can be found at:
Cisco Validated Design for Cloudian HyperStore
Additional reference architecture of Cloudian HyperStore with Cisco UCS S3260 for on-premises and hybrid cloud storage solution can be found at:
Cisco UCS S3260_Cloudian HyperStore_Reference Architecture.pdf
This Cisco-Cloudian solution can support multiple use cases as a storage target including backup & recovery, active archive, media & entertainment, healthcare, life science, video surveillance, among others. With integrated multi-tenancy, QoS and billing, this solution is ideal for service providers who would like to offer associated services such as Storage-as-a-Service and Back-up-as-a-Service.
In summary, the Cisco UCS S-Series storage servers powered by the Cloudian HyperStore meet customer demands for scalability and performance of a variety of unstructured data workloads.
To learn more visit: cloudian.com/cisco/