Rising Demand for Storage-based Cloud Services
With a growing demand for storage-based services, Cloud Service Providers are introducing a suite of new storage-based services built on S3-compatible storage from Cloudian to profitably expand their businesses and better serve customers.  These high-value services leverage the limitlessly scalable, feature-rich HyperStore object storage platform, and an extensive technology partner ecosystem.
Before taking a closer look at HyperStore for Cloud Providers, let's set the context by understanding the overall market and trends.  According to IDC, the market demand for cloud storage services is forecasted to triple in size from $20 billion in 2019 to $60 billion in 2023.  That's a remarkable 32% CAGR in just 4 years.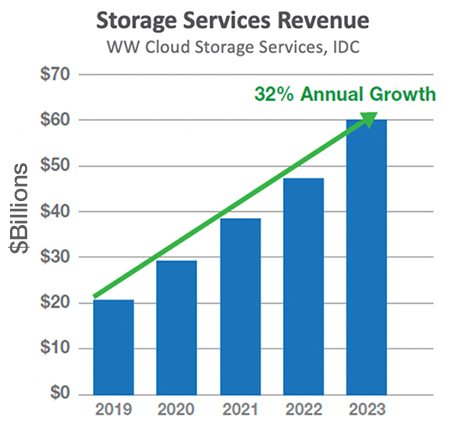 The demand for these storage-based services is due in part to several notable trends:
1. Dramatic growth in data volume driving new storage capacity requirements, increasing from 33 Zettabytes in 2019 to a staggering 175ZB by 2025, according to IDC, a 61% CAGR.
2. Technical standardization on S3 API
S3 API is the de facto standard for cloud storage
Growing S3-compatible software ecosystem
Expanding use of S3-compatible applications
3. A growing mandate for a hybrid | multi-cloud model with public cloud and on-prem storage locations
Taken together, these trends are having a dramatic impact and challenging organizations in every industry to find a cost-effective way of storing and managing their data without sacrificing performance, security, or service delivery. Increasingly, they are turning to service providers for services that benefit from their scale, vertical specialization, multi-source flexibility, and regional diversification. These end-user organizations are in turn benefiting with increased agility, lower costs, and the ability to do more with their resources.
Getting Started with Cloudian HyperStore
As the industry's leading S3-capable object storage, Cloudian HyperStore was designed from the start with Service Provider features including multi-tenant resource pooling with integrated management tools such as billing and quality of service controls. Cloud Service Providers using HyperStore have the ability to start small with just three nodes and then grow to meet their evolving capacity needs without interruption and to an exabyte of storage.
Whether using a single location or a geo-distributed deployment in multiple locations, Cloud Providers benefit from HyperStore's architecture and built-in data protection configuration options to provision services that flexibly match the unique needs of their customers. A single storage pool across public cloud and on-prem storage locations provide unified visibility and management of data.  Security is another area where Cloudian provides unique value with support for S3 Object Lock for WORM storage as well as with enhanced security certifications such as SEC 17a-4(f), Common Criteria and FIPS 140-2 that help ensure compliance and protect against ransomware attacks.
New Cloud Services Opportunities
These and other factors are driving the surge of Cloud Provider interest to offer new Cloudian storage-based Cloud Services. Today, Cloud Providers are leveraging these capabilities and benefits to deliver a full portfolio of high-value services, each provisioned and managed with the Cloudian storage platform.  This includes VMware Cloud Providers who are taking advantage of the seamless HyperStore integration with VMware Cloud Director, enabling their services to be delivered with a single point of management, simplifying workflows, and minimizing costs.
Cloud Providers deploy HyperStore with Cloudian storage appliances or as software-defined storage with industry-standard x86 servers, benefiting from the compatibility, cost efficiency and application support needed to ensure a profitable business model.
Some of the principal HyperStore enabled Cloud Services include:
Storage-as-a-Service
S3-compatible storage capacity provided on a subscription basis to help end-users address their growing volumes of data.
Backup-as-a-Service
Backup of VMs, databases, and other application data with HyperStore as a backup target and integrated with backup platforms such as Commvault, Rubrik, Veritas, and Veeam.
Ransomware Protection as-a-Service
Addressing the urgent need to protect data from loss or malicious attacks with HyperStore and Veeam now supporting Object Lock, a data protection feature that enables immutable backup copies, unchangeable for a set period of time
Archive-as-a-Service
Long-term data repository leveraging HyperStore's limitless scalability, security, and unmatched data durability.
Disaster Recovery-as-a-Service
Keeping customer data safe and available with one or more offsite copies to avoid the risks of business and organizational disruptions resulting from disasters.
Big Data-as-a-Service
Leveraging HyperStore rich metadata tagging to apply machine learning and analytics to large data sets, enabling new insights, discoveries, and operational efficiencies.
Compliance as-a-Service
Meeting regulatory and privacy needs with a secure, long term repository for healthcare, financial and other data.
Containers-as-a-Service
Enabling containers to be uploaded, organized, and managed within a secure and scalable repository
---
Read more about Cloudian here, or contact us for more information
YOU MAY ALSO BE INTERESTED IN:
Learn about Building a Profitable MSP Business Model for Backup and Storage-as-a-Service
View this panel session to learn how new technology from Cloudian, Veeam, and VMware to enable Ransomware Protection-as-a-Service 
Try Cloudian Free