Cloudian is among the first to earn the Veeam Ready validated designation for v12. Cloudian earned the validation for:
Veeam Ready Object
Veeam Ready Object Immutability: for enterprise-grade Data Protection and Ransomware Protection workloads
Veeam Ready Repository: a more performant validation that is new to v12

Here's why that matters, and how it can save you cost while making your backup environment simpler and more secure.
A key feature of Veeam Backup and Recovery v12 is the ability to have object storage at all backup stages. This simplifies and streamlines the backup process by eliminating the need for a storage filer layer that adds cost and complexity.
The traditional data protection workflow requires the performance tier to be block or file storage, which adds cost and complexity.

With Veeam V12, you can now have object storage in all tiers. This means you can go directly to object storage, making the higher-cost layer unnecessary. The new "Veeam Ready – Repository" designation means that Cloudian can be the target in any tier, eliminating a big chunk of the storage costs.
Up to 70% cost savings
That equates to a ~45% savings when Cloudian is the storage at all tiers, a ~58% savings when backups go directly to Cloudian on-prem, and a ~70% savings when compared to backup workflows into the public cloud.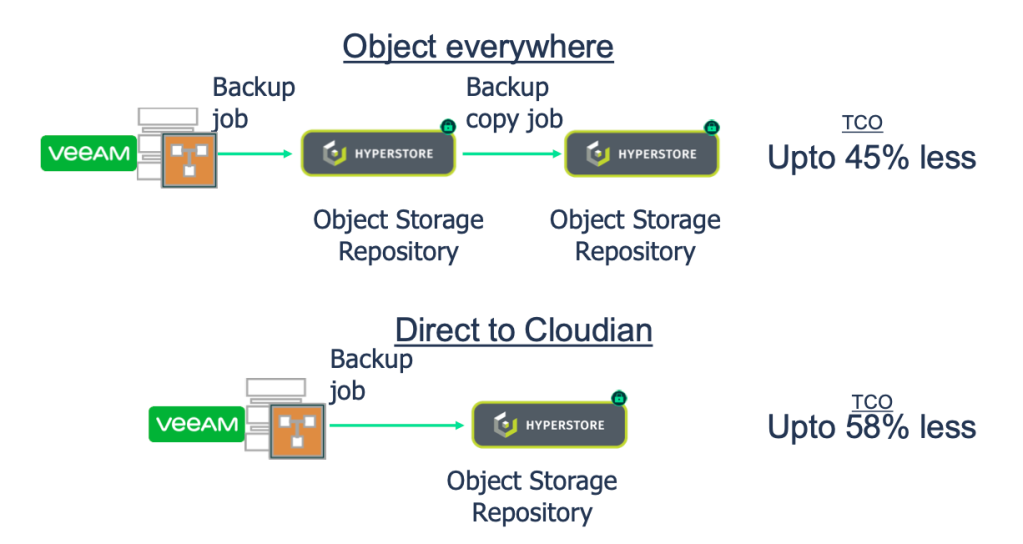 To ensure the object storage environment is up to the task as the performance tier, Veeam created the "Veeam Ready – Repository" validation with specific requirements for object storage. Cloudian completed this testing with flying colors and is among the first to receive this validation.
Now you can take full advantage of the unlimited scalability, built-in reliability and resiliency of Cloudian on-premises object storage without having to sacrifice backup and restore performance. And you can leverage Cloudian both as a regular backup repository and/or as the Scale-out Backup Repository™ (SOBR) capacity tier. Object storage repositories can now be a target for both primary (i.e., backup) and secondary (i.e., backup copy) jobs.
Ransomware protection, too
This simplified approach is more secure, too. At the object storage layer, the Veeam v12 software can enable Object Lock (which is validated with Cloudian's "Veeam Ready – Object with Immutability" designation). This feature makes data copies immutable, and therefore protected from ransomware attack. With the direct-to-object workflow, Cloudian and Veeam now get the data to that immutable layer sooner to lock in your data protection.
Cloudian's multiple Veeam Ready designations lets you simplify your backup architecture and save cost without sacrificing performance. Now that's a combination to love.
Learn more about Cloudian and Veeam here. And get a Cloudian free trial here.