It's no surprise that Amazon Web Services (AWS) is a dominant force when it comes to the public cloud – it's a $10B a year business, with nearly 10% of Amazon's Q2 net sales attributed to AWS.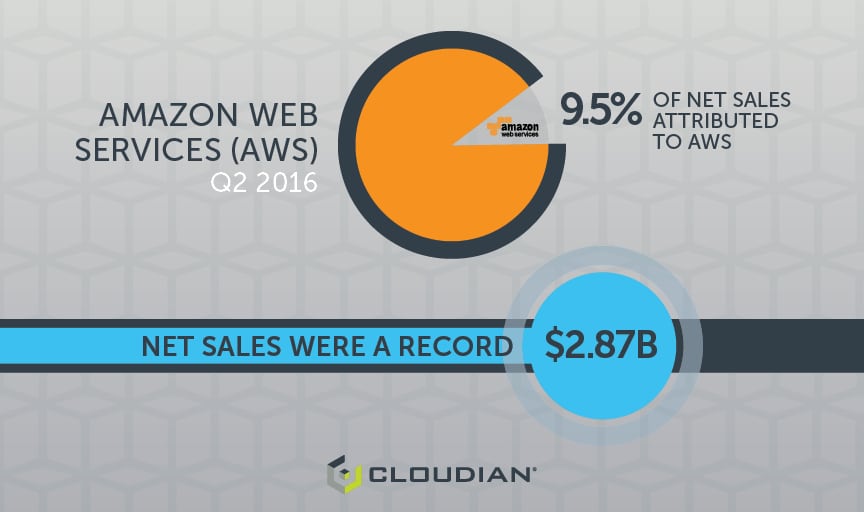 While AWS has been touting public cloud since its inception, only recently has it started to acknowledge the need for hybrid storage solutions. Why? Because it's simply not realistic for many companies to move all their data to the public cloud.
A company may choose to stay with private, on-premises storage solutions if they have existing data centers already in place. Or they may prefer the enhanced performance and extra measure of control that comes with on-premises storage.
Nonetheless, public cloud storage has significant advantages. It's easy to implement, scales on demand, and automates many of the data management chores.
Neither option is clearly better than the other – in fact, customers are spending more than ever on both private and public cloud solutions. IDC forecasts that total IT spending on cloud infrastructure will increase by 15.5% in 2016 to reach $37.1B.The bottom line is that companies need both on-prem and cloud solutions.
The Best of Both Worlds: Hybrid Storage
What's needed is a solution that allows you to enjoy that advantages of both — the speed and control of on-prem and the on-demand scalability of cloud. And ideally, you'd get both within a single, simple management model.
That's what Cloudian HyperStore is. It's S3 cloud storage that physically sits in your data center. And, it looks and behaves exactly like Amazon S3 cloud storage, so your apps that work with Amazon will work with Cloudian. Best of all, you can manage the combined Cloudian + Amazon S3 storage pool as a single, limitlessly scalable storage environment.
Fortune summed up Amazon's need for a hybrid compute model in their recent article, stating:
It's become clear that AWS, which is the leader in public cloud, will have to address this issue of dealing with, if not embrace, customers' on-premises computing.
Thankfully, in the storage world they've already addressed this by adding Cloudian HyperStore directly to the AWS Marketplace. We announced this last month, but it bears repeating because it's an important step in AWS's evolution.
The advantages in moving towards hybrid storage are numerous. Everything folds up to AWS, so even usage and billing from private cloud will be centralized in the monthly AWS invoices. More importantly, Cloudian HyperStore was built from day one to be fully S3 compatible, which ensures complete investment protection.
So if you're debating between public and private cloud options for your company, remember that you can still get the best of both worlds. Check out Cloudian HyperStore for a better hybrid storage solution with AWS and Amazon S3.