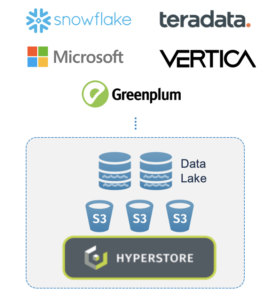 Today Cloudian announced the launch of an on-prem data lake storage solution in partnership with Snowflake, the Data Cloud company. This follows our recent announcement with Teradata regarding Cloudian's integration with Teradata Vantage's on-premises deployment option.
Cloudian has made similar announcements with other analytics platforms, including Microsoft SQL, Greenplum, and Vertica. With each of them, Cloudian's S3-compatible storage is now validated as an on-prem data lake storage platform.
These announcements highlight an accelerating trend: Data lakes are moving to the hybrid cloud. For IT managers and data owners, this is a huge win. Now, the analytics software you prefer can operate both on-prem and in the public cloud, with data storage that is local to each. You can employ a common back-end data storage API and same data format, thus giving you data portability and the flexibility to choose the best operating environment for specific workloads.
So what does this hybrid cloud flexibility buy you? Here are four benefits of deploying a data lake on-prem:
1) Ensure data sovereignty
Local storage, maintained within specific geographic boundaries, is a must for certain data types. Whether in regulated industries (such as healthcare, finance, gaming, etc…), or in countries where data locality is a priority, organizations must ensure both data residency (local storage) and data sovereignty (local control).
2) Accelerate time to insight
An on-prem data lake lets you run analytics applications on data in-place, rather than having to move that data to a public cloud, which can be costly and time consuming. Quicker data insights at less cost boosts the ROI of your data lake project.
3) Consistent data security
Analyzing data in place can also enhance security by minimizing exposure. The data is in one location, behind your firewall, protected by a consistently applied set of security measures.
4) No egress fees. Up to 70% savings
On-prem data lakes have no data egress fees, so there are no monthly billing surprises.  Up front costs are low, also, down to 0.5¢ per GB/mo, including software, hardware, and support. A petabyte of raw capacity fits in about 4U of rack height, so even when you factor in data center power, space and cooling costs, you still have substantial savings.
Cloud storage technology behind your firewall
Private cloud storage now the offers enterprise data management benefits of public cloud. The underlying technology is the same: S3 API, and scale-out object storage. So you get a complete suite of enterprise-class features and functionality:
Modular, limitless scalability – Start with three low-cost nodes and expand simply by adding devices to the cluster without disrupting analytics workloads.
Data resiliency – Get up to 14 nines of resiliency with administrator-defined data replication or erasure coding.
Ransomware protection – Through S3 Object Lock, prevent malware from encrypting and/or deleting data — enabling quick, easy recovery without paying ransom — and meet governance and legal hold demands.
Military-grade security – Further secure data with features such as secure shell, integrated firewall, RBAC/IAM access controls, AES-256 server-side encryption for data at rest and SSL for data in transit, as well as certification with the most stringent government security requirements.
Multi-tenancy – Allow multiple users to store and analyze data within a single, shared data lakehouse — without compromising security — while also employing multi-tenant billing, metering and quality of service (QoS) controls.
Hybrid cloud gives you the best of both worlds
A hybrid cloud data lake leaves your options open. A common data type and built-in cloud integration for easy data mobility let you choose the optimal operating environment for each workload. And you have the flexibility to change down the road. There is no lock-in.
Public and private cloud-based data lakes each have their place. Now you have the flexibility to choose without compromise.