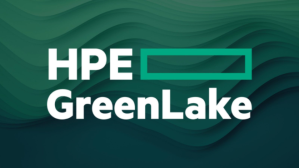 For organizations moving towards a cloud-like model in all aspects of IT – including how they procure on-prem infrastructure – Cloudian now offers a solution.
Cloudian is now available on the HPE GreenLake Marketplace, giving you the option to get Cloudian HyperStore object storage software delivered as an on-premises service.
"HPE GreenLake offers a pay-per-use, self-service, managed experience that keeps workloads on-premises with a cloud-like experience."  – Forrester, May, 2022
Cloudian and HPE GreenLake together deliver data sovereignty and control with a pay-as-you-go financial model that provides both transparency and flexibility.
On-prem data sovereignty and cloud economics
HPE GreenLake is an IT infrastructure service that provides a scalable, usage-based platform. Organizations can easily scale up to handle fluctuations in demand, without the usual delays associated with buying and managing new infrastructure. You pay for what you use, rather than buying infrastructure ahead of demand. This eliminates the costs associated with over-provisioning in the traditional procurement process, resulting in flexibility and cost savings.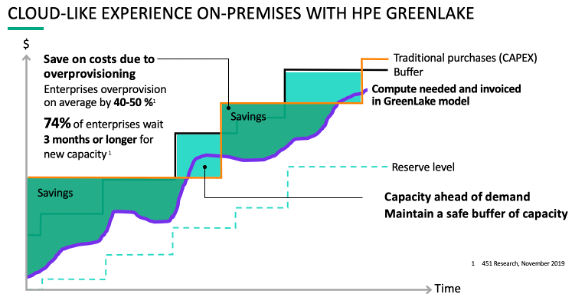 From the start, Cloudian has delivered the operational benefits of cloud infrastructure and the security and control of local storage. By joining the HPE GreenLake Marketplace, we can now offer cloud economics in a pay-as-you-go financial model.
HyperStore and HPE GreenLake Bring the Cloud to You
Cloudian HyperStore is the perfect match with the GreenLake model. With Cloudian's modular architecture, built on a single-software-image, we make scaling easy. You can transform any compute platform – including servers, virtual machines, or containers – into a pool of S3 API-compatible object storage resources that can be co-located with data sources and data consumers.
Secure, Simple, and Fully Compatible
Cloudian HyperStore is purpose-built object storage software, designed to deliver a cloud-like experience from edge, to core, to cloud. Benefits include:
Military-grade security: the most security certifications in object storage, including Common Criteria, FIPS and SEC Rule 17a-4(f), plus ransomware protection with Object Lock
Simple scalability: with Cloudian's elegant peer-to-peer architecture, expansion means simply adding another server node.
Full S3 API compatibility: native S3 API design ensures seamless operation with S3-enabled applications
Cloud Benefits, On-Prem Control
While the public cloud offers flexibility, it is not suited for all use cases. "Most organizations cannot eliminate on-premises infrastructure due to security, existing workloads, or other requirements," Forrester notes. The need for on-prem infrastructure is real and growing as data sovereignty concerns increasingly dominate the conversation. Cloudian and HPE GreenLake now offer a way to get both cloud flexibility and on-prem control to build the hybrid configuration that meets your application needs.
More Information
HPE GreenLake for Cloudian Solution Brief here.
HPE GreenLake Marketplace here. 
More about Cloudian here.