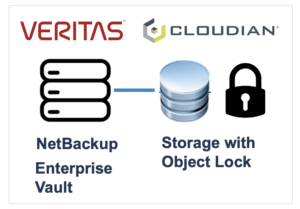 Today Cloudian announced our ransomware protection for Veritas NetBackup and Enterprise Vault users using Cloudian HyperStore and S3 Object Lock. This is welcome news because the reality is that ransomware remains a top threat.
In the first half of 2022, Sonicwall recorded 2.8 billion malware attacks, an 11% increase over the previous year.
In 2021, US banks reported $1.2 billion in likely ransomware payments. This is triple the amount reported in 2020, and reflects only the US payments that are traceable.
The government of Suffolk County in New York remains "stubbornly mired in a cybermorass," two months after a September 2022 cyberattack that set operations "back into the 1990's," the New York Times recently reported.
Healthcare organizations report extensive exposure, with 19 large US hospital chains impacted by ransomware attacks this year, NBC News says.
Traditional defenses can be penetrated
The hard truth is that attacks remain difficult to eliminate. After years of traditional prevention efforts — such as training employees to avoid becoming phishing victims or installing anti-malware software — the attack vectors continue to penetrate defenses. The old saying, "the bad guys only have to succeed once," continues to be true.
Data immutability helps ensure rapid recovery
Today's announcement with Veritas is a reminder: simple steps can help mitigate ransomware's impact.  Cloudian's S3 Object Lock integration with Veritas NetBackup and Enterprise Vault environments maintains an immutable data copy to prevent cybercriminals from encrypting or deleting your data. In the event of a ransomware attack, this enables a restore from the unchanged data — without having to pay ransom.
S3 Object Lock renders data unchangeable for a specified period of time, like a time lock on a bank vault. And because it is now integrated with Veritas NetBackup and Enterprise Vault, it can be part of your standard data management workflow.
Proven effective
After nearly three years of helping our customers safeguard their data with S3 Object Lock, we know of zero instances where a protected customer has had to pay ransom. It helps ensure a recovery path when disaster strikes. And now it is easy to implement with NetBackup and Enterprise Vault.
Maybe 2023 can be the year when ransomware is no longer a top threat.