What Is Data Protection Policy?
A data protection policy (DPP) is a security policy dedicated to standardizing the use, monitoring, and management of data. The main goal of this policy is to protect and secure all data consumed, managed, and stored by the organization. It is not required by law, but is commonly used to help organizations comply with data protection standards and regulations.
Related content: Read our guide to data protection regulations
Data protection policies should cover all data stored by core infrastructure of the organization, including on-premise storage equipment, offsite locations, and cloud services. It should help the organization ensure the security and integrity of all data—both data-at-rest and data-in-transit.
Data protection policies can demonstrate the organization's commitment to ensuring the protection and privacy of consumer data. If the organization is subject to compliance audits, or experiences a data breach, the data protection policy can be presented as evidence demonstrating the organization's commitment to data protection principles.
A data protection policy should cover the following aspects:
The scope of required data protection
Data protection techniques and policies applied by relevant parties such as individuals, departments, devices, and IT environments
Any applicable legal or compliance requirements for data protection
The roles and responsibilities related to data protection, including data custodians and roles specifically responsible for data protection activities

In this article:

The information provided in this article and elsewhere on this website is meant purely for educational discussion and contains only general information about legal, commercial and other matters. It is not legal advice and should not be treated as such. Information on this website may not constitute the most up-to-date legal or other information.
The information in this article is provided "as is" without any representations or warranties, express or implied. We make no representations or warranties in relation to the information in this article and all liability with respect to actions taken or not taken based on the contents of this article are hereby expressly disclaimed.
You must not rely on the information in this article as an alternative to legal advice from your attorney or other professional legal services provider. If you have any specific questions about any legal matter you should consult your attorney or other professional legal services provider.
This article may contain links to other third-party websites.  Such links are only for the convenience of the reader, user or browser; we do not recommend or endorse the contents of any third-party sites.
What's the Difference Between a Data Protection Policy and a Privacy Policy?
A privacy policy is a document that explains to customers how the organization collects and processes their data. It is made available to the public by organizations required to comply with privacy regulations.
A data protection policy is an internal document created for the purpose of establishing data protection policies within the organization. It is made available to company employees, as well as third parties, responsible for handling or processing sensitive data.
9 Key Elements to Include in Your Data Protection Policy
Your data protection policy must include at least the following elements:
Introduction and scope—the DPP should begin with an explanation of its purpose and how to use it. This allows employees to appreciate the importance of the document and why they need to familiarize themselves with its principles. This section should also lay out the scope of the DPP, including the types of data it applies to and the persons responsible for it.
Definitions—this section defines the various terms used in the document to avoid any misunderstandings among the members of your organization.
GDPR principles—explains the expectations of the General Data Protection Regulation (GDPR). This is essential to ensure staff understand their obligations and comply with data protection standards.
Lawful processing of data—according to the GDPR, data processing is lawful based on six legal justifications. Depending on the legal category of the data, it must be processed differently.
Roles and responsibilities—employees are assigned various data protection roles and responsibilities, and it is important that each employee understands their accountability. If you have multiple teams or individuals that handle personal data, it is important to outline the authority structure of your organization regarding data protection.
Data breach notification procedures—notification is an essential aspect of a DPP. Everyone in your organization must know how to act in the event of a data breach. Your handling of a data breach could be subject to legal scrutiny.
Rights of data subjects—this is a list of consumer rights that remind staff of their obligations. Consumer data can only be retained for the time it takes to provide a necessary service.
Security and record keeping—your DPP should mention your organization's security measures, data retention procedures and data records.
Contact information—staff should know who to contact to raise concerns or ask questions about data protection (perhaps a Data Protection Officer). Make sure you provide the relevant contact details.
Implementing a Data Protection Policy
A data protection policy should not remain a theoretical document. Rather, it should be implemented as part of the overall policies and governance of the organization, and treated in the same manner.
Here are several practices to consider when implementing your data protection policies:
Add it to the staff handbook—introduce the policy to your staff. Make sure they read it and understand they are required to adhere to the policy.
Provide a summarized version—if the policy is long, provide your staff with a summary that covers the main aspects and practices they are required to follow.
Offer training and supervision—when first implementing the policy, provide your staff with the training needed to effectively practice organizational data protection standards. Make sure training is provided according to individual roles and work practices.
Inform relevant third-parties—if your organization requires external contractors and partners to comply with the data protection policy, they should be provided with a copy. Additionally, you should make sure to add relevant contract clauses.
3 Best Practices for Building Your Data Protection Policy
The following best practices can help you build a successful data protection policy.
Understand the GDPR
Make sure you know what the General Data Protection Regulation is about and keep up to date with new policies.
The GDPR aims to give EU residents better control over how their data is processed. The existing legislation stipulates that individuals can request a copy of their personal data via a subject access request (SAR), and the request must be processed within 30 days. Individuals can also request that their data be amended or deleted, unless there is a legal justification to retain the data.
GDPR also aims to standardize personal data protection across the EU. While data protection authorities in each country have some autonomy, they must work together closely to ensure that data protection is managed in a uniform manner.
Related content: Read our guide to GDPR data protection
Take Inventory of Sensitive Data
In collaboration with IT, create a comprehensive inventory cataloging the storage locations of sensitive company data (in both on-premise and cloud-based applications).
The inventory should include the following analyses:
HR system data (i.e. employee records, payroll, health and retirement benefits)
Unstructured data residing in company equipment, remote servers and email accounts
Persons with view or edit access to data
The volume of data and aging
Establish Guidelines for Your Data Privacy Protection Policy
Outline the principles of your DPP and provide guidelines that clarify your organization's data privacy posture. Consult stakeholders and experts to understand the needs of your organization and assess your ability to maintain the privacy and confidentiality of data on every system.
Research the organization to determine:
What data is collected
How long it is retained (and if this complies with regulations)
Whether data is openly available or had limited access (and monitoring)
The measures in place to protect data
Whether data is used appropriately (according to the purpose of its collection)
Related content: Read our guide to data protection strategy
Data Protection with Cloudian Secure Storage
Data protection requires powerful storage technology. Cloudian's storage appliances are easy to deploy and use, let you store Petabyte-scale data and access it instantly. Cloudian supports high-speed backup and restore with parallel data transfer (18TB per hour writes with 16 nodes).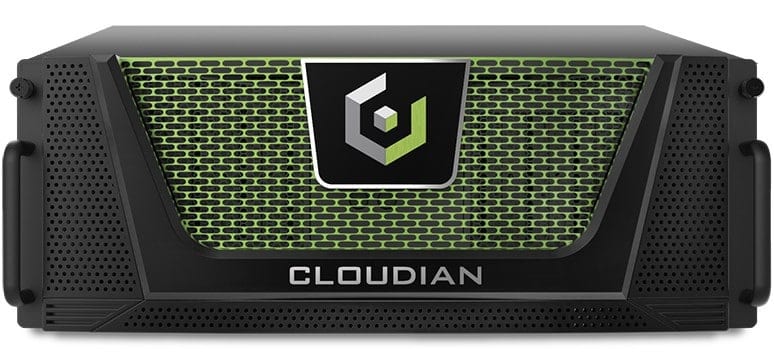 Cloudian provides durability and availability for your data. HyperStore can backup and archive your data, providing you with highly available versions to restore in times of need.
In HyperStore, storage occurs behind the firewall, you can configure geo boundaries for data access, and define policies for data sync between user devices. HyperStore gives you the power of cloud-based file sharing in an on-premise device, and the control to protect your data in any cloud environment.
Learn more about data protection with Cloudian.