ENTERPRISE-GRADE fully native S3-compatible object storage for containerized applications
Rise of Kubernetes and Cloud Native Applications
As enterprises increasingly adopt Kubernetes and deploy modern, cloud-native applications, there is a need to ensure associated storage is also modernized and up-to-date. Because containers were designed for the cloud, they break many of the rules associated with traditional storage access.
Kubernetes applications require cloud-like storage access, similar to what they would see in the public cloud. In other words, to have storage in your data center that acts like storage in the cloud.
Solution
Cloudian's enterprise-grade, fully native, S3-compatible object storage software integrated with Red Hat OpenShift enables new efficiencies by allowing enterprises to run modern, cloud-native applications, both on-prem and in private and public clouds. The solution extends HyperStore's simple-to-deploy and easy-to-manage, exabyte scalable, highly secure, multi-tenant storage to modern applications.
Cloudian runs as a container within Red Hat OpenShift, providing industry standard object storage for your container applications. The result is self-service storage access in a cloudlike infrastructure.
This allows IT operators to modernize their storage infrastructure, accelerate innovation and improve time-to-market with enhanced application portability. They will be able to quickly respond to developer needs and deploy modern, stateful applications easily, while developers will be able to dynamically scale associated resources as their applications scale.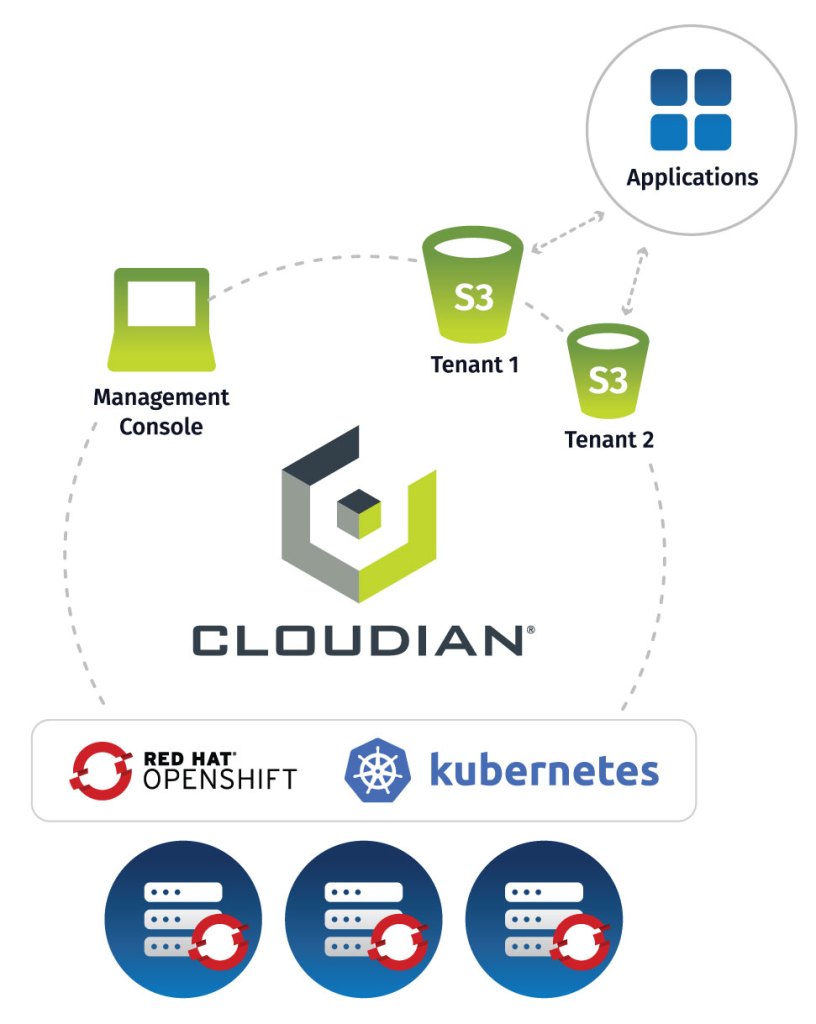 Key Features
Enterprise-grade object storage on Red Hat OpenShift: Cloudian's fully native S3-compatible object storage in your data center allows enterprises to run applications both in private and public clouds
Automated deployment and scaling through Kubernetes: Easily install in minutes, simple to deploy and scale
Cloudian HyperStore on Red Hat OpenShift straight from the OpenShift UI and in a self-service manner through Kubernetes APIs
Key Use Cases
Faster deployment: Deploy an Enterprise-grade, S3 compatible object storage system for your modern applications in minutes
Cloud Repatriation and Private Cloud:

Deliver various as-a-service offerings
Support S3-APIs with granular data management
Meet customers data growth requirements without complexity
Respond to unpredictable demand
Deliver high service levels at lower costs
SOLUTION BENEFITS
Easy install in minutes
Native S3 API storage in your data center
Cloud-like storage access for Kubernetes applications
Runs as a container within Red Hat OpenShift: Manage it using the same OpenShift GUI you are familiar with
Self-Service: Quickly provision storage using a lightweight operator
Portable: S3-API driven on native S3 API platform; no gateways or translation layer
Multi-Tenant: Isolated namespaces for developer and production workloads
Scalable: Modular scalability to an exabyte
Secure: Verified, with U.S. Federal and European standard security certifications