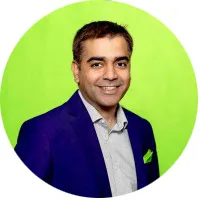 Amit Rawlani, Director of Solutions & Technology Alliances, Cloudian

---
AWS Outposts Service Ready Validation For Cloudian Hyperstore Enables Hybrid Cloud
By Amit Rawlani
Hybrid cloud is a practical solution for enterprises who want the flexibility of the public cloud but also need on-premises data centers for use cases like low latency access or local data residency. But maintaining a hybrid cloud environment is not easy. It means more tools and more work for IT teams. AWS Outposts is a solution that brings AWS APIs, tools, and infrastructure to on-premises data centers to simplify hybrid cloud management.
The Challenges of Hybrid Cloud
The accessibility, scalability, and ease of use of the cloud have changed the expectations for on-premises data centers. Businesses want cloud-like functionalities in their local facilities. When the Evaluator Group surveyed organizations about their objectives for hybrid cloud adoption, the top three reasons were:
Deliver a public cloud 'experience' using on-premises IT resources
Develop and deploy 'cloud-native' applications
Better control overall computing costs (compute and storage)
But supporting a cloud-like experience on-premises is a monumental undertaking for enterprise IT teams. They need additional tools and resources to support cloud-native applications. They have to ensure data security. They have to resolve conflicts between on-premises and public clouds while keeping track of performance and cost issues. And maintaining the various environments adds complexity and puts a heavy burden on the IT staff.
AWS Outposts Service Ready Validation
AWS Outposts is an on-premises service that brings the capabilities of AWS to your local data center. When you use AWS Outposts Ready hardware in your data center, IT teams can use AWS tools and management APIs in an integrated panel to manage both on-premises and AWS cloud resources. AWS Outposts Service Ready program validates partner solutions to alleviate concerns around, security, complexity, and cost.":
Ready solutions will meet their enterprise security standards.
Complexity: AWS Outposts Service Ready validation ensures that the partner solution integrate with Outposts and other AWS API's and services out of the box. The Outposts Ready program gives users confidence from AWS that the infrastructure components already in data center production and tested by AWS can work with Outposts.
Cost: Outposts Ready solutions are validated by AWS experts. So, IT teams can use these solutions with high confidence without going through multiple testing cycles. It saves time, and organizations can get up and running faster.
Cloudian HyperStore – Object Storage for AWS Outposts
Cloudian HyperStore is a massively scalable object storage platform that is AWS Service Outposts Ready certified. It is fully compatible with the S3 API and is the industry's most secure on-prem object storage. HyperStore's S3 Object Lock implementation lets you easily create an immutable backup copy of your data for a policy-defined retention period. You just plugin HyperStore and start using the platform with no complex deployment. Cloudian HyperStore streamlines AWS Outposts Storage implementation for your data center.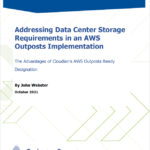 Download the full Evaluator Group report to get a more detailed overview of how AWS Outposts Ready Cloudian HyperStore can improve data center storage for your hybrid cloud environment
---