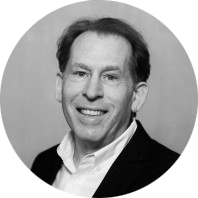 Grant Jacobson, Director of Alliances, Cloudian
VMware today announced general availability of VMware Cloud Foundation 4.2. VMware Cloud Foundation with Tanzu lets organizations run both modern and traditional applications within a single management framework, thus reducing operating expenses. Cloudian is proud to be part of this announcement with the integration of Cloudian HyperStore object storage as part of this platform.
Cloudian provides limitlessly scalable, S3-compatible object storage to both Kubernetes-based and traditional applications. And with this integration, VMware is extending the operational simplicity of HCI management in vSAN to Cloudian HyperStore which leverages existing vSAN storage to further simplify the storage environment. Your vSAN-based storage pool can now support a broad set of use cases and workloads. With a single set of tools and training, you can manage storage across modern and traditional applications.
This new solution from VMware and Cloudian combines the industry's leading hyper-converged infrastructure (HCI) with the one of the industry's most widely deployed object storage platforms, resulting in a modern data platform — for all of your data and all of your applications.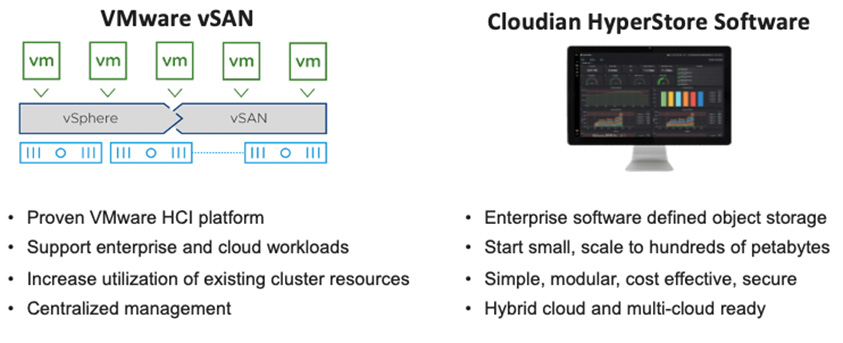 Figure 1
The value of this new solution reflects the growing adoption of S3-compatible object storage across multiple industries and application workloads.  It's particularly timely with the expanded use of Kubernetes to build and deploy new cloud-native, container-based applications requiring object storage while also supporting the increasing number of traditional, object-based applications.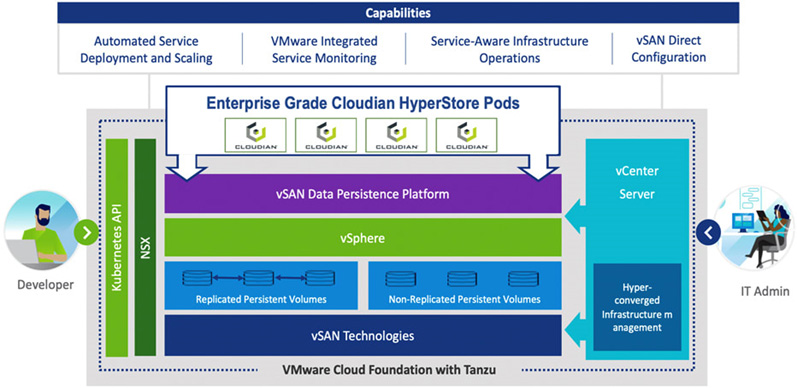 Figure 2
The solution replicates the public cloud experience and enables your developers to easily provision and scale object storage on demand, while IT admins can maintain granular visibility and control of their storage.
Let's look at some of the key use cases benefiting from this new solution:
Support for Multiple Use Cases
In addition to providing a fully native S3-compatible object storage for modern Kubernetes applications, the integration of HyperStore on VMware Cloud Foundation with Tanzu enables VMware customers to use VMware vSAN for use cases that were previously unsupported with object storage. Spanning vertical industries such as healthcare, education, financial services and government, among others, these use cases include:
1) Data Protection – Having integrated object storage provides a ready vSAN storage target for safe backup and restore and performing disaster recovery. Whether you use Veeam, Commvault, Rubrik, Veritas, Datrium or other S3-based backup software, Cloudian is proven and connects easily for complete data protection.  If you want to protect your Oracle database or want to keep your SAP data safe, Cloudian storage is ideal. Protecting your Kubernetes cluster and container-based data is another excellent use case for Cloudian HyperStore and Velero.
These same backup and recovery elements can be used to meet requirements for archiving data.  This is particularly important where there are compliance requirements for privacy and regulated data such as for financial services and healthcare organizations.
This data protection also protects data from ransomware and other cyber-attacks where the data store is the ultimate threat target. Leveraging Cloudian on VMware vSAN with Veeam or Commvault backup enables tamper-proof storage with complete data immutability using built-in S3 Object Lock – and without changing your regular backup workflow. This is in addition to HyperStore's access controls and broad set of security certifications including Common Criteria, FIPS 140-2, SEC 17a-4(f), among others.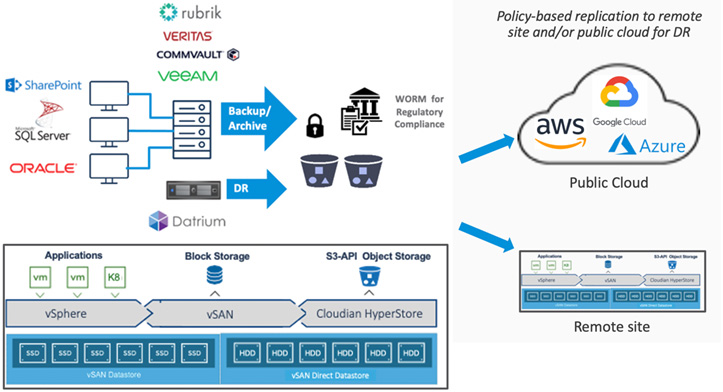 Figure 3


Figure 4
2) Enterprise Splunk – if you're using Splunk, you can add Cloudian object storage to your vSAN environment for a complete Splunk Smart Store deployment. You can also reduce costs by using vSAN integrated Cloudian storage for "warm" and "cold" Splunk data storage, rather than only running Splunk indexers and "hot" data with vSphere and vSAN.  This approach streamlines and simplifies the Splunk workflow while also making it cost-effective.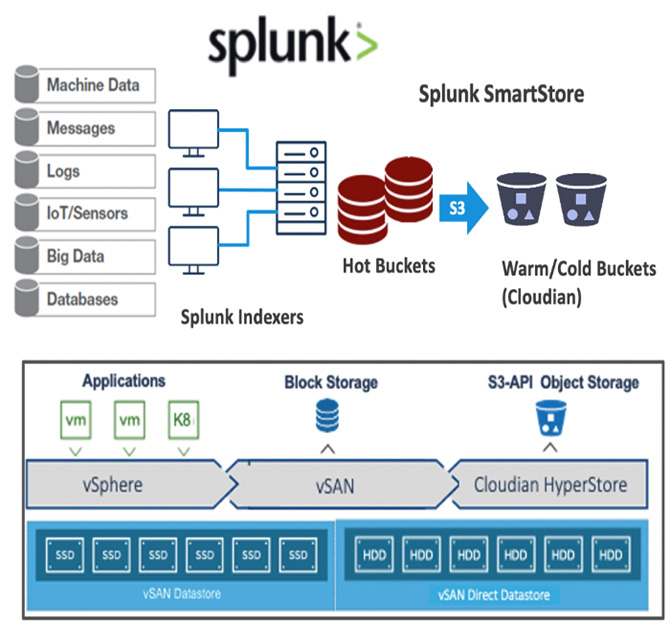 Figure 5
3) Cloud Native – As a single storage platform for Kubernetes and traditional applications, your developers can leverage Cloudian HyperStore for their new container-based applications requiring object-based storage.  This is particularly attractive for your developers as they will be able to dynamically and non-disruptively scale storage as their applications scale, while also benefiting from on-prem advantages such as speedy data latencies, security and avoiding public cloud egress and other charges.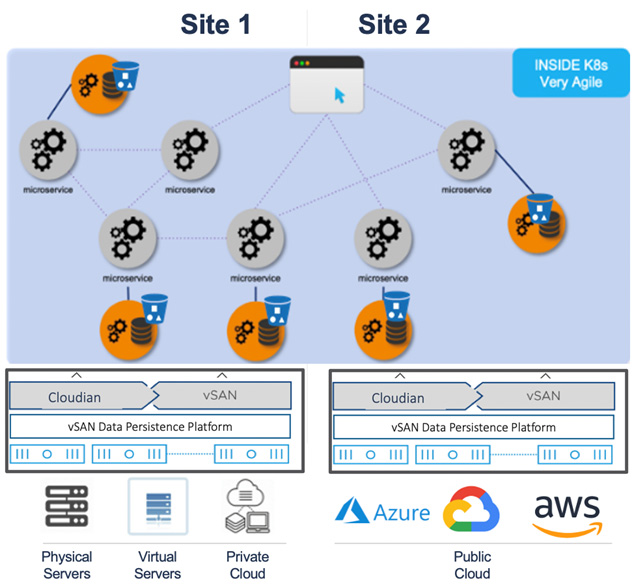 Figure 6
4) Analytics – Analytics users benefit from running their analytics applications with scalable object storage for their data lakes. Ideal for AI and machine learning applications, with Google-like search, Cloudian HyperStore is a simple and easy way to manage all of your data, with unmatched data durability, multi-layered security, rich metadata tagging and object-level storage policies.
5) IoT/Edge Computing – Cloudian object storage is ideal for your IoT and edge computing workloads, with its highly distributed, peer-to-peer architecture and support for a hybrid edge and hub model. Storage level data management, with a single global namespace, gives you complete visibility and control of all of your data across all of your edge devices and locations.  Adding complementary analytics applications makes it easy to analyze massive volumes of your IoT / edge device data.
Key Benefits of Integrated Cloudian HyperStore Object Storage
Enterprise-grade object storage powered by the vSAN Data Persistence platform: depending on your need and use case, you can flexibly deploy object storage with the Shared Nothing Architecture (vSAN-SNA) or the vSAN Direct Configuration to improve storage efficiency.
Automated deployment and scaling through Kubernetes: you can easily install and deploy HyperStore on VMware vSphere clusters straight from the VMware vCenter UI and dynamically provision and scale in a self-service manner through the Kubernetes APIs.
vSphere-integrated capacity and health monitoring: there are time-saving productivity benefits with managing a HyperStore cluster across data centers, edge environments and clouds without leaving vSphere.
Cost savings: Consolidate both Kubernetes and traditional workloads on the same platform, eliminating infrastructure silos and capitalizing on common skills and training.
Summary
With your adoption of Kubernetes for container-based applications, there is a need to ensure your storage is also modernized and up to date, including the need for its continued support of traditional applications. VMware vSAN Data Persistence platform with integrated Cloudian HyperStore allows object storage to be deployed for both Kubernetes and traditional applications in your private, hybrid cloud.
This new solution from VMware and Cloudian allows you to update and modernize your data infrastructure, taking advantage of new technical and economic efficiencies so you can do more and save more.
---
Learn more about Cloudian here, or contact us for more information
Get the Data Sheet: Cloudian HyperStore for vSAN Data Persistence Platform
See the Demo Video
Download the Solution Brief
Download the Object Storage Buyer's Guide
Try Cloudian Free